The Nether Regions
Priority audience tickets for reddwarf.co.uk readers.
15 October, 2021
Regular readers of this site will already be familiar with The Nether Regions as Rob Grant and Andrew Marshall's BBC Radio 4 comedy sketch pilot from 2019. Following Rob's announcement at Dimension Jump XXI that further episodes had been commissioned, we're delighted to report that the new series is moving full steam ahead, and that readers of reddwarf.co.uk will be given priority ticket access for the recordings.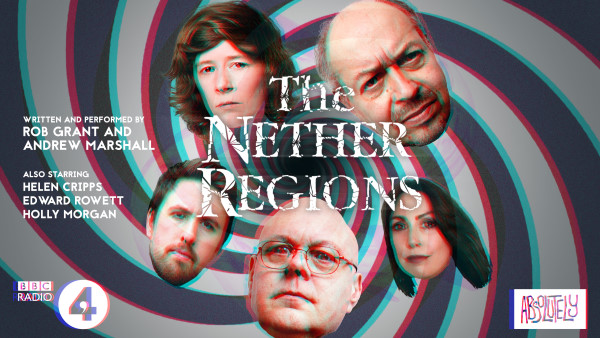 Described by the Radio Times as "inspired madness," and The Observer as "gloriously uncanny," The Nether Regions is by turns quirky, surreal, and downright hilarious. With Rob and Andrew supported by a cast that includes Helen Cripps, Edward Rowlett and Holly Morgan, it's the type of comedy that defies categorisation and boldly follows its own path. Here's the synopsis:
Journey with (Rob and Andrew) to a place where the laws of physics and even time itself take a day off, put their feet up and watch daytime television in their underpants. A strange world where today, tomorrow and yesterday are braided together into a plaited loaf of reality, glazed with madness and sprinkled with stupidity seeds.
See what we mean?
The lucky audience members are in for one hell of a night. The Nether Regions will be recorded at The Shaw Theatre, London on the 1st and 10th November, and you can get tickets via Lost in TV. To receive priority status, simply write "reddwarf.co.uk" when asked "How did you hear about these tickets?" as part of your booking.
We'll bring you more updates on The Nether Regions in the coming weeks.