Dwarf on Demand
Everywhere you can find Red Dwarf to stream and download.
25 June, 2021
As the world of on-demand television changes so much over time, every so often we like to bring you up to date with all the available Red Dwarf streaming and download options. Whether you want to stream a selection of episodes for free, or as part of a comedy and drama subscription, or even if you want to download the episodes and keep them all for yourself, we've got you covered.
As ever, please note that the information below is correct to the best of our knowledge at the time of publication, and subject to change based on regional availability. And except where otherwise stated, the following refers to UK availability only.
UKTV Play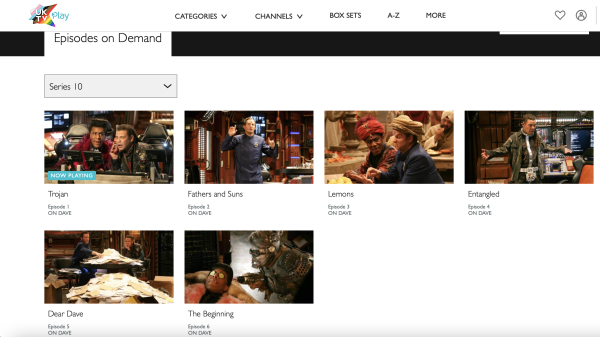 UKTV Play is the place to be if you want to see the latest episodes of Red Dwarf from the Dave-era, including Series X, XI, XII, The Promised Land, and the three-part documentary series, The First Three Million Years. And best of all, it's completely free. The service regularly hosts episodes from the Series I-VIII BBC-era as well, so it's well worth checking in occasionally to see which episodes are available. Head over to the website to set up an account and start watching now.
Britbox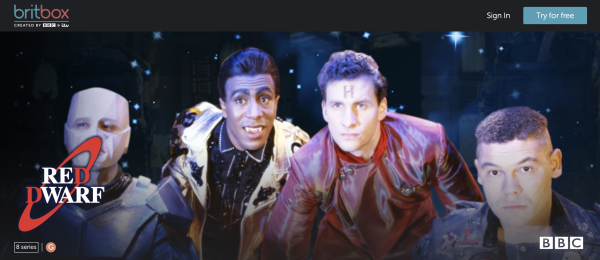 The BBC and ITV joint venture boasts some of the best of British comedy from several decades and is the service you want if you'd like to watch other classic sitcoms, including Maid Marian and Her Merry Men with Danny John-Jules. Britbox is currently showing the first eight series of Red Dwarf and is available with a special offer that will give you 50% off for the first three months. Check their website for details.
Now TV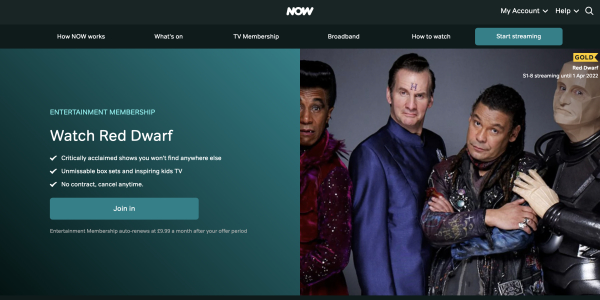 Another service showing Series I-VIII is Now TV. Signing up for an "Entertainment Membership" will give you access to the series alongside many other dramas, comedies, and documentaries. It's the service you want if you like to intersperse your Dwarf viewings with binges of long-running critically acclaimed international series. Head over to the website for up-to-date pricing, listings, and information.
Sky Go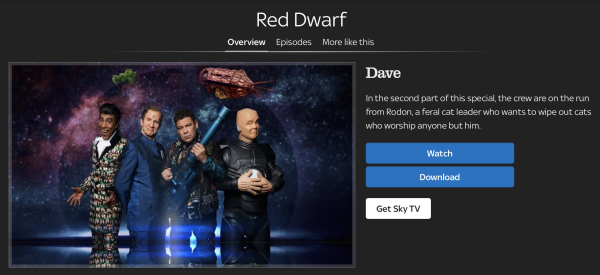 Sky customers have access to Sky Go, their app-based service that allows viewers to watch their programming on the go. The service currently offers all 52 episodes of the BBC-era, as well as Series X-XII, The Promised Land and The First Three Million Years. Have a look at their website for up-to-date pricing and details.
Download and Keep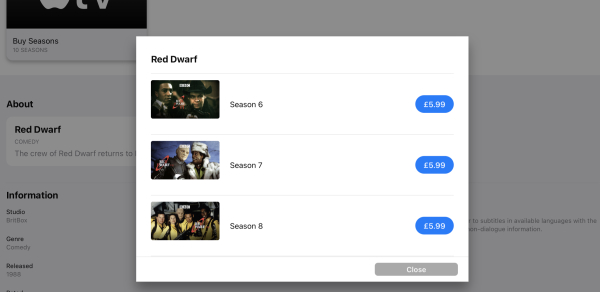 All 74 episodes are available to download and keep on Apple TV, Amazon, Google Play and the Microsoft Store. Prices vary regularly, and episodes are frequently arranged into collections and bundles, so it's worth exploring what each of these services offer on a regular basis.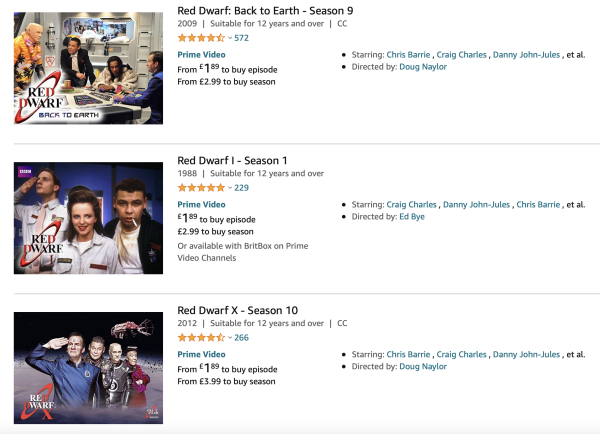 At the time of writing, Amazon offers the cheapest deal with individual episodes priced at £1.89 and series as low as £2.99, but do keep an eye on this as prices change all the time.
Don't forget, you can always have a look at our Watch section to see where Red Dwarf is showing in your region.