The Cat Gallery
The universe's coolest feline gets his own picture gallery.
11 June, 2021
It's that time again where we trawl through the archives, discard the out-of-focus Polaroids of Lister's underpants, and bring you another curated gallery in celebration of one of our favourite characters. And this time, it's the turn of a good one. He's vain, he's narcissistic, he's totally self-obsessed and aloof. And they're just some of his best features. Of course, we could only be talking about the Cat.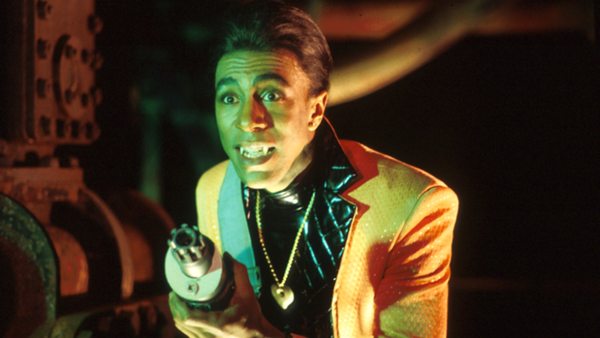 While many actors were seriously considered for the roles of Lister and Rimmer, Danny John-Jules famously excelled at his audition. Arriving an hour late, and dressed in character to devastating effect, he impressed the panel that included Rob Grant, Doug Naylor, Paul Jackson and Ed Bye so much, they each had to go through the motions with the other auditionees, all the while knowing in their hearts that the casting decision had already been made. Danny was the Cat.
Appearing in every one of the 74 episodes to date and basing his performance on the likes of Little Richard, James Brown and Richard Pryor, never has there been a character more stylish, more graceful and less self-aware than the Cat. The combination of razor-sharp writing, an actor that doesn't age, and the inventive costume designs of Howard Burden, Jacki Pinks and Gill Shaw, he began as a character intended to arrive at moments of tension with a well-timed punchline or topper, but over the years has grown to become a much more integral member of the crew, and one that is just as likely to drive the plot as he is to steal a scene.
Providing a stylish and stark contrast to the heavy industrial look of the show, and with a sense of fashion and flair that is just as integral a part of Red Dwarf's aesthetic as the signature models and effects, as these pictures show, the Cat, and indeed Danny, is one of the most visually striking characters in the history of science fiction and sitcom. You can view all 55 images in the Cat gallery here. We hope you enjoy them.
Make sure you visit our gallery section for our previous character collections and much, much more.