People We Met
All the goss from Red Dwarf's wider world.
7 May, 2021
For a show set 3,000,000 years in the future, in a desolate region of space where the human race is practically extinct, Red Dwarf has a surprisingly populated universe. Over the years we've had our fair share of illustrious guest stars and accomplished collaborators, and they often give us updates to rival the activities of the main cast. Let's see what some of them been up to.
First up is composer Howard Goodall, who was a recent guest on My Time Capsule, "a podcast which asks its guests for five things they'd like to put in a time capsule. Four they want to preserve and one they're happy to bury and forget about."
The composer (@MrBean#VicarOfDibley@RedDwarfHQ)and presenter, @Howard_Goodall is our brilliant guest, telling @fentonstevens the five things he'd put in a time capsule? Four he loves and one he loathes?
Listen here https://t.co/ig6v9HaJUh

Do share!! @bobbyllew@Sheridansmith1pic.twitter.com/q4AOeQoVIZ

— My Time Capsule (@MyTCpod) April 21, 2021
With non-Dwarf credits including Blackadder, The Vicar of Dibley and Mr Bean, you'd be hard pressed to find a maestro as deeply enmeshed in the history of comedy as Howard. And as anyone who saw his edition of the Quarantine Commentaries last year will attest, he's always excellent company and his musings are just as pleasant to hear as his music. You can listen to the podcast here.
Quiz fans may have noticed that a Backwards reunion took place on Pointless recently, when the episode's pub manager and compere, Arthur Smith and Tony Hawks, competed in a celebrity edition. We won't spoil things by revealing scores or winners, but if you want to catch up with the episode, you can do so on the iPlayer now.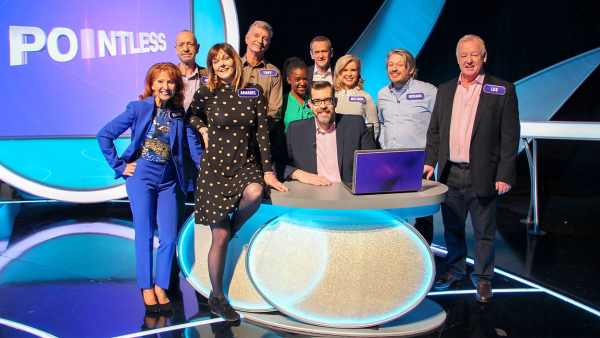 Next, sci-fi blog @TheSpaceshipper paid tribute to legendary Red Dwarf model maker Bill Pearson this week.
Bill was in a league of his own. And such a kind man. I think about him often. https://t.co/pln2bUcZ0a

— Doug Naylor (@DougRDNaylor) May 1, 2021
We sadly lost Bill in March 2020, but as these tweets show, his work continues to inspire. Making memorable contributions to Alien, Moon, Doctor Who and many more iconic films and shows, Bill was a true craftsman, and anyone who met him at a convention was always treated to warm reminiscences from a man who really cared about his fans. He was a pro, and this thread that emerged about his work on Series X's Entangled was an unexpected and very welcome surprise.
Red Dwarf X (2012): Erroneous Reasoning Research Academy, model designed & built by Bill Pearson.

Originally built as a spaceship for a canceled 1980s sci-fi series. Used more than two decades later as a space station in Red Dwarf. pic.twitter.com/nIuATHSpwK

— The Spaceshipper ð??? (@TheSpaceshipper) April 28, 2021
In book news, Series VIII's Warden Knott, otherwise known enigmatically as The Shend, is publishing a compendium of his works.
My book. 250 copies. 275 pages. All my songs. 100+ photos. Tons of jolly anecdotes + bits by @Jello_Biafra_@johnrobb77@steveigs@paulhartnoll858@pennyrimbaud1 Stewart Lee & a host of others. Foreword by @henryrollins. Out in about a month. Tops! pic.twitter.com/jrtqloyo2Q

— The Shend (@The_Shend) April 27, 2021
Featuring a collection of his songs, photos and anecdotes, the book is limited to 250 copies. As a Dimension Jump convention favourite, we're keen to see what he has in store for us. Keep an eye on The Shend's Twitter account for details on how to order.
In yet more book news, it seems that the Manchester school system back in the day was positively churning out science fiction writers because S.D. Unwin, a former classmate of Rob Grant and Doug Naylor, has published a brand-new novel. Take a look:
The greatest scientific challenge of our age wasn't to enable time travel, it was to prevent it. The laws of physics had turned out to be imbecilic, erecting no barriers to hopping time. In fact, they make it hard to avoid. I'm in the business of preserving the timeline - making sure the world sticks to the sacred rule of One Second per Second, and that history unfolds according to plan. The problem is, there is no plan until I make it.
If that intriguing premise isn't enough to convince you to pick this up, maybe this endorsement from Rob will clinch the deal: "I thoroughly enjoyed it - a terrific Time romp that takes a hefty mallet to the Butterfly Theory and leaves it splattered in the road. Really good read."
We'll certainly be checking it out. One Second Per Second is available now in both paperback and Kindle forms.
And finally, as previously reported, Timewave's Johnny Vegas is set to star in the Ed Bye-directed Murder, They Hope, a spoof whodunnit that follows up on writer Jason Cook's previous Murder outings. The new series starts tomorrow at 9pm on Gold. Don't miss it.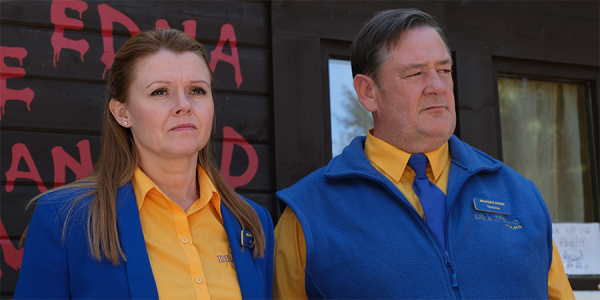 Come back next week for all your Red Dwarf news needs.