Into The Gloop And Beyond
Catch up with Red Dwarf's co-creator, Rob Grant, and read his exclusive, brand-new script.
19 February, 2021
Two weeks ago, a cast of lucky, competition-winning fans were presented with the opportunity of a lifetime; to act and star in a brand-new Red Dwarf adventure written by co-creator, Rob Grant.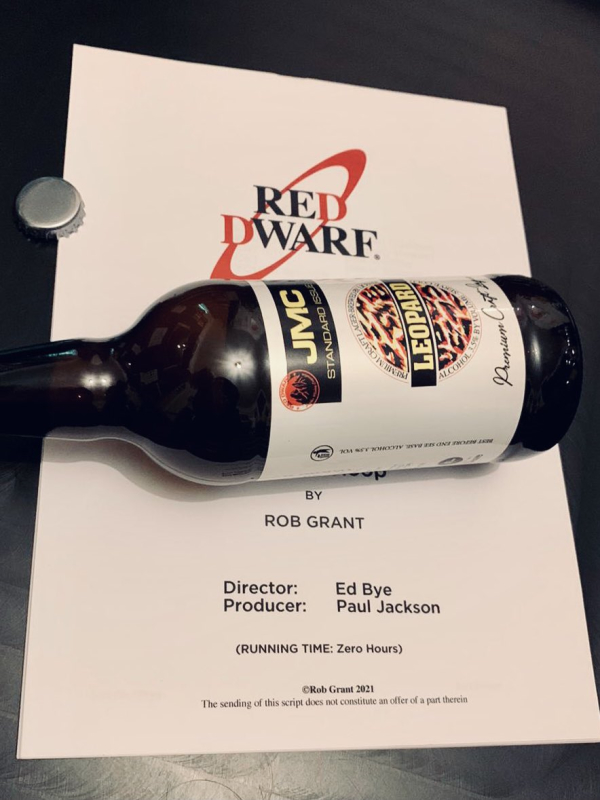 Performed exclusively as part of The Official Red Dwarf Fan Club's online Holly Hop convention, the script, which was kept top secret right up until the performance itself, was named Into the Gloop, and would pick up right after Rob's final episode as co-writer, Series VI's Out of Time. What followed has to be seen to be believed.
This was Rob's first original Red Dwarf script since 1993, and as expected, the excitement in the chat during the online convention was pretty high. We caught up with Rob to ask him a few things about how the project came about and his plans for the future.
What was it like writing a new Red Dwarf script after all this time?
Wonderful. We wanted to give the fans something a bit special in these hideous lockdown times, and when Shelley (Smith, of the Fan Club) asked us if we'd like to do anything for Holly Hop the idea came up. Before I knew what was happening, Paul Jackson was giving me grief about script delivery. It was an exhilarating experience - like slipping on an old pair of the most comfortable shoes you ever had, and wondering why you haven't been wearing them all the time.
What was it like working with a cast of fans?
Terrifying! For all of us, I think. It could have all gone so hideously wrong. I didn't even start thinking about the script until we'd watched all the auditions and cast it. In many ways, it was the casting that helped the story come together. I didn't want them simply doing impressions, and since we'd gone in gender and ethnic blind, most of them had swapped sex. That spawned the derelict time line idea. Having said that, I didn't make any adjustments to the characters' dialogue - they were essentially the real deal trapped in alternative bodies - and it worked fine. More than fine. A female Cat with a Czech accent? But Nikola nailed it. What I've found over the course of these Lockdown table reads is: it's the great actors who put in the most homework. All the fancast did just that. I'd expected to have to make a lot of adjustments after the first rehearsal, but I really didn't. If anything, it was just like working with the pros - just tweaking things for extra laughs. I was tremendously proud of them all.
How was it to work with Paul Jackson and Ed Bye again on brand new material?
The years just fell away, frankly. Beginning with Paul getting quite heavy about the script deadline, (I was a day late). I started having Nam flashbacks. Ed was Ed. There are two types of directors - one who tells you everything's impossible, and the other who never even mentions the difficulties. That's Ed. Until we did Ed's Hardest Shots, I had no idea, really, how insanely tricky the six-way split in Stasis Leak was. And I was there when he was shooting it. So, a joy. Like Old Times.
How did writing for Zoom affect your approach?
Hardly at all, really. Except I didn't have to worry about the practical or economic considerations of the special FX. If we were actually shooting it, I'd have to dial some of those back, or face a pencil barrage. Virtual Table Reads are actually a valid dramatic form, I think. Somewhere between radio and theatre.
What do you have planned for future Red Dwarf projects?
There are lots of ideas on the table - a stage show, a movie, a new series, spin-offs. Last week we were told of an approach to do an American version again. We'd love to do any and all of them. We want RD flying out of our buttskis. We want to take the diminutive scarlet one on another trip to the stars. Watch this space.
Would you like some toast?
Actually, I'd like hot, buttered Irish soda bread, please. Yum.
A big thank you to Rob, Paul, Ed, the team at the fan club and the astounding cast of fans. We're delighted to make the new script available for you to pore over at your leisure, and you can download it here now.
Into the Gloop was performed, via Zoom, as part of the Official Red Dwarf Fan Club's Holly Hop convention on the 7th February 2021. It was written by Rob Grant, directed by Ed Bye and produced by Paul Jackson. It starred Harmony Hewlett and Loïc Baucherel as Rimmer, Raph Clarkson as Lister, Nikola Skalova as the Cat, and Ellie Griffiths as Kryten. The script is presented here by kind permission of the author and is intended for entertainment purposes only.
Make sure to check back next week for all the latest Red Dwarf news.