Holly Hop Report
The Fan Club's online Red Dwarf convention was a stunning success.
12 February, 2021
Last weekend over 400 fans gathered for Holly Hop 2021, the first ever online Red Dwarf convention. Organised by The Official Red Dwarf Fan Club and packed full with games, guests, quizzes and surprises, the team delivered an event that was every bit as special and exhilarating as one of their usual Dimension Jumps, pulling off something pretty extraordinary in the process.
Here's our report on what took place:
Saturday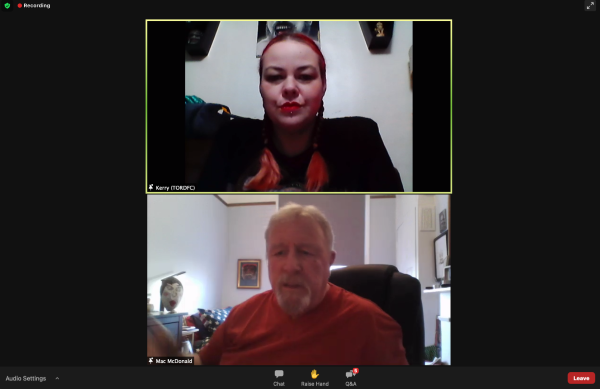 The first guest on our screens was Captain Hollister actor Mac McDonald. With the help of TORDFC's Kerry King-Neale as moderator, Mac talked about his experiences as a human jukebox, his strange duet with Dolly Parton and how when he auditioned for Hollister back in 1987, he thought he would only be needed for one episode. Little did he know he would still be playing the role three decades later.
Mac is always an excellent guest and is a bit of a convention veteran these days. As expected, his energy and enthusiasm was a perfect opener for the weekend and set the standard for what to expect.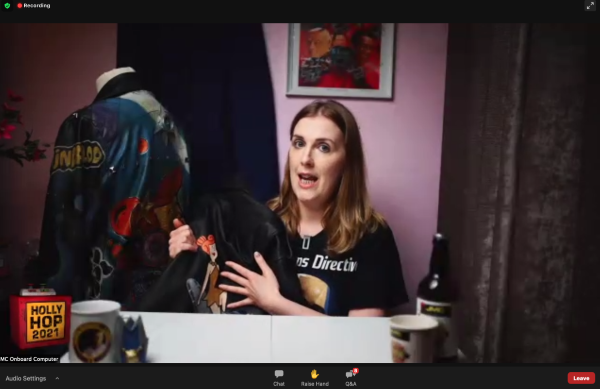 For the next item of business, it was over to the fans as Jen Tate (aka The Girl in the Gingham Dress) presented How to Make Lister's Jacket - A Cosplay Tutorial. Taking us through the various options available, from jacket choice, through to patch selection and keyring hacks, this gave an insightful glimpse at the amount of work that goes into making a replica of Howard Burden's now legendary design. Riveting, gluing, cutting, hammering, sanding, it turns out there is a lot to do. And who else knew there was such a thing as dirt in a can? If any of you followed Jen's advice and made your own costume, we'd love to see it.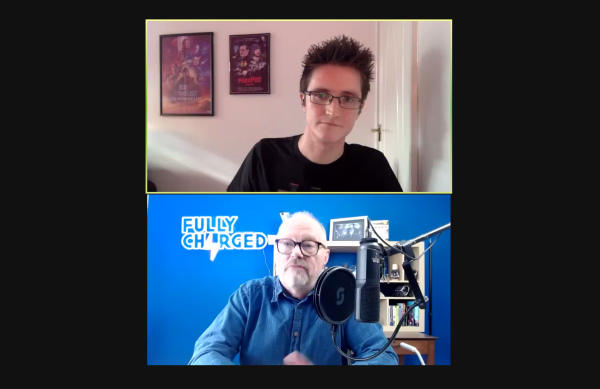 Up next, it was Robert Llewellyn's turn to entertain us. After a few technical issues that were deftly handled by the moderator for the session, TORDFC's Andy Holland, the chat was underway.
Robert told us all about his early shoe making career and how he never actually wanted to be an actor. Forever to be known as the new boy by the Red Dwarf cast, he talked about his early experiences on the show, and how he had never actually seen David Ross' version of the character before he stepped on set, allowing him to develop the character and make it his own.
Of course, it wouldn't be a convention appearance with Robert if he didn't mention the make-up process, but happily he is thankful that things are a lot easier in that department these days, though he still longs for the easier appearances in shows like Bottom and Birds of a Feather where his prep work was nothing more than putting on a shirt.
In closing, he teased the very attractive prospect of a one-off revival of Scrapheap Challenge based around electric vehicles. We wish you the best of luck with it, Robert, and can't wait to see it.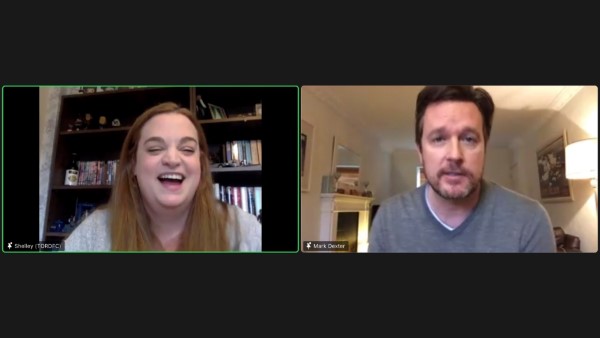 Following a brief message from co-creator Doug Naylor, who wished the fans well and apologised for his absence, it was over to Howard Rimmer actor, Mark Dexter.
In a session moderated by TORDFC's Shelley Smith, Mark revealed that he was a big fan of the show before he was ever involved and reminisced about the comradely dynamic between the cast. He told us, with a few mixed feelings, about how he got the part of Howard after casting director Linda Glover saw him and thought, 'that's a Rimmer,' and how he was entertained by a surreal and impromptu rendition of the Red Dwarf theme by the cast before the studio audience recording.
In a friendly and informal chat, he also told us about his non-Red Dwarf activities including his lockdown-inspired music career and his role in Industry, as well as making the frankly shocking revelation that while he loves Better Call Saul, he has never actually seen Breaking Bad.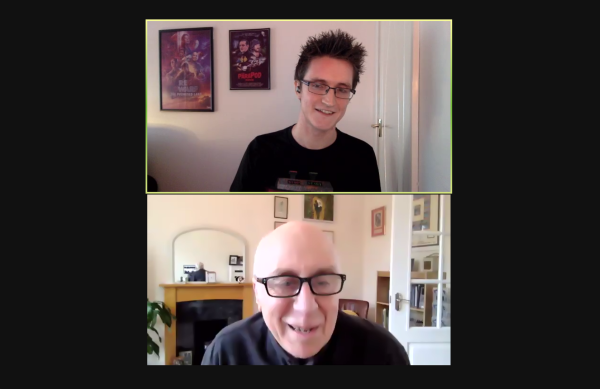 After a short break we were back with Norman Lovett who was rightly impressed by moderator Andy Holland's hair. After reassuring everyone that he's recovered from his Covid infection, he gave a brief history of Fisherman's Friends, praising their advantages for relieving tickly coughs, and said if he could work with anyone on a new episode of Red Dwarf, it would be Scarlett Johansson, who is getting on a bit.
If all this sounds a little surreal, that's because it was. Norman is one of the funniest men on the planet and his bizarre non-sequitous wanderings was one of the highlights of the weekend. Describing Craig Charles as 'a bright boy,' and prompting us to ponder the philosophical question of whether or not a duck laments its inability to climb a tree, he once again reminded us why we all love him so much.
Once famous for his legendary moaning, he claims to have embraced a new philosophy of being young at heart, and he was indeed a joy to listen to. He's also written two episodes of a new and original comedy series called The Comic Con, and he told all about how his cameo page is bringing both himself and others joy, simply by 'being himself.' Never change, Norm.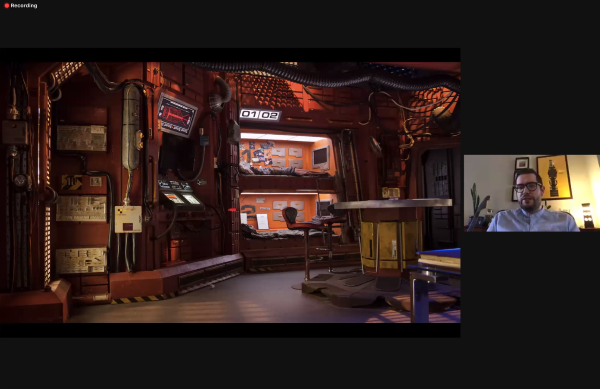 Next up, Matthew Clark made his convention debut by delivering a fascinating presentation on his graphic design work on Series XII and The Promised Land.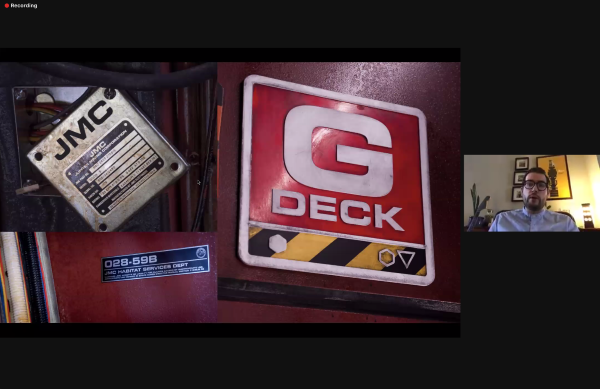 Matthew is an accomplished designer with credits including Black Mirror and Avenue 5. Hearing him talk about his approach to Red Dwarf, and his decision to continue to develop the show's heavy industrial look using coloured tape, cardboard tubes and ice cube trays, while using the British Rail Corporate Identity Manual as his main reference, was a rare treat.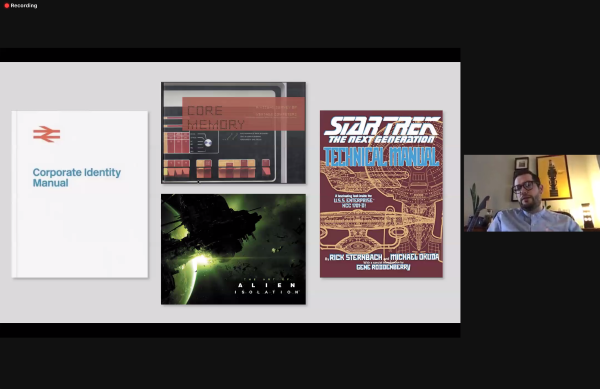 It was clear from everything Matthew said that he approaches his work on the show with a fan's eye, and the knowledge he demonstrated about the show's history and mythos is the sort of thing you'd expect to see from a fellow devotee. It was a truly wonderful session from someone who has had a profound impact on the show in such a short time.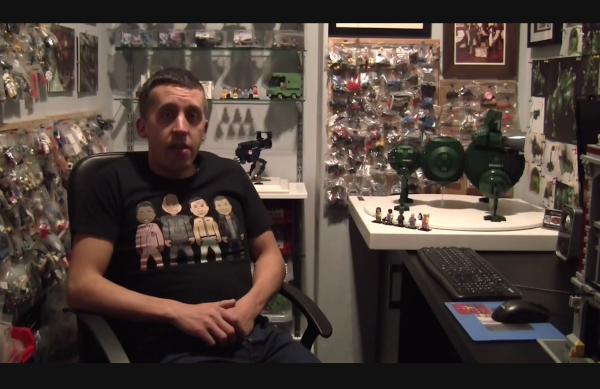 Next up was another video presentation, this time presented by Bob's Vintage Bricks. After last year's successful attempt to get his Red Dwarf sets considered by Lego, this video, entitled Brick by Brick, clearly showed how this achievement came about.
Taking us through his collection and the various steps necessary in putting together his creations, he spoke with enthusiasm and affection. He also let us into a little secret and revealed that his Mr Flibble piece isn't actually custom made, and that Lego actually make a plastic penguin, complete with glowing red eyes. Who knew?
The next guest was another video presentation, this time courtesy of Smegazine artist Colin Howard. Beginning by showing the various stages of his work on Danny John-Jules' Tongue Tied VHS cover, Colin talked us through the various design changes Danny wanted, before showing off some rare Smegazine concept covers.
After showing a fascinating video that detailed his process from pencil drawing to finished painting, he asked fans which of his artworks they'd like to see taken through to this stage. Colin is a Red Dwarf convention regular, and the artworks he produces especially for the event are always fantastic. We can't wait to see which one he chooses next.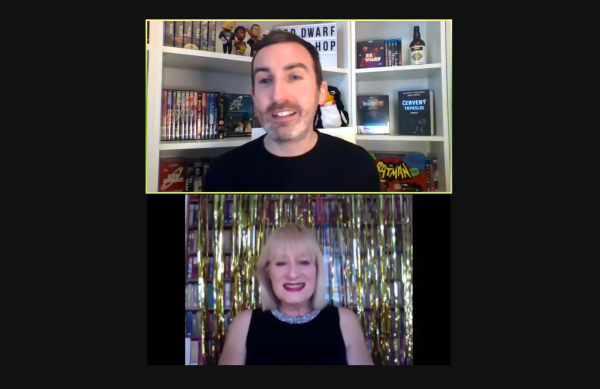 Next up was Hattie Hayridge who, in a session moderated by TORDFC's Dan Pendelton, informed us that she's been keeping sane during the lockdown by getting all the answers right on quizzes by watching them on +1, and risking life and limb by painting her upstairs window by hanging out of it. She's also been learning Russian.
She told us that she got the role of Hilly after Paul Jackson was impressed by her performance on Friday Night Live, but when it came to Holly, she admitted that it was at first considered a disadvantage that she had previously appeared in Parallel Universe. This led to the bizarre turn of events where she had to audition for Holly, but not for Hilly.
She revealed that the original intention for Holly's costume in White Hole was a bald cap and glasses, before closing by saying the thing she misses most about the in-person convention is her opportunity to meet the fans during the photo sessions. We could have listened to Hattie's anecdotes and musings for hours.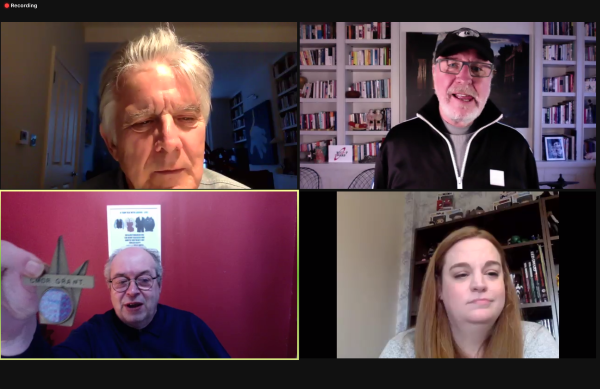 Next up was the welcome return of Quarantine Commentaries, which began with a heartfelt message from Rob Grant and Paul Jackson concerning their plans for the show's future and the breaking news of Rob's intention to write some future instalments.
With the internet still reeling from this news, Rob and Paul were joined by Ed Bye to discuss White Hole. This episode is unusual in that it was co-directed by an uncredited Paul after Ed fell ill on the day of the studio audience recording. As predicted by many at home, all this led to the usual good-natured bickering we've come to expect.
Quarantine Commentaries built up quite the following during the first and second lockdowns, and seeing the trio reunited was another Holly Hop favourite. Covering subjects such as the move from Manchester to Shepperton (Manchester was apparently more fun), the effective use of sound design in creating a believable interstellar environment, and the kudos Rob received from Professor Brian Cox for correctly predicting the existence of white holes, long before the scientific community had theorised such a thing, the session was another warm and insightful tribute to a classic episode.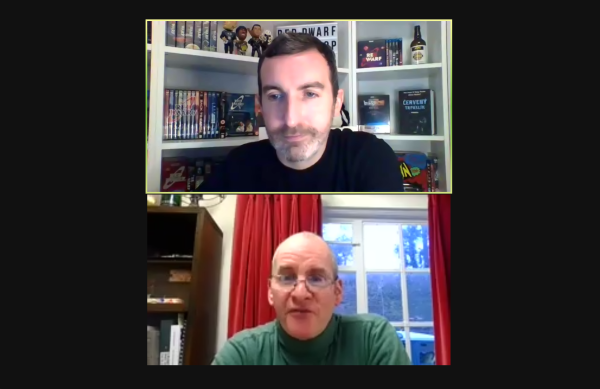 Saturday's penultimate guest was Chris Barrie, who told moderator Dan that he'd been keeping himself busy during the lockdowns by focussing on gardening and model-making, before offering his own self-care philosophy based on healthy living and moderation.
Chris reminisced about the changes in Rimmer's characters throughout the show's run; how he has grown from his characterisation as an 'arse' in the early days, through to someone you can actually empathise with as both the character and the show has developed. He said that while his approach to the performance has changed as he has aged, it has always been guided by the writing.
It was a relaxed and friendly chat, with Chris talking about the fun he had recording the audiobooks, and of the fond memories he has with his fellow cast members, singling out for particular mention Craig's memorable performance in the moonlight scene, before explaining the respect he has for Robert after his own experience donning the rubber mask for Siliconia. What a gent!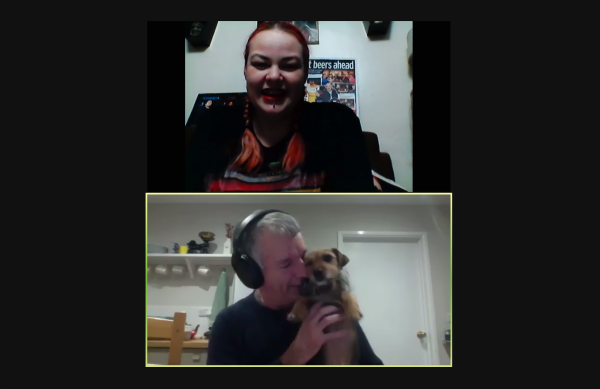 And the final guest of the day was fifth Dwarfer, Tony Hawks. Known for multiple roles throughout the years including Caligula and the Backwards compere, as well as his early series warm-up duties, Tony's session was moderated by Kerry, and the pair battled for airtime over the attention seeking demands of his dog, Coco. He told us all that lockdown had been a creative period for him that led to him digging out old ideas and working through them, before discussing his early involvement in Red Dwarf, his charity work, and the hilarious confusions he's had with the skateboarder Tony Hawk.
The session brought a superb first day to its conclusion and led us all to wonder what the team had in store for the next day.
Sunday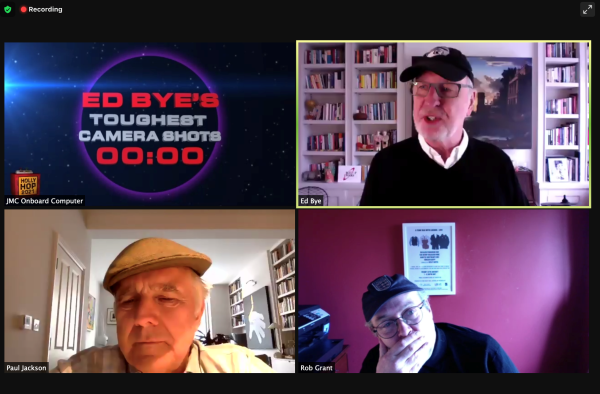 Sunday began with a fascinating presentation entitled Ed Bye's Toughest Camera Shots. The hour was a look at just how innovative early Red Dwarf was, and how in the landscape of television sitcoms in the late eighties and early nineties, it was doing things that simply hadn't been done before.
With clips including the introduction of Rimmer's hologrammatic status in The End, through to the double Rimmer exercise scene in Me2, and the closing scene of Stasis Leak (with no fewer than six split screens), what became very clear was just how well Ed's technical skills complemented both the performances and the writing, and that all the hours of preparation, painstaking rehearsal and detailed planning always had the primary purpose of serving the jokes and the story. As Rob said, getting it done was always a team effort, 'It wasn't all just (Ed's) problem, it must have taken me half an hour to write that.' The whole show was pure joy.
Next up, the Girl in the Gingham Dress, Jen Tate, made a welcome return to give us more cosplay tips and increase the sales of British army trousers and shirts across the country by showing us how to make early crew uniforms. Once again, she provided more tips on how to get the best look from the costumes, before it was time for the next part of the show.
Something a little special.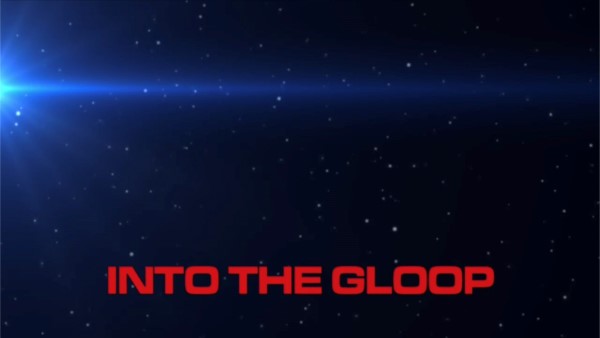 Into the Gloop was Rob Grant's first original Red Dwarf script since 1993 and it's safe to say that there was more than a little excitement for this. Starring a cast of fans that included Harmony Hewlett and Loïc Baucherel as Rimmer, Raph Clarkson as Lister, Nikola Skalova as the Cat, and Ellie Griffiths as Kryten, the story picked up right after the events of Out of Time and offered an alternate resolution of the Series VI cliff-hanger. It was gripping, funny and exceptionally well performed by the cast of fans.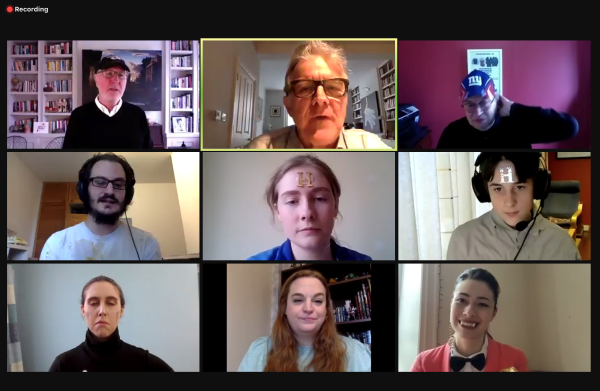 This was something truly special to watch, and as demonstrated by the Q&A that followed immediately afterwards, it was clear that a lot of fun was had by all concerned. Raph showed off his impressive tattoo, Nikola gave us an insight into Czech fandom and Loïc gave his opinion on merchandising that will simply not be repeated on our official channels.
Don't listen to Loïc - buy more Red Dwarf merchandise!
With Rob teasing greater involvement in more Red Dwarf to come, if this is the standard we can expect, then we are all in for something good.
Rob Grant managed to write a ten minute chunk of #RedDwarf that was tailored to the medium, adapted to the cast, self-contained and a story that made sense within its own context without contradicting anything set before or after. Superb. #HollyHop2021

— Ganymede & Titan (@ganymedetitan) February 7, 2021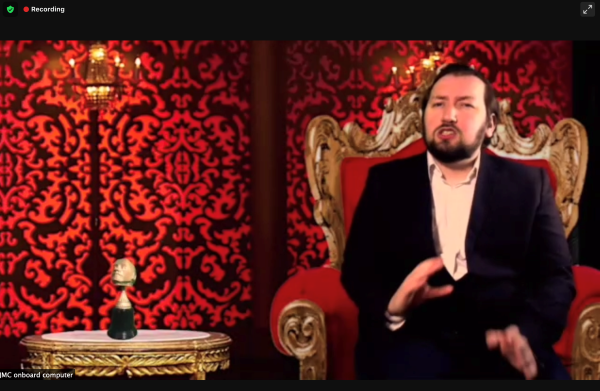 And after that, we were almost at the end, with the only things remaining being the announcement of the winners of the Twonkmaster competition and the closing quiz. TORDFC's Little Alex Newsome did the intros, and the Twonkmaster himself, Rob Grant, picked the winners.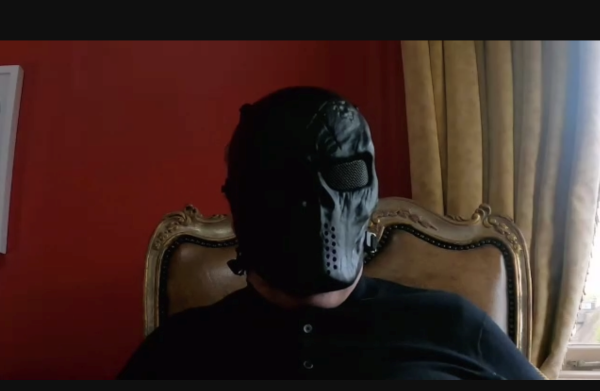 The runners up prizes went to Vicky Feldwick and James Clusky, and the winner's trophy and Mel Bibby's set design went to Harmony Hewlett for her new Space Corps salute. Congratulations to all.
Holly Hop 2021 then concluded with an epic 90-question quiz, presented by Hattie Hayridge and with guest questioners including Paul Jackson, Tom Bennett, Chloe Hawkins, Ian Boldsworth, Mark Dexter and Lucy Pohl.
A huge thank you to everyone at the Fan Club for organising and running the show. You're all wonderful. We'd also like to say a big thank you to the guests and attendees for a brilliant weekend. It remains to be seen whether we can all meet up in person for a Dimension Jump convention later in the year, but when the alternative is this impressive, it certainly makes the waiting all the easier. In the meantime, double Rimmer salutes all round.
If you enjoyed Holly Hop 2021, the Fan Club ask you to kindly consider donating to The Trussell Trust in memory of our friend, Seb Patrick.