Holly Hop Is Here
Online Red Dwarf convention takes place this weekend.
5 February, 2021
It's been over two years since the team at The Official Red Dwarf Fan Club said goodbye to hundreds of happy fans as they closed the doors on Dimension Jump XX, one of their biggest and most successful conventions to date. And while at times this year it may have felt like those days were long behind us, this most certainly is not the case as the good people at the fan club are back with more delights, with the festivities this time taking place online.
And it's all happening this weekend, with the full programme of activities shown below (click to enlarge):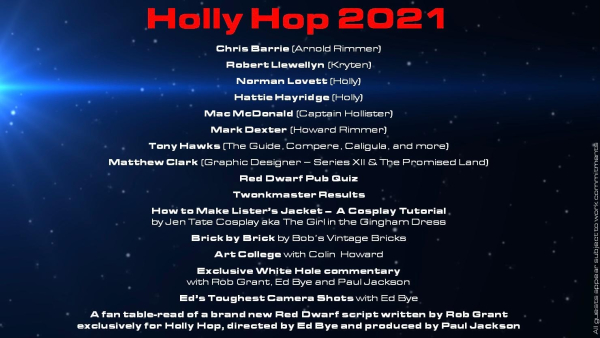 We're sure you'll agree that the team have put together a line-up of guests and shows worthy of the occasion. With both The Promised Land and The First Three Million Years premiering since the last convention, it's been a busy period since Red Dwarf fans last gathered to celebrate the show, and this event, made up of two full days of Q&As, commentaries, games and masterclasses really does look like it's going to be a weekend to remember. Oh, and did we mention that the weekend will also feature a brand-new Red Dwarf story, written by Rob Grant, directed by Ed Bye and produced by Paul Jackson, available exclusively to Holly Hop attendees? Do you really want to miss that?
The show starts at 10.30am tomorrow and will continue through to Sunday, with more precise timings to be announced by the team throughout the event. There's still time to get your tickets, and at the bargain price of just £9 or £5 for TORDFC members, you'd be mad not to. With prices that good, maybe you could even treat yourself to a special t-shirt or tote bag to mark the occasion.
We can't wait to see you all there.
Holly Hop 2021 takes place this weekend on Zoom. For further updates make sure you follow the Fan Club on Twitter.