Holly Hop 2021
The Red Dwarf convention gets an official digital counterpart and a staggeringly good competition.
6 November, 2020
While the postponement of Dimension Jump XXI can't have come as much of a surprise to anyone who has been paying attention these last few months, it certainly wasn't the best of news, or something we wanted to hear. But as one door closes, another door opens with The Official Red Dwarf Fan Club revealing they will be joining the ever-expanding list of festivals and conventions that are taking their services online.
Here's the fan club themselves with a taster of what will be on offer:
Holly Hop is a two-day digital event that will bring you all the thrills and spills of a Red Dwarf convention from the safety and comfort of your own living room. You can expect much of the usual entertainment you would find at Dimension Jump, from guest Q&As to behind-the-scenes discussions, as well as a few surprises along the way!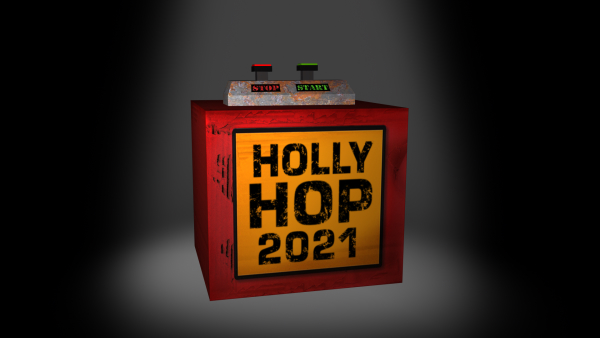 The event will take place via Zoom on 6th and 7th February when we hoped to be celebrating Dimension Jump XXI in Nottingham. (Don't worry, Holly Hop does not replace Dimension Jump XXI, which is still scheduled to take place in September 2021.)
Tickets are just £9, or £5 for TORDFC Members and Dimension Jump XXI ticket holders, and are available to purchase from Eventbrite now, with a portion of the proceeds going to the Trussell Trust in memory of our much missed friend, Seb Patrick.
Guests and a full schedule of event content will be revealed closer to the time.
And the Fan Club team aren't kidding about the surprises they have in store. This is going to be an amazing event and one you don't want to miss, especially at that price, which let's face it, is an absolute bargain.
But the revelations don't end there, because the team have one more announcement to make. If a competition was held to decide which competition was the best competition ever held, the following would surely be in with a shot at the title:
Red Dwarf Co-Creator, Rob Grant, has written a brand-new Red Dwarf script exclusively for Holly Hop 2021, and we are looking for four budding actors to take on the roles of Lister, Rimmer, Kryten and Cat in a live Zoom table readthrough directed by Ed Bye.
If that isn't enough to get your nipples tingling, then I really don't know what is. Make no mistake, this is brand new Red Dwarf, written by Rob Grant and directed by Ed Bye, and YOU COULD BE IN IT!
This performance will be available exclusively for attendees of Holly Hop 2021, and if you want to be part of Rob and Ed's first brand-new Red Dwarf project since 2007 and 1999 respectively, then there is only one place to be - Holly Hop 2021, on the 6th and 7th of February. More details, including T&Cs and how to apply, can be found on the fan club's website.
Follow The Official Red Dwarf Fan Club on Twitter for more information about Holly Hop 2021 and Dimension Jump XXI.