Seb Patrick
Red Dwarf website editor passes away.
4 August, 2020
As readers of this site may already know, Red Dwarf website editor Seb Patrick passed away unexpectedly this weekend, aged just 37 years. He is survived by his wife, Jo, and daughter, Lois.
Ordinarily, it was Seb who would dutifully and compassionately write the obituaries of those involved in the show's production when they passed. It is with no small measure of sadness and a great sense of responsibility that we now remember him in this way.
Seb's enthusiasm for the things he loved was boundless, and he loved many things, including, of course, Red Dwarf. Personally recommended for this job by previous website editor Andrew Ellard due to his long-time involvement in the show's fandom, Seb was a passionate fan and an inclusive advocate for Red Dwarf, wanting nothing more than for everyone to share the same joy it had brought him throughout his life. Seb treated his duties as website editor with great respect, and anyone who knew him could tell you how proud he was to be a part of the team around the show.
As well as Seb's countless articles both here and elsewhere, Dwarfers will remember him from his many appearances at Dimension Jump, or his performance as Doug Naylor in fan-film The Movie: Yeah, No, Yeah, No, which can be found as an extra on the Red Dwarf Season VII DVD set. Although the show was just one of his many interests, he would doubtlessly point to the close friends he made through Red Dwarf fandom as some of the most important in his life. The community as a whole will feel his absence keenly, and with regret.
Beyond Red Dwarf, Seb was an accomplished writer, podcaster, and web professional who put enormous care and effort into everything he did. He was a beloved friend, colleague and family member, but most of all a devoted father and husband. A proud Scouser, Oxford graduate, dedicated Liverpool supporter, some-time broadcaster and actor, it's hard to find the words that encompass all of who he was, just because he was so many things. As such, it seems apt to sign off his time here by simply saying this:
Seb Patrick. What a guy.
Seb Patrick (1982-2020)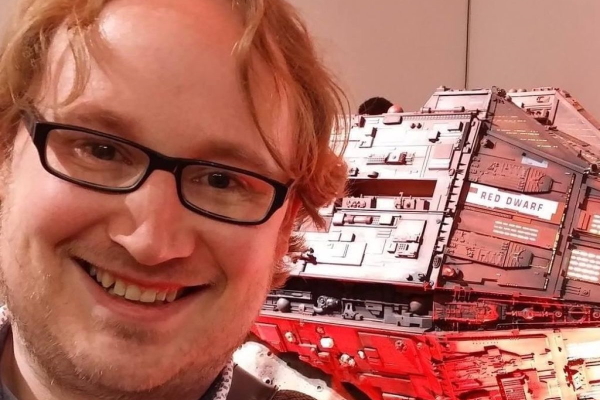 Friends and colleagues have started a fundraising page to help out Seb's wife and daughter through this difficult time. All proceeds will go directly to them. Here's the page:
https://www.gofundme.com/f/in-loving-memory-of-seb-patrick