Ratings Consolidated
Almost two million viewers visit The Promised Land.
24 April, 2020
The best thing about a good ratings story is that you get one when the overnight figures come out, and then another one when they're consolidated. So to add to last week's headline figure of 980,000 viewers for Red Dwarf: The Promised Land, we can now confirm that including time-shifted viewing, the show was seen in its first week by 1.67 million viewers.
Cor.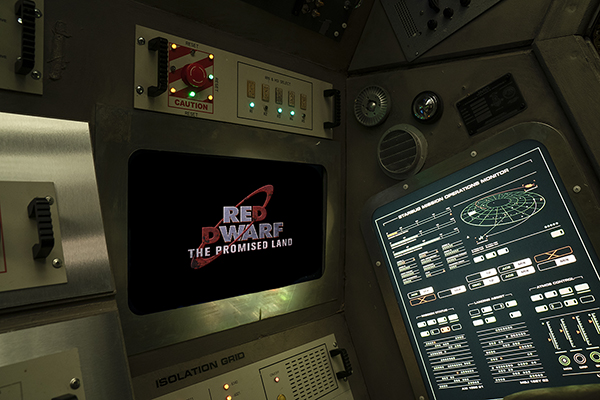 For clarity, that figure takes in those who actually watched the show live on Dave from 9pm (or Dave ja vu from 10pm), those who watched a recording on the same day, and the whopping 636,000 people who did so over the course of the week that followed.
And it's that bump in viewers that really makes Red Dwarf's ratings achievement stand out: it was the 25th most-watched show of the week across all of British TV for catchup viewers, with a "gain" of 61.8% that's higher than almost everything else in the table (for comparison, BBC1's The Nest was the highest-gaining show of the week, adding 2.49m viewers to its original 6.69m, at 59.2%). Clearly, the word of mouth on the show, and amazing reception the special was getting on Twitter in particular, had an effect!
These consolidated figures mean that once again, Red Dwarf was the most-watched programme of all channels outside the original terrestrial channels of BBC1, BBC2, ITV1, Channel 4 and Channel 5. A particular point of pride is that the 1.67m figure is higher than all but one show on Channel 5, and seven of the week's shows on Channel 4. All in all, 7.84% of available viewers (either in the Thursday 9pm timeslot or those who timeshifted later) watched The Promised Land in that first week.
And if you fancy adding to those figures further - well, we haven't yet seen what impact the show has had on UKTV Play's numbers, but we're expecting big things there as well. Don't forget that on the on-demand platform you can also get an early look at the DVD extras - so why not head over and give it a further bump?
Catch up with The Promised Land on UKTV Play and your TV's on demand platform - and pre-order the Blu-Ray or DVD for release on 1st June!