The Promised Disc
Feature-length special out on DVD and Blu-ray soon!
17 April, 2020
Red Dwarf: The Promised Land, the epic feature-length special as seen on Dave, will be coming to DVD and Blu-ray on Monday June 1st.
The sets are already available for pre-order on Amazon and other online outlets, and you can see the cover artwork (which, unsurprisingly, takes the form of that utterly fantastic pre-broadcast poster) in full below: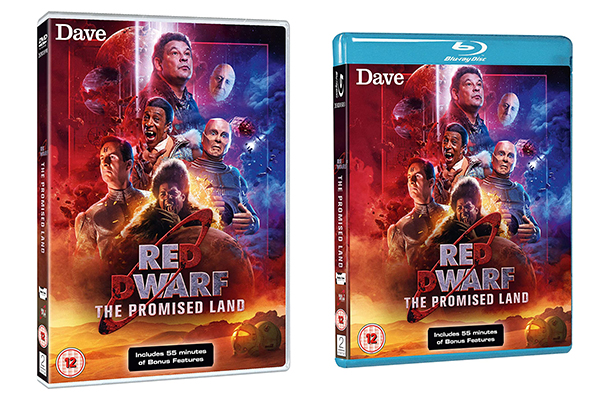 The 55 minutes of extras on the set include the digital bonus features that have already been made available on UKTV Play - that is, the Promised Doc behind-the-scenes feature, along with the deleted scenes and smeg ups. However, on the set you'll also find Through an Audience's Eyes, an extra documentary exclusive to the home release; and there may or may not be a pretty exciting little Easter Egg on there that will make some of the hardcore among you very happy...
Obviously in the current circumstances, things like DVD releases and product shipping are subject to alteration - as we understand it, that 1st June date should be pretty safe for the moment, but if anything changes, we'll let you know.