What's It All About?
The Red Dwarf Special's synopsis revealed!
14 February, 2020
Well, we've kept you waiting a few weeks since the first reveal of photographs from the upcoming Red Dwarf special. So, now that you've had a little time to speculate about what it all means, we reckon it's about time to fill you in a little more on what's going to be going on when the feature-length episode hits screens later this year.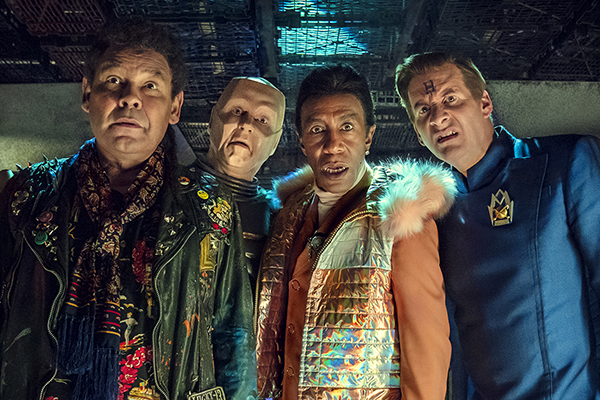 The official synopsis, released this week by our friends at Dave, reads as follows:
The new 90-minute special is the thirteenth outing of the legendary sci-fi comedy. It reunites the original cast of Chris Barrie (Rimmer), Craig Charles (Lister), Danny John-Jules (Cat) Robert Llewellyn (Kryten) and sees the return of Holly (Norman Lovett) the much loved ship's computer. Written and directed by Doug Naylor, it was recorded in front of a live studio audience over two nights at the world famous Pinewood Studios.
Three million years ago... David Lister, a vending machine repairman, was sentenced to eighteen months in suspended animation for smuggling his pregnant cat aboard the mining ship Red Dwarf. While Lister remained in stasis, a radiation leak killed the rest of the crew. Safely sealed in the hold, the cats evolved into humanoid form. The cats now roam deep space in a fleet of their own...
The special will see the posse meet three cat clerics (Tom Bennett, Mandeep Dhillon, Lucy Pearman) who worship Lister as their God. Lister vows to help them as they're being hunted by Rodon, the ruthless feral cat leader (Ray Fearon) who has vowed to wipe out all cats who worship anyone but him.
Of course, with ninety minutes to get through, you can rest assured that that's not all the special is about. There's an awful lot going on in there, but why would we want to give everything away now? Nevertheless, we're sure the prospect of the special being the first Red Dwarf to feature another actual member of the Cat species since all the way back in 1988's Waiting for God is going to have a lot of you bursting with excitement...
And at the same time, there's confirmation for you of the special's guest cast - joining the already-announced Ray Fearon (Fleabag, Beauty and the Beast) are Tom Bennett (Rocketman, David Brent: Life on the Road), Mandeep Dhillon (Afterlife, Some Girls), Lucy Pearman (Mister Winner) and Al Roberts (Stath Lets Flats). We can't wait for you to meet the characters they're playing!
Oh, and not to bury the lede or anything, but while you'd probably figured it out from some of the behind-the-scenes photos, there it is in black-and-white: not a hoax, not a dream, not an imaginary story, but Norman Lovett returning as Holly after his one-off guest spot in Series XII.
All in all, there's a lot to look forward to. And keep your eyes glued here and on social media as we bring you more updates as the (still-to-be-confirmed!) broadcast date draws closer...
The Red Dwarf Special airs on Dave later in 2020!