Red Dwarf Special Announced
OFFICIAL: The Boys from the Dwarf are returning to Dave in 2020!
18 October, 2019
The wait is over. We're delighted to announce that Red Dwarf will return to Dave next year for its first ever feature-length special. Craig Charles, Chris Barrie, Danny John-Jules and Robert Llewellyn are back as Lister, Rimmer, The Cat and Kryten, in an all-new story written and directed by Doug Naylor and produced by Baby Cow Productions.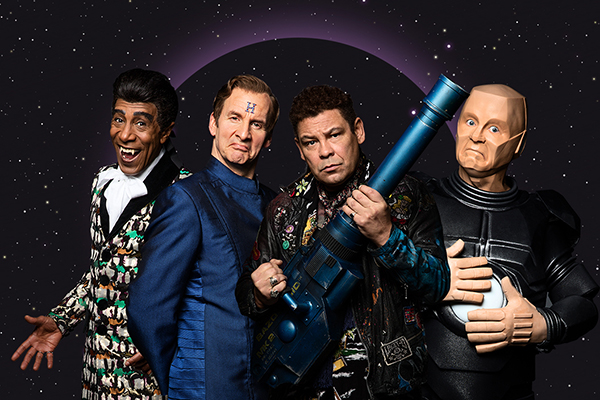 "I'm really excited to get back on board with the boys from the Dwarf," says Craig. "I can't wait to discuss Robert's prostate problems, Chris Barrie's hip replacement and have a proper look at Danny's new dentures whilst they marvel at the agelessness of the Charles physique. I will surely require the services of a chiropractor after dragging these doddering misfits through what promises to be our most epic adventure yet. Dave Lister, the human race's last hope in a hostile universe. God help us. And may the Dwarf be with you."
"I'm absolutely thrilled to have the opportunity of making more
Red Dwarf
," adds
Doug
. "UKTV have been a never-ending source of support and encouragement since we first started working together ten years ago. Can't wait to start shooting a format that I don't think has ever been done before. Smoke me a kipper, we're back and not just for breakfast."
The special will be filmed on location and at Pinewood Studios in front of a live studio audience, and is produced by Richard Naylor. Christine Langan is executive producer for Baby Cow.
And as if that wasn't enough, we've got something else exciting to announce, too. To celebrate the return of the small rouge one to our screens, UKTV has also commissioned a series of retrospectives - three 60-minute documentaries which will offer fans the definitive story of the show from day one right up to now. These retrospectives, produced by North One, will include a wealth of rare and unbroadcast material, as well as new interviews with cast and crew.
"Our relationship with Red Dwarf has been incredibly fruitful and satisfying so far," says UKTV's Head of Scripted Pete Thornton, "and it's been a real pleasure to see the cast and crew fully committed and seemingly enjoying themselves more than ever in the run up to this latest production. We've been talking to Doug and the team about how to take Red Dwarf forward and the special clearly offers us an exciting next step. It's going to be a proper event in the history of the series."
"I am a huge, life-long fan of Red Dwarf and I still re-watch it and re-read the books regularly to this day," adds Luke Hales, Dave's channel director. "So it goes without saying that it gives me huge pleasure to be a part of the team this time around. I am as excited about this one as a viewer as I am in my role as channel director on Dave. The episodes we've made for the channel so far have been brilliant, and what a way to welcome it back too, with a feature-length special and three-part look back at the show's history. We at the Dave team literally cannot wait to bring this huge treat to our viewers."
So then, what about the audience filming? Well, it's taking place across two dates, on Friday 6th and Friday 13th December. To get your hands on tickets, you need to head on over to Lost in TV and enter the ballot for tickets - as with the last series, tickets will be allocated by way of a random draw, ensuring that it's not just a case of first-come first-served once the link goes live!
The ballot opens at 12pm today (Friday 18th October) and will close at midday on Monday 21st. So you haven't got a ton of time to get in there, but it should be plenty of time to ensure you get your name in even if you're not in the initial rush! Successful applicants should be notified by Friday 8th November, and as with Series XI and XII, there'll be no overselling - if you've got a ticket, you're in the audience!
Phew. So there you have it: brand new Red Dwarf, and it's going into production very soon. We'll bring you all the latest sneak peeks and updates from behind the scenes as soon as things kick into gear. Excitement Mode: ENGAGED.
Stay tuned to reddwarf.co.uk and at @RedDwarfHQ for everything you need to know about the upcoming special!