Danny's Easy Ride
Latest biking adventure now on TV.
28 March, 2014
We know how much you enjoy hearing about Danny John-Jules' ongoing charity-fundraising motorbike-riding adventures, so we're pleased to tell you that his latest odyssey has been televised - and is available to watch right now.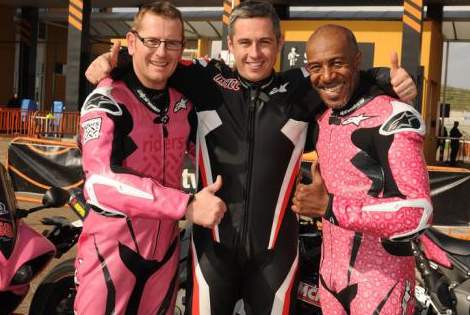 The Easy Riders - The Ultimate Bike Ride is a ten-part series charting Danny's journey with TV presenter Matt Roberts and regular cycling buddy Steve Keys across the 1,250 mile route from the UK to Valencia, in Spain. As ever, the epic trip was undertaken to raise money for the Riders for Health charity, with Danny describing the pink-clad trio as "a bunch of mates on the same level having a laugh... three old 'Inbetweeners' on bikes!"
You can catch The Easy Riders on the Community Channel, which is available on Sky, Freeview, Freesat, Virgin and BT Vision - as well as online. The show premieres on Wednesday nights at 10.30pm, with the first two episodes having already aired - but if you've missed them, fear not, as you can get them on demand via the Community Channel website! To give you a taster, in fact, we can show you episode one right here:
And yes, you might recognise the dulcet tones of a certain Mr Chris Barrie narrating the programme, to boot...
If Danny's adventures move you to support the charity, meanwhile, you can find out more about Riders for Health - an enterprise which strives to improve the transportation of healthcare and health workers around sub-Saharan Africa - at their website.
Check out The Easy Riders in full over at the Community Channel.