Danny In Paradise
Dwayne Myers returns for a second series.
4 January, 2013
Funnily enough, Danny John-Jules hasn't tended to be backwards about coming forwards when it comes to telling people about his trips to Guadeloupe to film sun-kissed detective drama Death in Paradise. After the first series debuted to strong reviews and ratings in 2011, it was inevitable that a second would follow - and so late last year (conveniently missing some of the Red Dwarf X press junket rounds in the process) Danny and his fellow cast members suffered the hardship of another trip to the Caribbean.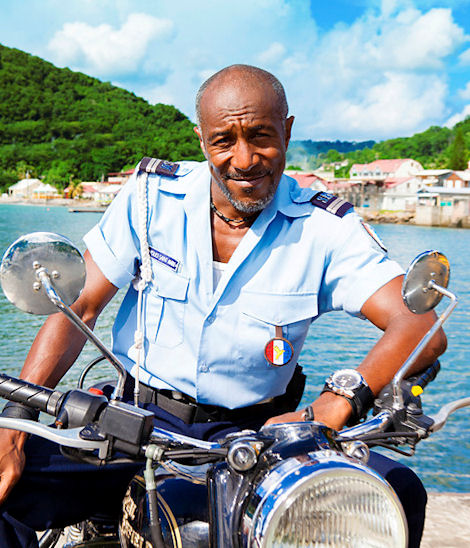 Series two, again penned by creator Robert Thoroughgood, begins on BBC One on Tuesday 8th January, at 9pm. Danny stars as the cool and laid-back local cop Dwayne Myers, alongside Ben Miller, Sara Martins, Gary Carr and the Holoship Enlightenment's own Don Warrington. Here's the series synopsis:
DI Richard Poole is still trapped on the Caribbean island paradise of Saint- Marie - and for him the sun, sea and sand continue to irritate, as he irritates his long-suffering colleagues. But, he's also as brilliant as ever. His eye for detail, relentless logic and stubborn refusal to leave anything unexplained works seamlessly with the instinctive and insightful knowledge of the beautiful Sergeant Bordey. She has much to teach him about human behaviour... With the often unorthodox assistance of Dwayne and Fidel, they tackle a baffling array of unique murders, from pirate curses to nuns killed in locked rooms - even one with a hurricane bearing down on them! Most seem impossible, but Richard and his team always get to the heart of the mystery...
Danny and his co-star Ben Miller have also recently teamed up to record a special episode of popular quiz show Celebrity Pointless in aid of Comic Relief. This, along with Danny's other appearance on the show (with none other than Craig Charles, as part of a "sitcom doubles" lineup) will be shown at some point early this year.
Follow Danny's Caribbean adventures on Thursday nights at 9pm, on BBC One.