Rated And Reviewed
The dust settles on Series X.
23 November, 2012
It was clear the morning after Trojan was broadcast - when those overnight figures of nearly one-and-a-half million came in - that we were on to something special with Red Dwarf X. But now that the series is over, and ratings authority BARB have released their consolidated figures - the totals that show how many people recorded or otherwise watched the episodes after their initial Thursday 9pm broadcast - we can see just what a monumental success the show has been.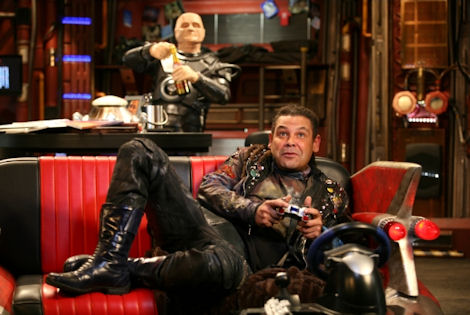 While we're still waiting on the absolute final figures for episode six - there's likely to be another hundred thousand or two added on by the end - the data we have for the first five episodes paints a pretty consistently strong picture. Here are the final, final figures for the first broadcast (and timeshifted recordings thereof) each week:
| | |
| --- | --- |
| Episode (Broadcast Date) | Viewers |
| Trojan (4th Oct, 9pm) | 2.09 million |
| Fathers and Suns (11th Oct, 9pm) | 1.65 million |
| Lemons (18th Oct, 9pm) | 1.63 million |
| Entangled (25th Oct, 9pm) | 1.46 million |
| Dear Dave (1st Nov, 9pm) | 1.63 million |
| The Beginning (8th Nov, 9pm) | 1.33 million* |
* part consolidated
All in all, excluding the final episode, the initial broadcasts therefore averaged a phenomenal 1.694 million viewers. The consistency of the figures - after the inevitable post-premiere drop - is also of note, as it suggests that the show sustained a loyal core audience who tuned in every week. Particularly interesting is the fact that after a slight drop in week four, the figures leapt right back on to trend in week five.
And things look even more impressive when we take a look at the "reach" of the episodes, which factors in three subsequent repeats (including the Thursday night 11.40pm showings, as well as at the weekends following):
| | |
| --- | --- |
| Episode | Total Viewers |
| Trojan | 3.50 million |
| Fathers and Suns | 3.08 million |
| Lemons | 3.11 million |
| Entangled | 2.84 million |
| Dear Dave | 2.87 million |
| The Beginning | 2.30 million* |
* part consolidated
For comparison, it's worth looking at the equivalent figures for Back to Earth back in 2009. While Trojan's consolidated figure didn't quite hit the peak that the first part of the Easter special did (a remarkable 2.6 million, which still stands as the highest-rated original commission ever broadcast by a non-terrestrial channel in the UK), it's notable that when you factor in the repeats, the episode reached overall 300,000 more viewers than its illustrious predecessor. Even accounting for the fact that this includes three repeats rather than just one, this is a remarkable achievement considering the way the TV landscape has changed in that time.
Yeah, we're bragging. So sue us.
Coupled with these outstanding figures comes a slew of favourable press reviews that began with episode one and have continued right through to the DVD release and its superb documentary, We're Smegged. Below are just some of the kind words bestowed on the series by members of the Fourth Estate:
"A real return to form." - Radio Times.
"People wanted it to be good and were downright deliriously happy that it was." - SFX
"BBC bosses must be wondering which buffoon decided that they didn't want another series, because the latest outing has been the sci-fi comedy's finest since its early '90s pomp. Smegging ace." - Digital Spy.
"Red Dwarf XI would be welcome news after Series X's resounding success" - Starburst.
"This comeback series has been a winner" - Metro
"It is raucous in a way that reminded me of the heyday of Third Rock, sure-footed with the extended jokes, high on cod-jargon and dotted with decent one-liners. Craig Charles, Chris Barrie, Danny John-Jules and Robert LLewellyn pilot the thing effortlessly." - Andrew Billen, The Times
"Its best jokes aren't transcribable because they sit in the air between the characters, but I laughed. No sign of freezer burn." - Tom Sutcliffe, The Independent
"More than anything the science-fiction sitcom reunion seems like a beloved band getting back together. And one of the great bands of the 90s, at that. The flavour of the gags remains identical without feeling old." - The Guardian
"Dave's Red Dwarf revival was easily the funniest British show of the week. The BBC's comedy chiefs: smegheads, the lot of them." - Ian Hyland, Mail on Sunday
"On this evidence, Red Dwarf is once again must-see TV; clever, cutting edge comedy that you'd be a smeg-head to miss." - IGN
"All in all, The Beginning does what it says on the tin. It's funny dramatic and all round wonderful. Hopefully, The Beginning will be a bright new future for Red Dwarf." - Cult Den
"... as good as it ever was." - Den of Geek
"It was intelligent and hilarious, and took the show places I didn't expect." - What Culture
"But what a comeback! The script could not have been better had Ace Rimmer himself penned it over his morning kippers." - Ali Lewis, On the Box
"The banter is sublime." - TV Guide
"A triumphant return to form." - SFX
"Smegtastic." - TV Times
"The scripts are still in typically fine, silly, nerdy, shape." - Daily Mail
"The good news for Red Dwarf fans is that it is exactly the same as it was at its peak." - The Times
"The comedy still comes from these four characters adrift in space. Let's hope they'll be stuck with one another for light-years to come." - Daily Mirror
"The 10th series of the cult sci-fi comedy has been a real return to form" - TV & Satellite Week
"Continues to entertain in the same spirit as the most memorable episodes." - Ain't it Cool
"I am loving RDX. It is fun, witty and unafraid of embracing what made series 1-6 so brilliant... silliness." - SCIFIND
"It's a delicious combination of sci-fi and fabulously well-rounded characters, all with superb dialogue." - Shropshire Star
"Red Dwarf X achieved a website-crashing live rating of 1.6 million/7%. After more than 450,000 recorded it, it achieved a final rating of 2.1 million/8%." - Broadcast
"The quite brilliant two-hour documentary on the making of Red Dwarf X that comes as an extra with the DVD and Blu-ray is called 'We're Smegged' with very good reason. The story of the making of Red Dwarf X is a compelling drama all in itself." - SFX
Phew. So after all of this, we suppose there can be only one question on your lips: what about the future?
Well, naturally, we can't comment on any rumours about a potential Red Dwarf XI at this point in time. But if we were going to, we'd say that if the right people are to be persuaded to make it happen, then immediate ratings and press adulation are just the beginning. As you can't fail to have noticed from just about everywhere on the site, the Series X DVD and Blu-ray are in shops now - and the show's future prospects can only be helped if the shiny discs perform as well as the original broadcast.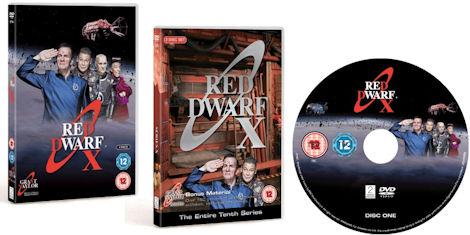 So if you've already bought your copy, you've done your part - but why stop there? With Christmas on the way, you could get copies for your mum, your dad, your brother, your sister, your husband, your wife, your aunts and uncles and cousins, the milkman, the family dog. You could tell your friends all about it. You could pop on over to Amazon and give the set a review(hopefully bumping down the pesky blighter who decided to give the disc a one-star rating before the show had even finished airing!). You could Tweet about it. You could hire a plane and write it in the sky...
Of course, if you don't like the series, then keep it to yourself and tell nobody. But really, how likely is that?
Red Dwarf X is out on DVD and Blu-ray in the UK now, in Australia on 12th Dec, and in the USA on 8th Jan 2013.