Red Dwarf X DVD
All the details of the tenth series on shiny disc.
9 November, 2012
It's a weird feeling, isn't it? For the first time in a month-and-a-half, there's no new episode of Red Dwarf being broadcast on TV next week. Frankly, it's almost annoying. However, you can stave off those withdrawal symptoms for a little while yet - because in the fastest ever turnaround between a Dwarf transmission and home release, the DVD and Blu-ray sets are being released in Region 2 on Monday 19th November. So, just what exactly lurks behind that lovely, extra-special, double-sided cover...?
Menus
First up, of course, are the obligatory excellent menus from our pals at Deluxe Digital. Once again, the series' sets have been exquisitely modelled in 3D, giving viewers the chance to take a trip through the ship as they explore the menu options.
Click images to enlarge
Fire up disc one, and you'll start off in the Drive Room - leave the disc idle for long enough, and you might just find yourself compelled to pick up the phone and buy a Stirmaster - and while you could just play the entire series from the start right there, you'll probably want to take a walk down the corridor to choose an individual episode.
Click images to enlarge
Here, six JMC vending machines are waiting for you - although whatever you do, don't try to touch their logos - from which you can choose episodes and chapter points as easily as ordering a blackcurrant cordial with blancmange and two creams and a sugar.
Click images to enlarge
On disc two, meanwhile, you can hit the sleeping quarters to find the various special features...
We're Smegged
Red Dwarf documentaries are always essential viewing for hardcore fans of the show. Even by those high standards, however, the Series X effort, We're Smegged, is something else entirely. With unparalleled access from start to finish, in two utterly compelling hours director Nathan Cubitt gets you closer than ever before to the making of a full series of Red Dwarf. You'll see candid interviews, behind-the-scenes photography, bucketloads of rushes, rehearsal footage, and a lot more. You might even see yourself in the studio audience!
Click images to enlarge
And what a tale it has to tell. From later episodes being written while earlier ones were already being filmed, to the double-pass at shooting the models; from lost hard drives full of filmed content, to sourcing historical facts from Twitter; from building sets out of Ikea kitchen items, to guest cast members suddenly realising halfway through shooting that they were making a comedy. The making of Red Dwarf X is a fascinating story of television production on the edge of budget, time and sanity.
Click images to enlarge
Obviously, the Red Dwarf X DVD and Blu-ray sets already have a hugely compelling reason to buy them, courtesy of the episodes themselves - but frankly, we reckon the documentary is a worthwhile purchase in its own right. If you're any kind of fan of Red Dwarf - or even of television in general - you absolutely cannot afford to miss it.
Click images to enlarge
Deleted Scenes
For many viewers, however, it's the deleted scenes that are usually among the most fascinating content on any DVD release - and especially when it comes to Red Dwarf. For Series X, we've pulled together a whopping half an hour's worth of cut content and other interesting tidbits. What's more, once you've watched them through once, you can then watch them a second time with commentary from writer/director Doug Naylor, in which he explains what they are, why they were cut, and just how bad the catering was at Shepperton...
Trojan
| | |
| --- | --- |
| 1 | Rimmer explains to Kryten how much he enjoys bossing people about. |
| 2 | A temp VFX shot showing the recovered Trojan in Red Dwarf's cargo hold. |
| 3 | While Lister continues to struggle on hold with the All-Droid Channel, Rimmer bemoans the good fortune of those who get an "extra time note" for exams. |
| 4 | Rimmer visits the Medi-Bot to try and get a dyslexia note. |
| 5 | Another VFX shot of Rimmer's original plan to fool Howard: opening up the cargo bay doors. |
| 6 | Rimmer tries to avoid revealing to Howard that the Trojan is in fact in the cargo bay. |
| 7 | An extended version of Rimmer's callousness over Howard's death. |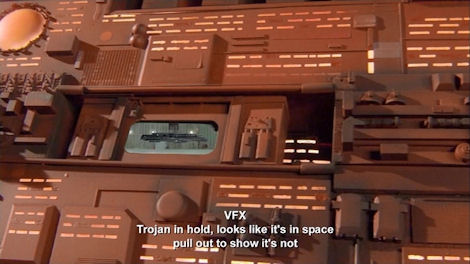 Fathers and Suns
| | |
| --- | --- |
| 8-12 | Various short trims of existing scenes. |
Lemons
| | |
| --- | --- |
| 13 | The original, more drawn-out version of the "Jesus! Yes?" gag. |
| 14 | A slight dialogue trim just before the crew jump back to Red Dwarf. |
| 15 | Another short cut as Cat explains to Jesus what delights the future holds. |
| 16 | Lister attempts to recall the "good things" Christianity has done. |
| 17 | A short montage as the crew search for Jesus back in India - featuring a familiar music cue... |
| 18 | A longer scene featuring Jesus selling bags. |
Entangled
| | |
| --- | --- |
| 19 | Lister marvels further at the size of his kebab. |
| 20 | Lister elaborates on his poker failure. |
| 21 | A trim to the BEGGs scene. |
| 22 | The original, unused cut of the Dwarfers in the lift at E.R.R.A. This also includes Kryten giving the speech explaining the facility's purpose, although this was only recorded at this point for the audience's benefit rather than for use in the show itself. |
| 23 | A trim as Lister muses on the possible return of Kochanski. |
| 24 | A longer sequence featuring Peter Elliott as the chimp. |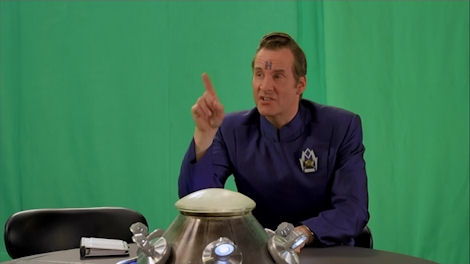 Dear Dave
| | |
| --- | --- |
| 25 | An entire chopped scene, as the Cat makes unconventional use of a photocopier. |
| 26 | The full sequence - presented as originally shot on greenscreen - as Rimmer warms up for the Subbuteo tournament, and Kryten brings word from the JMC computer. |
| 27 | Rimmer and Lister discuss pregnancy scares, including a cracking line about "not-so-sprightly" sperm. |
The Beginning
| | |
| --- | --- |
| 28-30 | Three short clips as the crew attempt escape to, and in, Blue Midget. |
| 31 | Cat wonders why Simulants don't give things more pleasant names. |
| 32 | Another scene played especially for the audience and presented here as a little treat: a sequence actually set in the drive room, but due to that week's absence of the set, performed in Blue Midget instead. Watch out for Kryten's reading glasses! |
Miscellaneous
| | |
| --- | --- |
| 33 | A special, model-related treat... but we're keeping this one a secret! You'll have to watch the DVD to find out... |
Smeg Ups
And of course, it wouldn't be a Red Dwarf release without a healthy collection of smeg-ups: and Series X, with the cast getting back to work in front of a live audience, is positively bursting with them. Twelve whole minutes of swearing at cameras, unexpected silence, pulled faces, unwarranted crudity... and, of course, the odd Kenneth Williams impression or two.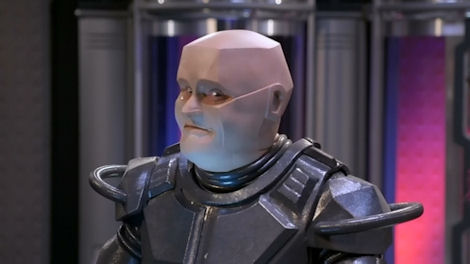 Release Dates
All of this awaits you on the Red Dwarf X DVD and Blu-ray sets, now available for pre-order at various online retailers. Don't forget that if you buy from HMV, meanwhile, you can get your hands on an exclusive steelbook edition of the DVD. Both DVD and Blu-ray are available in the UK from 19th November.
And fans in the USA and Australia, don't worry, we haven't forgotten about you, either - the Region 1 release is available for pre-order now ahead of its release on 8th January, while Region 4 will get the series on 12th December.
Find pre-order links for all the Red Dwarf X DVD and Blu-ray sets in the merchandise section.