The Verdict
Series X ratings and reviews.
12 October, 2012
We weren't nervous. Were you nervous? No, neither were we. But it's very nice to have it confirmed all the same: Red Dwarf X is a huge, stonking, barnstorming success.
Overnight ratings for the series premiere, Trojan, have come in at an estimated 1.46m viewers - a 6.3% audience share for that timeslot. This makes it Dave's second-highest-rated broadcast of all time - the highest being none other than Back to Earth, back in 2009.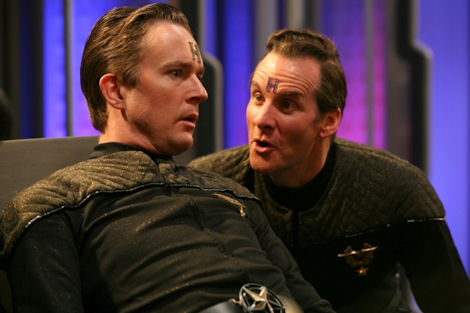 Of course, these figures don't yet take into account viewers who recorded the episode or watched it online (although adding in those who watched at 10pm on Dave ja vu bumps it up to 1.52m). But even standing on its own, this figure is a remarkable success for Dave and Red Dwarf - as, despite coming in slightly lower than Back to Earth's overnight figures, it achieved these ratings in an ordinary midweek slot (rather than the Good Friday airing of Back to Earth part one), and was up against new drama commissions rather than repeats on both of the "Big Two".
Most significantly, Red Dwarf pulled in a full third of BBC1's 9pm audience (which numbered 4.5m for heavily-promoted new drama Hunted), only a million fewer than ITV1's Homefront, and - most remarkably - almost 100,000 more than Channel 4's Hotel GB. Beating Gordon Ramsay is especially satisfying, given that his Kitchen Nightmares USA was one of only two programmes that topped Back to Earth's Good Friday broadcast in 2009.
This superb result in the ratings battle has been met, equally pleasingly, with near-universal critical acclaim among the press and general public alike. Here's a selection of the mainstream print and online press' reactions:
"Dave's Red Dwarf revival was easily the funniest British show of the week. The BBC's comedy chiefs: smegheads, the lot of them." - Ian Hyland, Mail on Sunday
"It is raucous in a way that reminded me of the heyday of Third Rock, sure-footed with the extended jokes, high on cod-jargon and dotted with decent one-liners" - Andrew Billen, The Times
"...a couple of one liners that were out of this world" - Kevin O'Sullivan, The Mirror
"...an inventive flair still at work and one or two moments border on the inspired" - Tim Dowling, The Guardian
"... laughs and smart ideas... largely a return to form" - Michael Hogan, The Telegraph
"...polished ensemble comedy... Its best jokes aren't transcribable because they sit in the air between the characters" - Tom Sutcliffe, The Independent
"It was a delight to catch up with them again and felt well and truly like old times." - David Brown, Radio Times
"Bottom line is: this was funny, engaging and well told." - Dave Golder, SFX
"On this evidence, Red Dwarf is once again must-see TV; clever, cutting edge comedy that you'd be a smeg-head to miss." - Chris Tilly, IGN
"Filled with solid character-driven gags and an enthusiastic cast who seem a good ten years younger than they actually are, it's a very strong start to the new run." - Pete Dillon-Trenchard, Den of Geek
"It's made me laugh, the plot has grabbed my imagination and the cast's performances are memorable. Red Dwarf is back." - Jonathan Capps, Ganymede & Titan fansite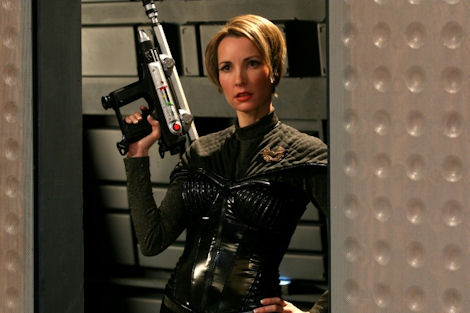 Phew. So they liked it, then. The consensus on Twitter was similar - poor Robert Llewellyn was besieged by over 7000, iPad-crashing messages (although, thankfully, positive ones!), while the #RedDwarfX hashtag became a trending topic almost from the word go and remained so right through the night. To say nothing of the near-constant discussion of mooses...
Indeed, Dwarf's online popularity was so great that Dave's website crashed under an onslaught of fans trying to get online to use their brand new and exclusive catch-up service. We're assured that all the bolts and rivets have now been strengthened, however, so feel free to catch up with last night's episode, Fathers and Suns, from now until next Thursday. And, of course, you can still buy each episode on iTunes just after broadcast - not to mention tooling yourself up with the bargainous season pass, which will give you instant and automatic access to each ep the moment it's available, without having to mess about and buy it each time.
So, who's ready to do it all over again...?
Red Dwarf X continues on Thursday nights at 9pm, exclusive to Dave.