DVD Details X
Cover art and bonus features revealed.
28 September, 2012
It was back in November 2005 that the following words appeared on this very site:
Much as we adore the look of this Series VIII DVD cover, it is in fact the final cover for the final series release. The end is really coming for this chapter in Red Dwarf history, and that end is painted orange.
Ah, how times change. Since Series VIII, we've had not one but two full, extras-laden Red Dwarf DVD releases - not to mention a DVD quiz game, an array of episode-only releases and even, for the first time, a Blu-ray set. But even after Back to Earth, it was still technically true that Series VIII's DVD was the "final series release".
Well, until now.
The imminent broadcast of Red Dwarf X on Dave is of course - rather inevitably - to be followed by a DVD and Blu-ray release. So, naturally, it needs a new cover. And here it is: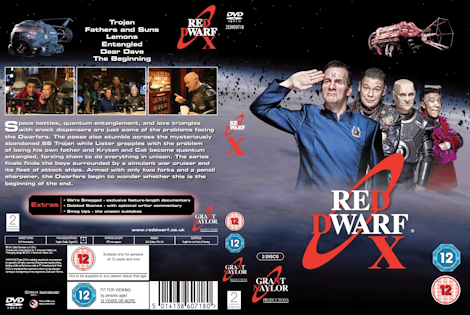 Click image to enlarge
As you'll notice, the series - and its bonus content - have now been certified in the UK and Ireland as a 12 - just like the previous eight series (and one level higher than the PG earned by Back to Earth). And what of that bonus content?
Well, the prize piece at the centre is a brand new, two-hour documentary on the making of Series X, titled "We're Smegged". A two-hour documentary, for a three-hour series? Yep. Trust us when we say you won't want to miss this one. We'll have more info about it in the coming weeks, but for now, have a little teaser: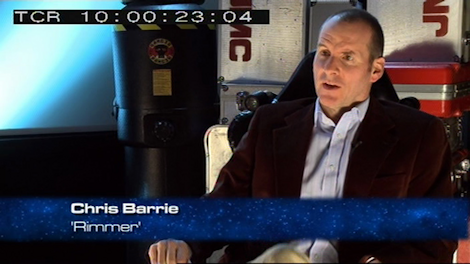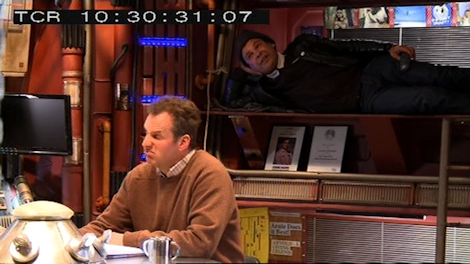 As is now customary, of course, there are also Smeg Ups aplenty - a healthy thirteen minutes thereof. And you want Deleted Scenes? We've got very nearly a whole episode's worth: just short of twenty eight minutes, in fact. Not only that, but after the success of a similar option on Back to Earth, you'll be able to watch the cut scenes either with or without an accompanying commentary from writer/director Doug Naylor.
The DVD and its high-definition Blu-ray sibling are set for Region 2/4 release on 19th November 2012 - just a scant couple of weeks after the series finishes broadcasting. And while we're sworn to secrecy, we can tell you that there are one or two pleasant surprises about the set still to be revealed. Watch this space...