The Music Man
Howard Goodall back to score Red Dwarf X.
4 May, 2012
You'll already know, from seeing the first publicity shot last week, that Red Dwarf X is looking pretty good. Well, we're pleased to tell you that it's now sounding excellent as well, thanks to the announcement that the one and only Howard Goodall will be providing a brand new incidental music score for the series.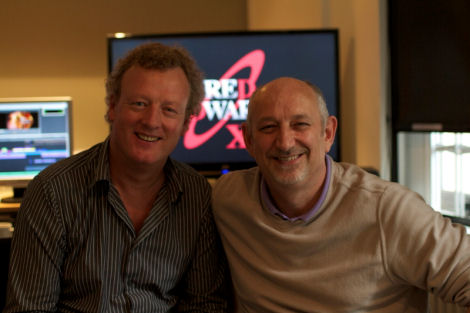 A living legend in TV music composition - from Blackadder to QI, if there's a British comedy theme tune in the last three decades that you like, he probably composed it - Howard scored the first six series in their entirety, and also provided a number of original pieces (including the fantastic Ace Rimmer theme and the Rimmer Experience song) for Series VII. With Howard unavailable, the scores for Series VIII and Back to Earth were largely based on library music - although some of his original, earlier-series cues can still be heard.
As you can hear from listening to the isolated music cues on the DVDs, having Howard on board is a huge asset to any series of Red Dwarf, and so it's with great pleasure that Doug Naylor welcomed him to the editing suite this week to cook up all manner of exciting new cues. And is that a blurry frame of an episode on one of the monitors behind them? We couldn't possibly say...
Read more about Howard's work in this interview from 2001.