Big Bang Reference
Hit sitcom's nod to Red Dwarf hits UK screens.
20 April, 2012
We never get tired of hearing Red Dwarf referenced elsewhere in pop culture. Whether it's Lucas and Walliams' apparent obsession with the Smeg Ups tape (they've mentioned it twice, first on Comic Relief and then on Little Britain), a namecheck in a Half Man Half Biscuit song, or Buffy the Vampire Slayer's Andrew lamenting the lack of a DVD release (we know... so 2001, right?), it's always nice to spot the world at large paying attention.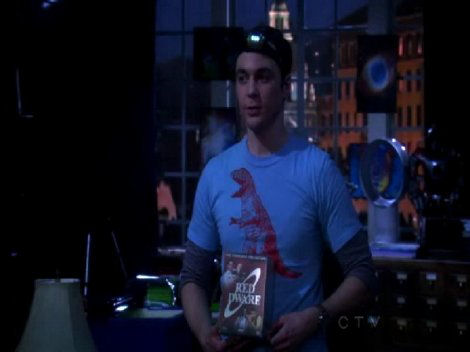 Meanwhile, over in the USA, one of the biggest sitcoms around at the moment is one that just happens to be about a group of sci-fi nerds: Chuck Lorre's smash hit The Big Bang Theory. Lead characters Leonard and Sheldon have already expressed their love of Doctor Who on numerous occasions - surely it was only a matter of time before Red Dwarf would get a nod as well?
Well, as it happens, it was - as viewers of digital channel E4 found in the episode "The Friendship Contraction", broadcast in the UK last Thursday, 12th April. In the episode - which originally aired in the States on CBS back in February - the characters are hit by a power cut, and Johnny Galecki's character Leonard is forced to make a choice between an evening with on-again off-again girlfriend Penny... or a session watching a certain sci-fi comedy with roommate Sheldon:
It's a dilemma, alright - and if that boxset that Sheldon's holding really does contain "all 61 episodes", meaning that he's somehow got hold of Series X early, then his offer really might win out over the charms of Kaley Cuoco...
UK fans keen to spot the reference again can catch the episode on 4OD between now and 10th May. What's more, it might not be the only connection with a hit US comedy on the horizon - as Community star Joel McHale expressed an interest in having the Red Dwarf cast make a guest appearance in a recent interview. For now, though, Dr Sheldon Cooper may have single-handedly recruited a few more Stateside fans just in time for Series X...
Find out where to buy Sheldon's complete-series Region 1 boxset in the Merchandise section!