Super Models
Update on Red Dwarf X visual effects.
3 February, 2012
You may have seen a fair amount of buzz about this on Twitter already this week, but we know that you won't believe anything's really true until you see it here on reddwarf.co.uk. So in an announcement that we suspect is going to make a lot of fans very happy, we can now confirm: Red Dwarf X will feature brand new model shots.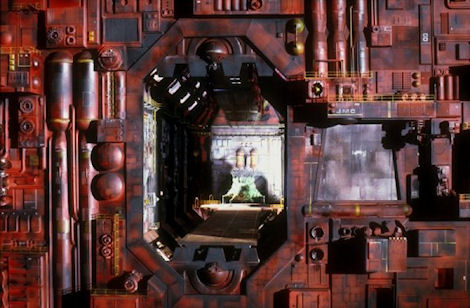 A bit of history, for those of you who aren't already automatically jumping for joy upon seeing those words in black and white. The "in space" sequences across the entirety of the first six series were accomplished by filming beautifully detailed miniature models of Red Dwarf, Starbug and a vast array of guest ships. Constructed by Peter Wragg's visual effects team, these models (as seen above) helped give the series a look and feel far beyond its budget.
In the seventh and eighth series, however, although model sequences were still present, they were only a supplement to the now-predominant CGI animation created by Chris Veale. A huge model of the redesigned Red Dwarf ship was built for the Remastered video release in 1997, but was rendered in CGI for its use both in those episodes and Series VIII rather than being directly shot on camera. In Back to Earth, meanwhile, time and budget considerations meant that it was impractical to use models for the brief establishing shot of the ship - and so a new CGI version of a now-shortened design was used.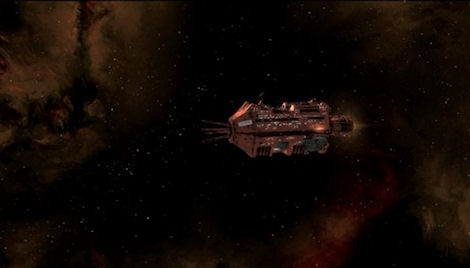 For Series X, however, the decision has been made to take the visual effects back towards their roots - and so, as part of the final week of pickup shooting at Shepperton Studios, a special area has been given over to the second unit, in order that they can shoot space-bound sequences featuring actual, tangible ship miniatures. Other visual effects methods will of course be used in the series as and when appropriate - but the ships themselves will be models.
The new model shooting unit is being headed up by Peter Talbot, an experienced director of photography with a particularly impressive CV when it comes to miniature work in both movies and television. As well as working on iconic franchises such as Batman, Iron Man and James Bond, he also shot the miniatures for Duncan Jones' Moon, a film not entirely dissimilar to Red Dwarf in its look and feel.
As for the models themselves? Well, we can tell you that - obviously - Red Dwarf itself will be appearing; and in a nice link with the past, the gigantic late '90s model will finally get to see the light of a camera, albeit in modified form. It's had a full refurbishment, and may well have lost a fair bit of weight around the midriff. Beyond that? Well... that would be telling. But for now, feast your eyes on the below teaser, and look out for Dave's next exclusive behind-the-scenes video later today if you want to see a little more...
Click image to enlarge or click here for XL version
We'll have more features on the Red Dwarf X models closer to broadcast this Autumn.