Be in the Audience for Red Dwarf X
We've got names, we've got places, we've got dates...
11 November, 2011
Flash back, if you will, to the world as it was exactly thirteen years ago, in November 1998. Tony Blair was Prime Minister. Cher's 'Believe' was atop the UK singles chart. A "google" was just a very big number. And for the last time, new episodes of Red Dwarf were being shot before a studio audience.
Well, for the last time... until now.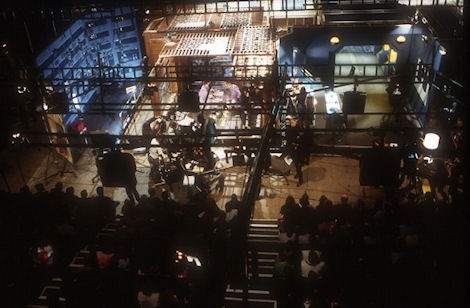 We're very pleased to announce that in December 2011 and January 2012, all six episodes of Red Dwarf X will be filmed at Shepperton Studios in front of a live audience. And if you want to be a part of that audience, read on for information on how to apply for your free tickets.
The filming will take place on two dates in December, and four in January, as follows:
Friday 16th December 2011
Friday 23rd December 2011
Saturday 7th January 2012
Friday 13th January 2012
Friday 20th January 2012
Friday 27th January 2012
On each evening, doors will open at 5.30pm, and recording is scheduled to finish at 10.00pm. Please note that only those aged 16 and over will be admitted, and you will need to arrange your own transportation to and from Shepperton Studios.
Applications for tickets are being handled by Lost in TV Audience Services, and their page for Red Dwarf tickets will be going live at 2.00pm, Friday 11th November.
You'll need to be registered with Lost in TV in order to apply - we suggest, therefore, that you register on their site in advance of 2pm to ensure the best chance of getting hold of tickets. When you have requested tickets for your chosen date(s), Lost in TV will subsequently contact you to let you know whether your application has been successful.
We're afraid we can't answer any queries relating to the ticket application process or arrangements for the filming - if you do have any questions, please contact Lost in TV.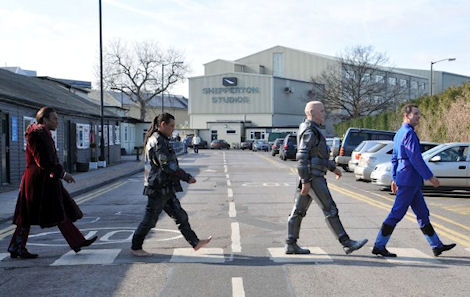 And just to whet your appetites a little further, here's the official blurb for the new series:
Red Dwarf returns for its first full series since 1999. Lister, Rimmer, Cat and Kryten face six exciting new adventures from the pen of Doug Naylor. The classic crew, the classic ship... with a brand new vision. The universe will never be the same...
Excited as we are? Then we'll see you there...
Ticket applications for Red Dwarf X will be open from 2pm at Lost in TV. Don't miss out!