The Guide Just Got Bigger
Back to Earth content added to the reddwarf.co.uk vault.
24 April, 2009
If you're one of the many who've been asking, 'What was that piece of music they used during the dimension cutter sequence/Carbug montage/remembrance garden scene in Back to Earth?', well, today will be a good day for you.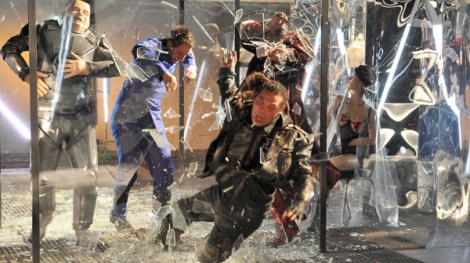 If you're curious to read a lengthy list of names of people who worked on the recent specials, happy days are here again. For those who like pictures taken from episodes of Red Dwarf, well, it's a decent day for you, too.
Those of you who love behind the scenes information... well, okay, you guys are gonna have to look for another day to make you feel happy. A really special birthday, maybe, or one of those days when stuff just seems to go right for no particular reason. It's something we'll be coming to a little later on.
Yes, the Complete Guide has been updated. That handy-dandy box in the middle of the site now includes a Back to Earth section, providing an episode guide, full cast and crew list, gallery and, oh yes, a catalogue of library music.
Can you stop asking now?