Back To Earth Ratings
While you were watching, so were more than two million others!
17 April, 2009
Let's get the big number out of the way first, shall we?
2.6 million
Yes, Dave's numbers are coming in for the broadcast of Back to Earth and it's a gobsmackingly insane figure. An average of 2.6 million individuals tuned in for the first Red Dwarf adventure in ten years.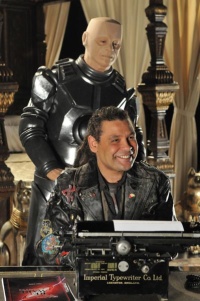 This gives the show an audience share of over 12%, with only ITV (with Doc Martin) and Channel 4 (showing Gordon Ramsay cooking/swearing) above it across the whole of the multichannel multiverse, putting the show above all the BBC's output.
For historical context, this currently places Red Dwarf as the highest-rated commissioned show on a digital network ever, even leaving the launch of Torchwood in the dust - and since the final, final numbers for all home recordings won't be in for an week or two yet, that figure may still rise.
Episode two hung on to an impressive 1.7 million despite stiff competition from (among other things) Britain's Got Talent, and episode three is currently pegged at 1.33 million. 621,000 also hung on for The Making of Back to Earth.
Figures for the Monday night repeats are just as fascinating - episode one picked up 621,000, episode two 724,000 and episode three 749,000 (notice how it goes up through the night?), plus another 337,000 for the Making Of. (Again, these numbers will rise as fuller data comes in from those who recorded to watch later.)
Combine these with the original broadcast and episode one was watched by over 3.2 million viewers! Episode two reached 2.4 million, and episode three grabbed two million.
Analysis of the figures is equally fascinating, showing the audience genders pretty evenly split - 56% male, 44% female, with 38.8% all under the age of 35. As ever, it remains hard to peg a certain 'type' as a Red Dwarf fan, since viewers clearly span every age, gender and social group.
Traffic on the Red Dwarf website was heavy enough to drive the poor, overloaded wires to a virtual meltdown, grinding reddwarf.co.uk to a halt pretty much from the moment the commercial break kicked in each night. Nearly 30,000 visitors dropped by each night, either to learn more about the show or to give their opinions on the forum.
Meanwhile, over on Dave's own site, the 'Should there be more Red Dwarf?' question posted after episode three drew a flurry of well over 2,000 eager, positive responses
Meanwhile, Red Dwarf became the number one Twitter trending topic over the Easter weekend, beating nearest-rival mentions of the religious holiday, Jesus and, erm, Hanna Montana. Leading to the inevitable headline and no doubt keeping avid Twitterer Robert Llewellyn extremely busy.
Red Dwarf: Back to Earth is out on DVD on June 15th and available to pre-order online now.