The Bodysnatcher Collection
The groundbreaking DVD release arrives in stores!
9 November, 2007
It's here. Later than expected, but it's finally here!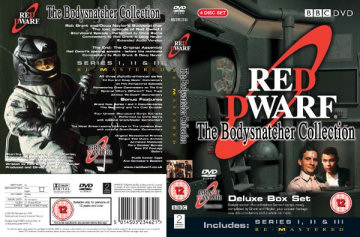 Red Dwarf: The Bodysnatcher Collection hits shops across the UK on Monday, November 12th - and there's never been anything quite like it.
The four-disc set includes Red Dwarf: Remastered - the three revamped series - along with text tracks detailing (in a frivolous and entertaining way) the changes between these and the originals. Then there are six episode commentaries, all featuring Ed Bye with Doug Naylor (on five) or the remastering crew (on the other one).
The centrepiece, of course, is Bodysnatcher, which is both the lost episode of Series I and the first collaboration between Rob Grant and Doug Naylor in over a decade. It's performed by Chris Barrie, storyboarded by Neil Maguire, and it's really, really funny.
There's also commentary by the writers, both on Bodysnatcher and The End: The Original Assembly - a version of Red Dwarf's first episode before the extensive reshoots.
Then there are the documentaries. Series I and II finally get the in-depth treatment they deserve - 70-minutes apiece - and even the remastered production is covered in detail in Re-Dwarf.
After that, there's still a plethora of material - rare versions of Tongue Tied, an archive Grant/Naylor interview, recently-uncovered deleted scenes, unseen scripts from Series III, collector's booklet, all kinds of stuff. You'll find the full list here.
You can also visit the Bodysnatcher Microsite to see Rob and Doug discussing their lost episode.
We think it's irresistible. Feel free to prove us right.
You can buy The Bodysnatcher Collection now from the Merchandise section.