Thickly Spread
Layouts and designs for the new RD calendar. Wow!
8 September, 2006
If there were a prize for gorgeousness, and the Cat was unable to attend due to a waxing emergency, the all-new Red Dwarf 2007 Calendar would win the top prize. No question, hands down, end of.
Red Dwarf Goes To Hollywood is, frankly, the parts of a dog that we shan't mention on a family site. Thirteen spoof movie posters have been created especially for this release, taking elements of our show and genetically splicing them with classic cinema imagery in ways that would probably cause concern for any medical ethics board.
You will, we hope, recognise most of these iconic designs, and the peculiar twists they've taken. The amount of work that has gone into taking the familiar Red Dwarf series stills and adapting them has been astounding - made all the tougher because each idea has to work both visually and pictorially.
Parody titles are easy - Saving Rimmer's Privates, anyone? - but have to match a smart visual design. It is, for example, disappointing to see the Top Gun poster and realise it's too... vague an image to be ripe for an Ace Rimmer spoofing.
In each case Grant Naylor Productions - specifically Andrew Ellard and Rachel Phillips - would mock up low-res concepts based on the original movie poster. Those mocks were then sent to graphic designer Ben Scotton for Global Calendars and worked up to their final glory. (Ben also kicked off the Goitfellas concept, tying the moody Goodfellas poster to classic episode Back to Reality.)
The problems encountered along the way were often quite peculiar. The calendar was to be square, for one thing, and we'd worked up the concepts based on portrait-shaped posters. So that took some tweaking. Plus you would not believe how hard it is to get hold of, say, a picture of the Cat from behind!
Sometimes the mood of a poster, and its genre, becomes more important than its specifics. For example, if you Google Sense and Sensibility movie posters, then do the same for Pride and Prejudice posters, it's bizarre how similar the ad campaigns for these two films were. So we chose to poke fun at the general style, rather than either flick particularly.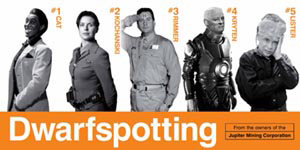 We also fell totally in love with Dwarfspotting, a poster that couldn't possibly be re-shaped to be square. So this now appears as a central-section pull-out poster.
Meanwhile the main calendar spreads - y'know, the bottom half of each month, the bit that tells you what day it is - are tied in to the main image... in a loose kinda way. The Scarface parody Squareface, for example, includes images of Kryten in his bling, Cat strangling Lister, and Kryters with a gun.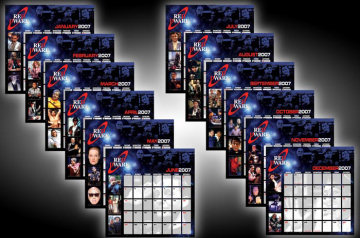 The monthly spreads also include all original Red Dwarf broadcast dates in the UK - the start of each series, and when the last new episode (to date) was transmitted.
But, of course, there is also rejection. Many concepts were considered and then passed over, including the below pastiches of American Pie, The Deer Hunter and Notting Hill. One more image was, in fact, rejected after hi-res completion... but we'll tell you about that another time, when it might just appear on reddwarf.co.uk.
Currently, Global Calendars are looking to have this release ready in time to be picked up at the Dimension Jump Convention, with a full retail release very soon after. We'll keep you postered. Er - posted.
Red Dwarf Goes To Hollywood is due out later this month and can be pre-ordered via the Merchandise section.