Content Confirmed
The Full SP - by Andrew Ellard
10 December, 2004
It is, by now, getting a little tired to say that each Red Dwarf DVD release is exceeding the last. Still, I'm going to wheel out that comparison one more time for this, the full extras list for Red Dwarf VI. Have a goosey at these goodies!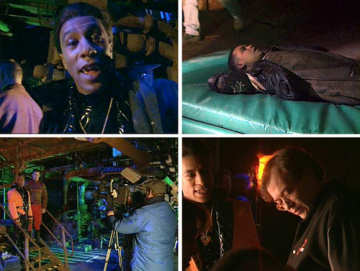 Cast Commentary
Featuring Chris Barrie, Craig Charles, Danny John-Jules and Robert Llewellyn.
Fan Commentary - Gunmen of the Apocalypse
Fans Steve Harris, Mandi Neary, Cleo Peacock and Keir Shiels join DVD Associate Producer Andrew Ellard for a special bonus commentary.
"The Starbuggers" Original Documentary
A 75-minute look at the making of Series VI, featuring interviews with cast and crew plus never-before-seen footage from the set.
Deleted Scenes
Over 40 minutes of deleted and extended moments.
Smeg Ups
A compilation of outtakes and fluffs.
Howard Goodall: Settling The Score
The maestro himself talks us through the inside story of Red Dwarf's music. (30 minutes.)
"Sick" Featurette
Some days the Dwarfers just aren't feeling so good... (Montage set to Mama Told Me Not To Come by Tom Jones and the Stereophonics.)
"Return to Laredo" Featurette
Ten years after filming Gunmen, Robert Llewellyn returns to the location of Red Dwarf's greatest triumph.
Behind the Scenes Footage
Footage captured on location for Psirens before a 'Making Of' project was aborted.
Interview with Andy de Emmony
Donated to the awards archive when Gunmen of the Apocalypse won the International Emmy.
8mm Model-Maker Footage
Nick Kool provides a fascinating glimpse at the workings of Red Dwarf's model department. (Silent, black and white.)
Trailers
Original series trailers recovered, once again, from home VHS collections.
Raw FX Footage
A compilation of model effects footage transferred from the original 35mm film.
Isolated Music Cues
Instant access to the various elements of the Series VI music score.
"Dave Hollins" Radio Sketch
A chance to hear one of the original Son of Cliché radio sketches that led to the creation of Red Dwarf.
Photo Gallery
A massive collection of production images and artwork, including Nobby Clark's behind the scenes photography and design artwork from the BBC Vis FX archive.
Weblink
Link to the official website.
Subtitles
English subtitles for episodes and extras.
Easter Eggs
Several bonus extras are hidden within the DVD menus - can you find them all?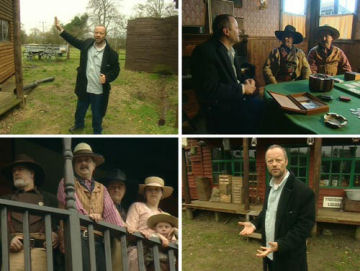 No huge surprises this time, no last-minute additions that break the budget and drive the authoring house into a (justifiable) deep blue funk. Just everything we promised and everything we wanted - plus a cute tweak to the last of our animated Easter Eggs. Will it be everything you want, though? February 21st is the day to find out!
The pictures in this update are taken from some of the highlights of our extras this time around - Settling the Score, Return to Laredo, Andy de Emmony's interview, Nick Kool's delightful 8mm short, plus our luckiest find we ever found in the whole of today: the Series VI Behind the Scenes footage.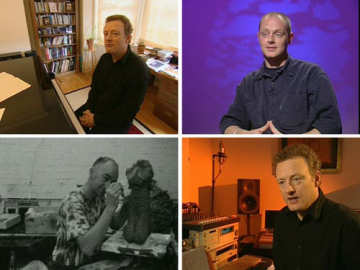 Still to come - the all-new Series VI menus! Exclusive screenshots from the latest evolution, which will see your options located aboard the wreck of a crashed Starbug. Plus there are chapter points and a full list of those all-important deleted scenes!
More DVD Details will follow soon...
The upcoming Red Dwarf DVD releases are as follows:
| | | | |
| --- | --- | --- | --- |
| Region | Location | Series | Date |
| 2 | Europe | Just the Shows 1 | OUT NOW |
| 2 | Europe | V | OUT NOW |
| 2 | Europe | VI | Feb 21, 2005 |
| 4 | Australasia | Just the Shows 1 | OUT NOW |
| 4 | Australasia | V | OUT NOW |
| 4 | Australasia | VI | Feb/Mar 2005 |
| 1 | USA & Canada | V & VI | Mar 15, 2005 |