All Talk 2
More Interviews - by Andrew Ellard
13 June, 2003
Ah, the blissful sound of silence. For the second and third DVD interview sessions, the recording was transferred to an office at Shepperton Studios where the floor above wasn't populated by dancing elephants with weight problems. Blessed, blessed relief.
A more eclectic mix began on May 19th with master costume designer Howard Burden, who, along with the late Mel Bibby, revolutionised the look of Red Dwarf in its third series. Indeed, Mel's name couldn't help but come up - everyone involved with the show acknowledges the massive impact he had on the look and feel. It's only a shame he won't be with us for this release, though we hope to pay tribute in our own small way.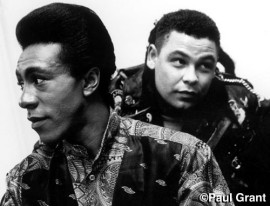 Howard was followed by Andrea Finch - née Pennell - who took over Red Dwarf's make-up from Series IV. It's a good season to talk about with her, not least because for one episode (Camille) she had two rubber heads to cope with at once, both belonging to real-life couple Judy Pascoe and Robert Llewellyn. Did the pressure get to them? We find out!
With such a full roster already, it's probably fortunate that so many guest cast members are currently out of the country. Aside from Judy, neither Emile Charles nor Clayton Mark were anywhere near close enough to the UK to pop in for a chat. We were, however, lucky enough to snag Gordon Kennedy and "Fourth Dwarfer" (ignore the maths - it's how he describes himself) Tony Hawks.
Finally, and with much relief, Danny John-Jules and Craig Charles arrived before the bluescreen on June 6th to complete the main cast line-up. Danny, it has to be said, was on fine form - but Craig... Well, he's in a whole other universe! Half way through any question, Craig was already off with the answer - along with answers to the three questions I had to follow. All this coming from his legendary, near-photographic memory.
With 11 (highly detailed) interviews now in the can, we now make our way to the edit. It's a daunting task, made slightly less so by the knowledge that Doug Naylor will be around - film permitting - to fill any of the gaps I might have missed.
Yep, if anyone was drunk on set, he'll know about it.
More DVD details will follow soon...
You can pre-order the Series III DVD from the Red Dwarf Shop.