Deleted Details
Series 2 Removals - by Andrew Ellard
24 January, 2003
As Red Dwarf got into its stride the scripts, the performances - the show - took a quantum leap forward. Nowhere is this illustrated better than in the deleted scenes.
Series I's deleted scenes had huge curiosity value - they're a great way to discover performances that never made it into the show, ideas that might have altered how the episode worked - but, let's face it, a lot of them were cut for a reason. Series I was a less confident Dwarf, and cuts were often made just to avoid having duff scenes on-screen.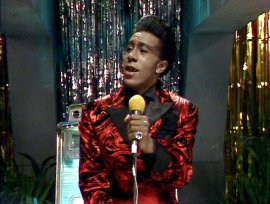 But while this is true for all productions, as any programme improves, cuts are made less and less for reasons of quality. It increasingly becomes a question of time and pace, fitting the standard TV half-hour and making sure your story is always on the move.
So it is that the deleted scenes for Series II of Red Dwarf are a little cut above those for Series I. There's a lot of funny stuff here - the scenes just lasted too long.
Personal favourites this time around include Rimmer's drunken deathday desire to join the Space Masons, some great quick gags cut from Parallel Universe, and the Cat attempting to sing a duet with Talkie Toaster: "You're coming in on the 'Eeeeee' when you should be coming in on the 'Waaaahhhh'. You're making it sound stupid!"
Of strong curiosity value this time are the original versions of Stasis Leak's two shower scenes - scripted much as the final versions, but filmed on the most fake-looking set you'll see this side of Neighbours - and Rimmer's malfunction in Queeg where Chris Barrie runs through a great many more crew impersonations than made the final cut.
The full, uncut closing credits and theme tune for TV soap Androids.
A deleted scene in which the Cat duets with Talkie Toaster.
A lengthy dialogue section from Rimmer's 'deathday' party.
The Dwarfers stagger drunkenly back to their rooms.
Rimmer further expands on just how few times he has made love.
Additional dialogue showing Rimmer remembering Lister's past.
Additional dialogue regarding Holly's computer senility.
Original shower scene 1
Original shower scene 2
An extension of Lister's 'already married' lament
Lister's excuse for hanging around a hotel corridor.
A malfunctioning Rimmer impersonating many more of Red Dwarf's crew.
The full-length 'wake up call' discussion between Rimmer and Queeg.
These guys have been alone in space too long.
Holly's pride at creating the Hop Drive.
Whose flea is it anyway?
Haven't you ever seen a computer snog before?
The two Rimmers gang up on a pregnant Lister.
The Series II DVD is released on February 10th in the UK/Region 2, Australia (Region 4) may be holding on until April 7th. Region 1 - USA and Canada - will see Series I and II much sooner, on February 25th.
More DVD Details will follow soon...