Covered Again
Midget Blue - by Andrew Ellard
20 December, 2002
Well, here it is - Series II's cover art is off and running. Soon (and by 'soon' we mean, 'in February') the shelves of shops around the UK will be running with this delightful blue cover. And if they prop it next to its red Series I companion the spines will line up, too!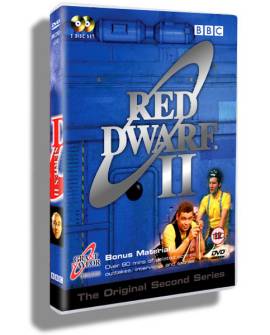 Yep, it's your chance to check out the UK cover for the Series II DVD. With a CG rendered background of Blue Midget's hull by Chris Veale, a colour-corrected image of Lister painting the ship on the rear, and another foil-embossed silver logo on the front, it's?well, exactly as we planned back here.
More DVD Details will follow soon...