Getting It Covered
Back at the Front - by Andrew Ellard
12 July, 2002
The covers for the new Red Dwarf DVDs have become something of a collaborative work - and are all the better for it. It's been a long time since a video box was designed for the show - the last being the season VIII cases in 1999 - so we had the chance to come up with something new and interesting.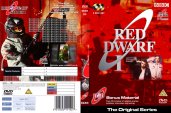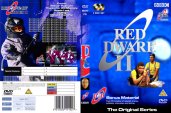 Here at the Grant Naylor offices, we came up with over a dozen concept designs. Low resolution Photoshop compositions were run off and presented to Doug Naylor. His choice proved to be a million miles from the tired old black backgrounds of the early series.
Designed by GNP's Gina Hinton and developed by my good self and the rest of the team, the layout is big on Dwarfishness - literally. A close up of the ship's crimson hull covers the cover (ahem)... or, at least, it will. From the concept art stage, which used an ancient picture of the early Red Dwarf model, things have now progressed. CGI whizz Chris Veale has created hull images for Red Dwarf (series I) and Blue Midget (series II) designed to fit the style of the early series.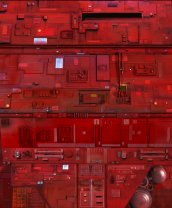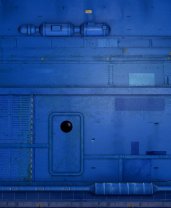 Meanwhile, the rear cover focuses, inevitably, on the content of the double disc sets alongside the familiar sight of Lister painting the ship. For series II, this will be colour adjusted to blue for the Midget. (Series III, not planned for release until at least November 2003, will feature a similar Starbug design.)
Right now, BBC Worldwide's designers are creating the hi-res version of the covers complete with snazzy logos - including one down the matching spines.
Release dates for the series worldwide are also currently dropping into place. The UK (region 2) and Australia (region 4) are currently likely to get a simultaneous series I release on November 4th this year. The second series will then follow in February of 2003. America (region 1) won't be able to move quite so swiftly, sadly, due to the complexities of NTSC conversion and the demands of the market - fans Stateside should be able to get series I from February 25th, 2003. Series II may arrive at the same time, although this is still to be confirmed.
More DVD Details will follow soon...