Rehearsals Commence
Down at Shepperton the cast begin to run through the movie script.
25 May, 2001
Following the script read through in March, the main cast of Red Dwarf - The Movie have assembled to begin the rehearsal process. The rehearsals are based on a new draft of the script, which has undergone the usual rewrites since the team last assembled - and looks set for further augmentation based on this opportunity to try the scenes on for size.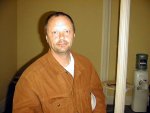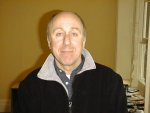 Chris Barrie, Craig Charles, Robert Llewellyn, Chloë Annett and Norman Lovett were joined by Mac McDonald. Temporary, rehearsal-only substitutes were found for Danny John-Jules while the Cat actor is away for the filming of Blade 2 in Prague. Schedules have been cunningly organised to accommodate all the cast's commitments, including Blade 2 and Robert's new series of Scrapheap Challenge.
As with the read through, some of the rehearsals were attended by additional actors to lend voice to the other characters in the film. Back in the Red's 'Dr McClaren' Andy Taylor was joined by experienced actress Carole Nimmons and - following his work in March - Richard O'Callaghan.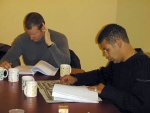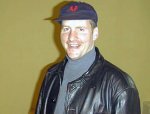 With Allan Cameron's sets currently still at the design stage, rehearsals have occurred with substitute props and floor layouts - the whole experience being curiously reminiscent of the early years of the show at the BBC's rehearsal rooms in Acton. ('So the umbrella's my weapon and the ladle is your gun...')
The cast themselves have been in extremely high spirits, bringing life to the lines and pulling all the usual faces - plus a few new ones. In an inventive Holly moment, Norman Lovett was to be found peering through a window to replicate his position on Starbug's monitor!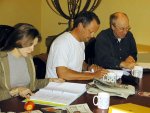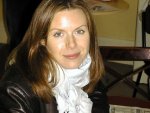 Red Dwarf head-honcho Doug Naylor has also had the rehearsals - which have taken place in Shepperton Studios' newly built Orangery building - filmed. The resulting footage is being edited alongside existing Red Dwarf TV footage and animated storyboard sequences to provide a clear idea of how the finished product will go together.