Dimension Jump XIX
by Seb Patrick
N-N-N-N-Nineteen
It's safe to say the 2017 Dimension Jump convention occupied a pretty unique position - the last time there was a convention in the same year as a new upcoming series of Red Dwarf, while also hot on the heels of one a year previously, was all the way back in 1993. Since then, events such as 2009's DJ XV and 2013's DJXVII have taken place a few months after the broadcast of new episodes - but never in the middle of two series like this.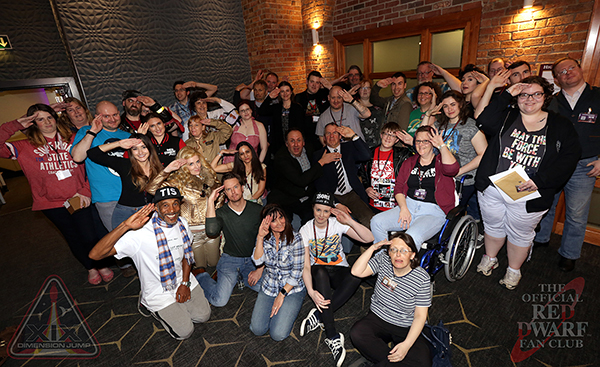 The question ahead of the weekend, then, was: would talk of the upcoming Red Dwarf XII dominate the event? Or would DJ XIX be a way of neatly tying off the hugely well-received Series XI before we prepare for the publicity machine to start up again later in the year?
In the end, the latter firmly turned out to be the case: while anticipation for the next series hung heavily in the air, we were thankfully free of any accidental spoiler chat; while the new-to-DJ guests - not just from Series XI, but from Series X as well - made the event a true celebration of the show's recent past, in among all that optimism for the future.
In true Dimension Jump fashion, there was barely any time for attendees to settle in before the event kicked off in spectacular fashion... with Friday night.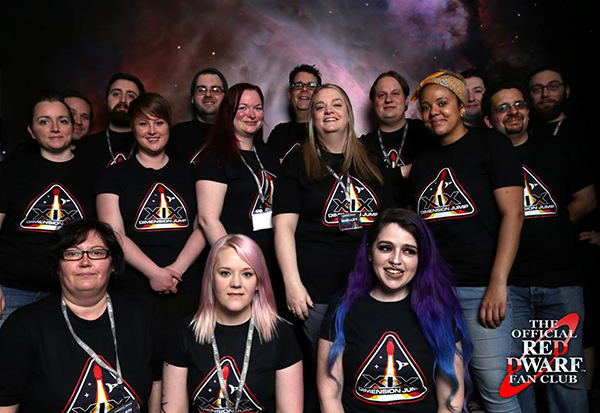 With thanks as ever to the fan club team: James, Jo, Carrie, Jez, Alex, Danny, Joey, Shelley, Mick and Cappsy; and weekend volunteers Rachel, Helen, Neil, Katie, Amy, Gwyneth, Andy, Melissa, Kerry, Dan, Kiran, Josephine, Tom, Lauren, Ian and Curtis. And to the staff of the Crowne Plaza Nottingham!
Pictures by Becky Ryan Photography and Darren Ord.