Dogging Around


With his Return to the Forbidden Planet show rocking the Savoy Theatre, Mr Flibble wanders onto the set to talk to Matthew Devitt - Parallel Universe's very own hound dog.
21 December, 2001

Mr Flibble's right hand provided by
Andrew Ellard
Mr Flibble whispered his first question to Andrew - which involved asking for a part in the current run of Return to the Forbidden Planet. Andrew pretended to mis-hear it as 'How did you GET STARTED performing?'
I knew at the age of 12. I went to an all boys school, and we'd hand an inter-house play competition, and I had to play a woman. The minute I put my sister's Holy Communion frock on, I knew this was for me! (Laughs)
I then did a performance arts degree, [and] I'd played in bands since the age of 14. When I left college I was playing in a band that was, actually, very good. The guy who wrote all the songs was the brother of a girl I knew in college - who I thought was a right wuss, but she made me listen to his songs. They were fantastic, and we've been best mates ever since. He's now my agent!
I was working for the Ministry of Defence - with lovely people - but having to leaf through Jane's Landmine Monthly really played on my conscience. It's not 'an actor's story', but one day I just thought, 'What the hell am I doing?' I ran down to the newsagent and bought The Stage.
I wrote to Bob Carlton, who is the writer and director of Forbidden Planet, and my mentor, [because] he was advertising for actors and musicians. I said, 'I don't have much acting experience, however here are all the bands I've played in, a couple of albums I've played on.' I got a letter back saying, 'Thank you for your interest, however this round of auditions is for people who play instruments, not just for actors.'
So I spent two days at the Ministry composing a vitriolic letter back saying, 'How dare you! Do you know how many people are out of work, do you know the responsibility you have? And you can't even be bothered to read my CV properly!'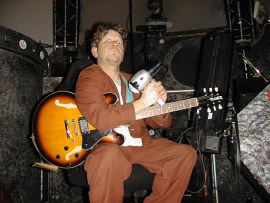 His version of the story is [that he thought], 'I'm having this little shit in - and I'm going to rip him to shreds'. I got an audition, I was so fantastically freaked out. I've been overtaken by the young breed now, but as an actor I'm a very good guitarist. Grudgingly, he had to give me the job! The show was From a Jack to a King - a one hour version of the Scottish play, about a young, naïve drummer who comes down from the Highlands, falls in love with a backing singer and deposes the 'king' of the band.
I told my mum I'd left the Ministry to play (whispers) Macbeth in the West End - in fact, it was From a Jack to a King in a café just off Leicester Square. (Laughs) The following season we did Return to the Forbidden Planet.
RETURN TO THE FORBIDDEN PLANET, on a limited run from December 11th until January 19th at the Savoy Theatre, now has you on the team as Associate Director...
I'm too fat and old to [act in] it, so I'm Associate Director on the tour. Bob [Carlton] and I took over the Queens Theatre in Hornchurch four years ago. I'd only directed Planet, but four years later I'm still there directing!
One of the nice things about it is - and there are a couple of people who've played Cookie in the past - they're much younger than me. At the age of 15 Phil [Reed, of the current cast] saw me do it and said, 'That's what I want to do'. I just tell them to enjoy every moment. It is a very hard-work show... but when you get paid for it, it's lovely!
The style of the show has grown into a phenomenon of the theatre - influencing A Tribute to the Blues Brothers, Abba show Mama Mia, etc...
Often imitated, never bettered! (Laughs) That is a kind of a tribute. The standard of musicianship has improved enormously. But you take a great deal of satisfaction from being able to say 'I was one of the first'. That's fantastic.
Mr Flibble tried to hand over his CV, but Andrew blew his nose on it. How did you get involved with RED DWARF?
I can't really remember - I'd done quite a lot of kids' telly. Paul Jackson asked me to come an audition for Tony Hawks' series, Morris Minor and the Majors and do something funny. I'm an actor, not a stand-up, but I did think kind of mime. Then he rang and said, 'I don't want you to do that, but I want you to do this other part in Red Dwarf' - which was, for me, even better.
Where did the accent come from?
I'd played a dog at The Bubble, based on the Kray Twins - demonstrating their life in a series of cabaret acts in a club that they ran we had one person, schizophrenic, playing both twins. To demonstrate their attitude to national service, we had this thing called Corporal Carter and his Cavorting Canines, and I was Billy the Bulldog. I just barked and shagged the girls' legs. Which was fantastic - I've continued to shag legs ever since. (Laughs)
To be frank, you just do what you hope [works] and if it's wrong, somebody's going to say. They wanted [the Southern American accent], that was sort of a given - because Danny was a sophisticated American cat, they wanted an unsophisticated, southern-states, red-neck dog. The only line I can remember is, 'I'm gonna smell your behind, then you can smell mine.' I remember having the teeth made, which was fantastic. Went to Harley Street and had them done.
How was the on-set atmosphere?
It was very relaxed. They weren't [fully] aware, but maybe it was just dawning that they were on to something bigger than they'd first anticipated. From the reaction from the studio audience you already knew that it was already achieving some kind of cult status. Hattie was in that episode, and I still occasionally bump into her.
It helped knowing Craig. I'd known Craig Charles, because years ago we'd worked at the Liverpool Everyman. One of the first shows I did up there was with Cathy Tyson, when Craig and Cathy were together. We'd go to this famous drinking club, the Casablanca, and Craig used to go in there and we'd get sneak previews of his poems. He was only 18 then.
He was lovely, and so was Danny. I bumped into Danny a couple of years ago in Oxford, and he was ever lovelier! And Chris, as well - I sat and talked about vintage cars with [him].
The Dog doesn't get a final 'send off' scene...
It wasn't in the script - and I think it's time that loose end was tied up! Toothless this time, older, with mange. I'd love to come back, it would be fantastic to do another episode now.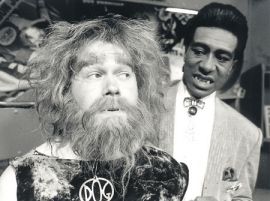 Mr Flibble broke into a ten minute solo improvised guitar riff - which sadly secured his non-involvement on the show. Dwarf-like Cult FANDOM on Planet...
I think one of the dangers is to lump all the people who support a show enthusiastically together. You can't. There are one or two who become a problem - but half the reason they become a problem is because you don't address it early enough. You don't have experience of it, so you're not equipped to deal with it. It's an instinct thing. Some people, if you give them a tiny bit of time, are fine. Other people, if you give them a tiny bit of time, they latch onto you.
Unfortunately I was never latched onto by anyone under the age of 30. (Laughs) I got middle-aged women with families. There's a family I'm still in touch with. There was a woman, who took an obsessional interest in one of the characters. I was on stage, and she said that I 'blanked' her during the performance!
Unknown to many people, you were in WAKING NED DEVINE...
My dad's from Belfast, and my agent said, 'he is Irish. Well, he's half Irish...' They took a lot of convincing. So I got the audition, and I had to improvise on-camera. Afterwards, I said, 'How was the accent?' She said, 'Well it started in the Ardennes, and by the time it had finished it was somewhere south of Belfast - but it was no further south than that.'
I got the part, and we had a fantastic dialogue coach. They shot the last scene, on the cliff-top, first. I then had a few little scenes. I took my daughter to the cast and crew screening, so we were watching and I'd say, 'I've got a little scene coming in a minute... oh, it's been cut. Well, I've got another one in a sec... oh, that's been cut as well.' I don't know if I was atrocious - think it was running too long.
It was me who found the body in the original film! I can do the lines from it. (Irish accent) 'The village has survived the storm, but Ned Devine has not...'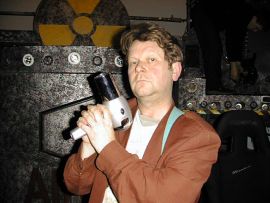 What have you got COMING UP?
At Hornchurch, Bob does a show, I do a show. Over four years I've done over 20 shows there. I've been lucky enough to also do shows abroad, which is brilliant. I've just directed the panto, Jack and the Beanstalk, for the Queens Theatre - which is open at the moment!
I want to do some acting again, because it's been a long time and I really miss it. So I'm working on a play about Dylan Thomas - 2003 is the fiftieth anniversary of his death - and I've long been interested in him as a person and a poet. [It's] based on his last summer before he goes to America.
Mr Flibble enjoyed talking to Matthew Devitt, and now that it's over... Mr Flibble is very cross.