Casting Couch


Red Dwarf has featured a number of major celebrities in guest roles. But who has to track them down? And who has to find an entire prison full of scary-looking inmates? Red Dwarf TV and movie casting director Linda Glover, that's who.
13 April, 2001

Mr Flibble's right hand provided by
Andrew Ellard
Mr Flibble handed over his CV and mooted the possibility of a role in the Red Dwarf movie. Andrew stuck to his first interview question: Where did your involvement with RED DWARF begin?
I read the pilot back in 1985 when I was working with Doug and Rob on Spitting Image. I was very excited by it and wanted to be involved, but in the end decided to take a break from full time TV work to have kids. Then I came back and started work for GNP on The10%ers. I was at the recording of the first ever show though, and thought it was wonderful. It's interesting to compare that first episode with the first episode of One Foot in The Grave where the audience hardly laugh at all because they didn't know Victor Meldrew and Margaret yet. But with Red Dwarf it wasn't like that. The audience loved it from the start, even though it was so different and the actors weren't familiar.
Let's talk about some of the series VII GUEST CASTING which began with Tikka to Ride, where you had to find people to be Oswald and Kennedy..
Yes, that was a challenge and I enjoyed it. Toby Aspin is a very athletic dancer as well as an actor, which is what they were looking for because of the physical business with the window in Tikka. Michael Shannon is a brilliant actor and was terrific as JFK.
Then came Stoke Me a Clipper and a whole army of Germans. What made you go after Ken Morley?
While I was reading the script for Stoke, Ken Morley just popped into my mind. It was just after his success in Coronation Street, he wasn't involved in anything else yet and I thought he would be funny. Luckily Ed and Doug thought so too. He also reminded me a bit of Gert Frobe in Goldfinger. Yes, okay, maybe that's just me... (Laughs)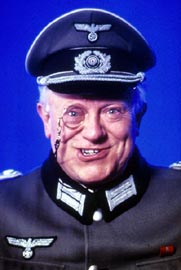 Where did the German soldiers come from? Were they picked for their language skills?
I wanted German actors and knew Stephen [Grothgar] from his previous work, including a tiny part he had in Eric Idle's film, Splitting Heirs when he was very funny playing a tourist. Kai Maurer hasn't done much in this country, but they both gelled. I loved the sketch they did together for the 10th anniversary show, they were so camp.
Then there was the medieval sequence. What inspired Brian Cox's casting?
At the beginning of a series Ed, Doug and I talk about which parts would suit a 'name' actor, and the King was an obvious choice because it was a good self-contained cameo and would only take a day to shoot on location. I suggested Brian Cox because I think he's a great actor and thought he would play the King in a puffed up, pompous way, which would be funny and hopefully just as Doug had imagined the king to be. And if you don't ask you don't get! He's a nice guy, and there was no problem when we asked him to come back to reshoot, because of bad weather the first time.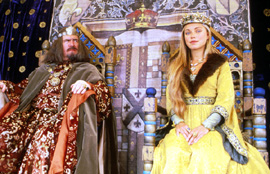 Meanwhile Sarah Alexander's star was just on the rise as the series came out...
I don't think anyone knew about her till after the series. I'd met her a couple of times and thought she was extremely talented as well as gorgeous, but she hadn't done anything much. When the part of the Queen came up, I thought she'd be right for it - she was strong enough to hold her own on screen with Brian Cox as well as Craig and Robert. After getting the go-ahead from Ed and Doug, I rang Sarah and asked her to say something in a French accent. She talked at length about absolutely nothing, was very funny and so we booked her over the phone. It's quite right that she's become so successful in comedy and I'm pleased she started off with Red Dwarf!
How did the late Don Henderson become involved?
Don wrote to me before Series VII began to say he was a big fan of the show and would love to appear in an episode. Ed had recently worked with him and thought he would be good as the Simulant in Beyond a Joke. Don was already very ill with throat cancer, and tragically he died shortly after the episode was aired. His wife said that working on Red Dwarf was one of the happiest experiences of his career. In fact most of the guest actors say what a great time they've had on the show.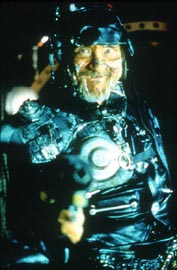 In that episode you also had to repopulate Jane Austen's world with a cast who could also do some slapstick...
It was fun casting the Bennett girls - they were all experienced actors except Sophia Thierens, who was only 16 and just starting out in TV. They looked exactly like Austen heroines, and much as I liked the BBC1 version of Pride and Prejudice, I think ours was better! (Laughs)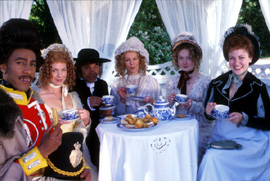 I especially like Vicky Ogden, who is completely mad and wonderful as Mrs Bennett. I enjoyed the whole thing so much that I went out on location and spent time with the "Bennetts" between takes in their trailer. They were sitting there in their petticoats, smoking and gossiping away and we had so many laughs. One of Danny's fangs fell out on that same day. While we were all crawling about in the undergrowth on one side of the lake looking for it, the gazebo was suddenly and loudly blown up on the other side, which gave us all a bit of a turn.
How do you tell somebody like Nicky Leatherbarrow that you'd like them to play a zombie?
You say " Nicky, there's a fantastic part that you were born to play in Red Dwarf VII, how about it?" Seriously, Nicky was fine about being a zombie. After all Caroline Carmen was good looking enough to have dated Lister while she was alive! Nicky was very patient while all the gunk was put on, and the contact lenses were very uncomfortable, but she was a real trouper. She certainly looked the part. Andrea [Finch] did a fab job on the make up and put a lot of people in the canteen off their lunch that day.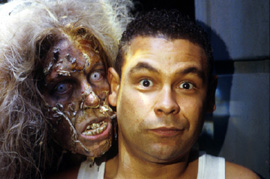 Mr Flibble mumbled something about a script idea for an undead killer penguin but nobody was listening. RED DWARF VIII must have changed your job somewhat - including finding a great many weird-looking actors!
Obviously there were a lot more people in the show when the crew were revived. The Canaries were indeed chosen for their weird appearances - the guy with 169 facial piercings went to the top of the list. There's an actors' agency with the unfortunate name of "Ugly" who were a great help and the others we got from another agency called "G2" whom we always go to for walk on performers. I had help with them from casting assistant Kerry and the second assistant director Jackie, whose brief from me was "the more bizarre the better" - and I know Doug and Ed were very pleased with the result.
Let's talk about some of the GUEST faces in that - aside from Mac, there was Paul Bradley and David Gillespie, plus some great stuff from Andy Taylor, Karl Glenn Simpson and Graham McTavish...
Doug was keen to have Hollister, Petersen, Selby and Chen there when Starbug arrived on Red Dwarf and both David and Paul were happy to reprise their roles. It was a bit touch and go with Mac, he wasn't going to be available at first and we were very disappointed - but we reworked some dates and he was able to do it thankfully. Unfortunately Mark Williams' agent said he wasn't available to come back for the TV show.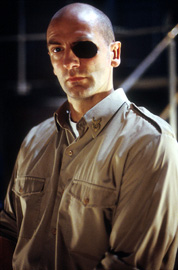 Andy Taylor, who played the ship's psychiatrist, is a very funny actor, extremely underrated I think. He had a small role in The 10%ers and I really wanted to get him in Red Dwarf. He brought everything to the role that Doug had envisaged and a bit more!
Karl is equally at home in comedy roles as dramatic ones and Graham is a very good actor who just got funnier and funnier as Ackerman. I think Graham has already said in an interview that he scared me when he came to read for the part - and it's true. He's very tall and well built and arrived in a singlet vest, with oiled muscles rippling, and was very aggressive! He proceeded to terrify the hell out of me as Ackerman. I said to Ed afterwards that I thought he possibly was a pyscho. I found out that as a person he couldn't be nicer - but he certainly was intimidating that day.
Mr Flibble insisted that he could be intimidating and pulled a scary face - which frightened only himself when he glimpsed it in a mirror. Moving on. the Cat had to have a hot young traffic controller to dance for - as well as her aging counterpart...
Originally, the script called for just the younger one, but there was a rewrite which meant I had to find the older woman - and fairly quickly as I recall. Jeillo Edwards is an experienced actress and a very good one, but she arrived to meet us wearing a very unactressy crochet hat, huge beads and boots. She looked so brilliant that Doug and Ed didn't want her to wear a costume for the shoot! Yasmin Bannerman, who played the younger controller, is one of the most beautiful women I have ever seen and it's my bet that she's going to make it big in feature films.
Cassandra's Geraldine McEwan was a great casting coup - what persuaded her to come on board?
I asked Geraldine McEwan if she would read the script because we would like her to play Cassandra. She thought it was very funny and said she would do it. A few people were surprised at this, but I think Geraldine is so successful because not only is she a superb actress, she also knows how to move with the times. This is why she has worked with everyone from Laurence Olivier to Joe Orton to Kenneth Branagh to Doug Naylor (Laughs) in the fifty odd years she's been a leading actress. Everyone enjoyed the opportunity of working with Geraldine and thought it was great when she asked the posse for an autograph - for her grandson! She says she's a big fan of the show now.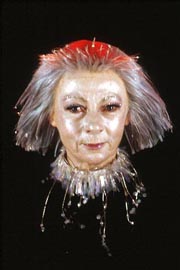 Mr Flibble said he would get his entire penguin family to watch Red Dwarf if they gave him a part. What do you look for when casting young versions of the cast - as in Pete?
I look for appropriate skin, hair and eye colour, together with good acting ability. Although lots can be done with CGI, make up and lenses, it's better to have the real thing. Then it helps if they have good powers of concentration. Holly Earl, who played young Kochanski, already had a good deal of television experience. Ricky, who played young Cat, was adorable, he walked into the audition and immediately proceeded to sing "I Believe I can Fly", twice. Chloe and Danny were quite spooked at how the kids looked so much like them. They did their little scene well and very quickly, which impressed everyone, although Holly had never heard of the word "Vimto", and found it difficult to pronounce, so her version became the popular 23rd century drink, "Vintoe"!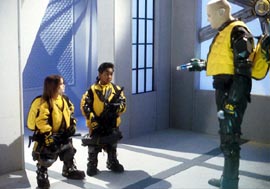 VIII also has some great comic talent in the supporting cast, Ricky Grover and Jake Wood...
Doug wanted Ricky for Baxter because he liked his work so much. For someone who looks so scary, Ricky is really a pussycat! He's also dyslexic. On the first day of rehearsals there is a read-through and dyslexic actors find this particularly difficult if they have only just seen the scripts, so we made sure he received his well in advance. I had recently seen Jake Wood in a play, where he played a thuggish male prostitute and thief - can't think why I thought of him for Kill Crazy! He is an exceptionally gifted actor and made Ed and Doug laugh immediately he started reading the part.
Mr Flibble was, by this point, juggling flaming torches whilst unicycling and reciting a section from Hamlet. Linda applauded politely, then asked Andrew if this thing had to carry on much longer. Andrew assured her that there were two more questions - and distracted Mr Flibble with a bucket of fish as he asked them: Whose idea was it to bring Tony Slattery back to the show as Rimmer's vending machine nemesis?
I think it was Ed 's idea to have Tony. He'd been away from acting for a while and wanted to come back, but not in a large part as he had other things going on career wise as well. Sometimes, if the character is a voiceover, it is recorded before or after the show is taped and a member of the crew might just read the lines out on the night. This isn't as easy to interact with, or to direct. But Tony sat behind the vending machine when we recorded the show, speaking the lines, which was really great for everyone.
Finally, are there any ideas floating around for the MOVIE's guest cast - within the limits of secrecy, obviously?
It would be good to have a movie star or two, of course! But America's Screen Actors' Guild may strike over our shooting period and this will make it impossible to employ American actors. They will not be working, and the British, or other non-nationals who are members of SAG, will probably want to show support by also not working. Of course we have brilliant actors who usually only work here and they will be just as good, I'm sure. I have a few ideas, but am not allowed to say who!