Come What May


Series V director Juliet May chats to Mr Flibble about Dwarf, directing and her career in TV.
19 March, 2004

Mr Flibble's right hand provided by
Andrew Ellard
Foregoing all Mr F's usual attempts to influence future casting decisions, Andrew began by asking Juliet how she BEGAN directing.
I started as station assistant at BBC Plymouth, and was soon promoted to directing the evening news, Spotlight South West. My first big directing job was Wogan - three interviews and a musical number. I was the director that kept filling the studio with smoke and chocking the interviewees. Then [I went though] a strange, eclectic few years which included a medical show for Thames TV, Challenge Anneka, 01 for London, Top of the Pops and a strange quiz show called Scruples... which led me to Paul Jackson.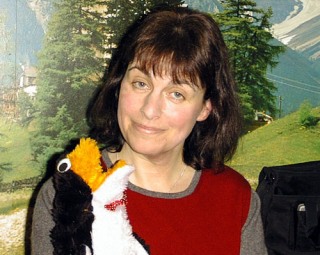 Challenge Anneka?!
Challenge Anneka was... a challenge. We frequently filmed through the day and night with hardly any breaks. It was a by-the-seat-of-your-pants job. The production team had a vague idea of what might be going to happen (it frequently didn't), but Anneka had no idea and frequently led us to some very strange locations!
You also directed the little-seen, and much derided, Heil Honey I'm Home for Paul Jackson. Do you think the tone - with Hitler featuring in an American-style sitcom - was misunderstood?
I have no idea what anyone thinks of Heil Honey now. I haven't seen it in years, but remember it as being rather funny. Maria Friedman was in it and she is one of the funniest actresses I know. I also have memories of people being threatened with unpleasant things through their letter boxes, and Paul Jackson giving a robust interview to Channel 4 defending the right to find any subject funny. I do wonder if it will ever air...
Mr Flibble understood completely, having once found himself hated by the puffin community. He told this joke on-air: "Did you hear about this Puffin who tried to protect his eggs by hard-boiling them?" (it's funny if you're a penguin) and there was an outcry. Anyway, how did you come to work on RED DWARF?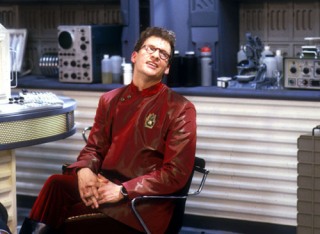 I got Red Dwarf because I was working at Noel Gay TV, directing music and comedy shows for BSkyB. Ed Bye had decided to give Series V a miss [he was actually working on a show for his wife, Ruby Wax] and I was in the building! The only person I knew on the team was Paul Jackson who was the executive producer [of the previous series], and he introduced me to Rob and Doug.
Is there a level of comfort coming onto a series that has an established cast and crew already in place?
When a director casts an actor, there is a bond... and when a director joins an established cast, that's not there. However, the Red Dwarf cast were welcoming, and actually I did know some of the cameramen. The scripts were sometimes pretty late and it was tough on all the design departments to come up with fabulous things at short notice. But it was a well-oiled machine by the time I got there, and Howard Burden [costume] and Peter Wragg [Special FX] were always brilliant.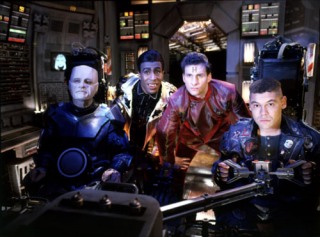 What's the script-to-screen process for the show?
Rob and Doug were involved in every aspect of the production, and at the production meeting when the next week's script was handed out they would talk through ideas with everyone. Then it was three days rehearsal on set, usually a day's pre-record, and an audience in on the fifth day.
Do you think you learned a lot?
My knowledge of all things science-fiction took a leap from 'zero' to 'not quite enough', given that (ironically) Red Dwarf V was the most SF heavy [of all the series]. I just didn't have that encyclopaedic knowledge (or passion) for SF that Rob and Doug had, and couldn't accumulate it quickly enough. In the end Rob and Doug's patience ran out...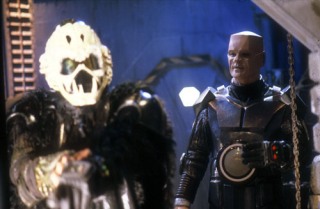 What progression do you think Series V made?
I think Red Dwarf V tried to be more filmic, more epic, trickier, cleverer, etc. etc. Revisiting Series I, II, III ,and IV with my nine year-old twins (who just think it's the best thing), I feel V was less 'innocent', and for me slightly less funny. As far as individual episodes are concerned, I really can't remember [much]. When you are involved in something that goes tits-up you're not inclined to dwell on it!
What did you do immediately AFTER Red Dwarf V?
There was life after Red Dwarf however! I directed lots more comedy of the non-SF kind. The Complete Guide To Relationships written by Kim Fuller (also with Maria Friedman - I'm a fan) was one of Kudos' first commissions. I directed a series with Frank Skinner for Channel 4; Dressing for Breakfast, a sitcom for Warner Sisters; The Treasure Seekers, ITV's family movie, and then Chalk by Steven Moffat.
Chalk was a funny one. Everyone who saw the tapes before it went out was sure it was going to be a success. So much so that I think series two was commissioned before it even went out. [Which would be] unthinkable now. Well, what do we all know? It was critically savaged by all and shunned by the audience. I remember reading the reviews at the newspaper stand in Sainsbury's with my heart sinking. By the time I'd scanned Victor Lewis Smith in the Standard and a fantastically savage piece by Roy Hattersley, I was in no mood for the weekly shop.
I think Steven is a brilliant writer, his scripts are so tight. Chalk was huge fun to do, but the BBC wasn't going to risk a third series, and I was falling out of love with the multi-camera set up.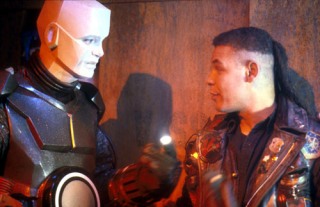 So this took you towards DRAMA instead?
My first love had always been single camera drama, and along came Hope and Glory, written by Lucy Gannon. When you direct multi-camera in front of the audience you are nowhere near the actors, and I hate that. When there is only one camera you can coax exactly the performance you want from an actor without several flights of stairs and a fidgety audience in your way.
You neither have to compromise camera angles - with multi camera you don't want to shoot off the set or see other cameras - or lighting - the DOP can light each shot rather than the whole thing. Recently I've done Down to Earth, Dalziel and Pascoe, Wild West and My Dad's the Prime Minister. So a mix of comedy and drama... but not a parallel universe in sight!
What kind of director are you - Hitchcock or Rodriguez? Which is to say, a firm planner, or a heavy improviser?
As a director I'm pretty well-planned. I cant bear to walk on set and not to be able to answer everyone's questions. I think cast and crew flourish in a 'safe' environment. I am happy to listen to any idea in the room and take it if it's better than mine.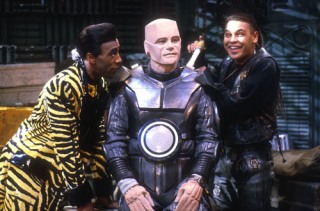 I have always wanted to do romantic comedy - [a] feature of course. My style is more Rob Reiner less Ridley Scott. Enough said.
[For reasons of tedium, we have removed several minutes-worth of grovelling. Suffice to say, Mr Flibble wanted to be cast as romantic lead, said he would settle for the quirky best friend part, and was ultimately left unemployed.] Of all your recent work, what are you especially proud of?
I am most proud of Microsoap, a children's drama for BBC, written by Mark Haddon, which won a BAFTA/Broadcast award and the coveted Prix Jeunesse; the first two minutes of Hope and Glory episode one, and Dalziel and Pascoe. I think Warren Clarke was brilliant.
Mr Flibble enjoyed talking to Juliet May, and now that it's over... Mr Flibble is very cross.