Life During Dwarf Time
Celebrating 30 years of Red Dwarf fandom!
15 February, 2018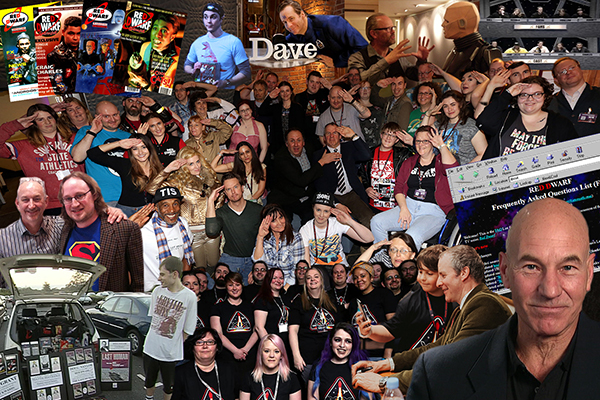 It's Friday 13th November, 2015. 250 people are packed into a tent in the freezing cold winter air outside Pinewood Studios, around seventeen miles to the west of London. In a short while, they'll sit in rows of temporary seating in one of the world's most storied movie studios, to watch a group of men who are all aged over 50 pretend to be four hapless space adventurers.
Despite the cold, and despite the waiting, these 250 people can count themselves enormously lucky to be here - because to do so, they've been successful in a ballot which over 14,000 other people have also entered. Their luck means that they're getting to fulfil a dream that for some of them has lasted for nearly three decades.
It's a very different story on 27th September, 1987. At the BBC's Oxford Road studios in Manchester, the assembled audience has no idea what they're about to watch. They've largely been gathered from surrounding pubs - office workers at the end of the day, roped in to be the laughing voices in the background of a new show they've never heard of. As the recording of this new sitcom goes on, many of them are reticent, not really understanding what's in front of them. But as it goes on, some of them start to get it - and light chuckles give way to full on laughter.
The circumstances may be different, but these two groups of people, twenty-eight years apart, have something in common. The ones in 1987 Manchester might not realise it yet, but they're starting a trend that will link them with the ones in 2015 Pinewood - not to mention every one of you reading this article in 2018.
They're all Red Dwarf fans.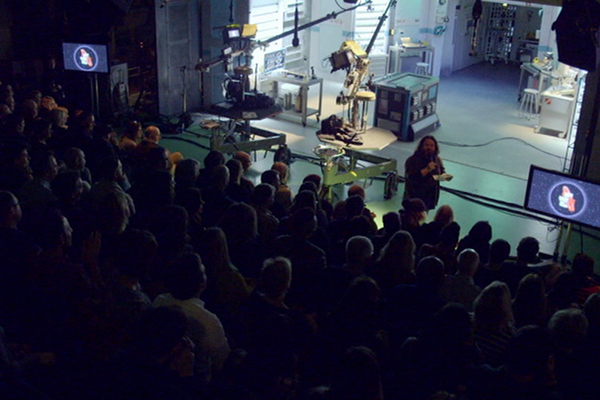 "We've never been a trendy show," Craig Charles said in 2002's Launching Red Dwarf documentary. "We've never been accepted by comedy officialdom. We've always been these scallies, tied on at the end, never broken into the mainstream of the comedy mafia, as it were. Which is fine by us!"
This sense of looking in from the outside has been with Red Dwarf from the start - right from the days when a script that had been kicked from pillar to post around the BBC for several years (and about which even the producer who was its biggest champion, Paul Jackson, had said "Don't [write it], guys. Don't write a sci-fi sitcom") was produced at the unfashionable BBC Manchester, filling a slot left behind by another show's budget, and nearly not getting made at all because of an electricians' strike.
Yet despite this perception, Red Dwarf is one of the most beloved comedy series ever produced. It still holds the record as BBC2's highest-ever rated sitcom - pulling in over 8 million viewers in 1999 - and the 2009 Back to Earth special remains the most viewed programme ever on current channel Dave. It has a global reach, having cracked the difficult US market long before the current wave of British shows - and at a time before dedicated channels for that kind of thing were readily available, it did so on the humble PBS.
But Red Dwarf isn't the kind of show that just has viewers. Red Dwarf has fans. At a time when the only kind of programme that attracted fan conventions, magazines and the like were serious sci-fi dramas like Star Trek and Doctor Who, Red Dwarf broke the mould by being a sitcom with a cosplaying, fan-fiction-writing, obsessive-nitpick-detailing fanbase to match any of them. And that fanbase has stuck with the show - even through a ten-year period without any new episodes - growing with new generations and remaining as fervent as ever.
So how did that happen? What is the unique power of Red Dwarf? And what does it mean to its millions of fans worldwide - some of whom have even gone so far as to work on, or even appear in, the show years afterwards?