Evolution of... Lister's Costumes
The second in our design retrospective series.
9 March, 2012
In the lead-up to Red Dwarf X, we're taking a nostalgic trip through the design elements of the show from Series I through to Back to Earth. Last month, we kicked off with a run through the history of the onboard ship sets. For the next few instalments, we'll turning our attention to how the crew's costumes have evolved - and where better to start than with the last human, Mr David Lister himself...
Uniforms weren't Lister's thing in the early series. Although The End established a JMC-issue outfit of beige, military-style shirts and trousers with accompanying dark jackets - which we'll look at in more detail when we examine Rimmer's costumes - courtesy of designer Jacki Pinks, one of the ways in which Lister's rebellious nature was established in the first and second series was how little time he spent wearing it.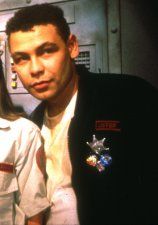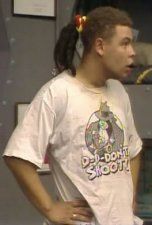 It's only natural, of course, that someone like Lister would immediately eschew uniform when no longer surrounded by the superior officers that would demand he'd wear it. Consequently, although simple practicality meant that ship-issue combat trousers and boots were still the norm, he balanced this with a range of t-shirts that reflected his personality and interests. Perhaps the most enduring of these were the Mugs Murphy "D-D-Don't Shoot!" t-shirts - featuring a fictional cartoon character originally intended to play a bigger role in the series - and a range of stylish "London Jets" tops (although whether the beloved zero-gee football team actually played in red and white or yellow and blue, each of which could be inferred from at least two distinct designs, was never made clear).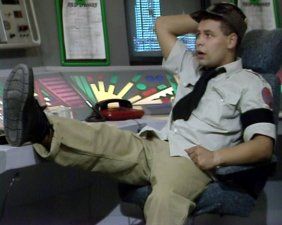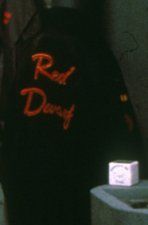 Nevertheless, it does also say something about his character that even post-accident, in situations that he felt called for it Lister would duly revert to his technician's uniform - scruffily donning shirt and tie both for his exams in Balance of Power and, as seen in a deleted scene, the crew's funeral. That said, the main sartorial concession to his job came in the shape of a trusty ship-issue bomber jacket - and although adorned with snazzy "Red Dwarf" branding on the rear, and name and rank badges on the front and sleeve, Lister personalised it with badges of his own. A similar jacket would also appear in Series II - although a crucial difference was the "Console Officer" badge on the sleeve, suggesting that in his trip to the Officers' Quarters in Confidence and Paranoia, Lister had pilfered a keepsake of Kochanski's.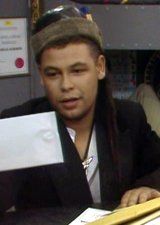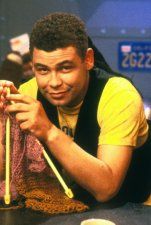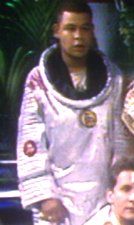 Series II also expanded Lister's range of coats - besides the usual JMC-issue jackets, he was seen wearing a snazzier suit jacket - worn to Rimmer's unseen attempt at a posh dinner party - in Better Than Life, and a waistcoat that presumably came from the same ensemble in Parallel Universe. Both Kryten and Stasis Leak, meanwhile, gave us a closer look at the ship-issue space suits first seen in the show's opening titles - with the neat touch of splashes of red paint indicating the first job we'd ever seen him do.
It was ironic, though, that as Lister's clothing moved entirely away from ship-issue uniform at the beginning of Series III, it became more of a uniform of its own. For the first time, he would be seen wearing essentially the same outfit on an episode-to-episode basis (with the exception of any story-specific attire). And yet - as fondly missed as Mugs and the London Jets would be - it was hard to argue with incoming designer Howard Burden's dramatic new take on the character.
Click images to enlarge
Taking a cue from the art school background (all ninety-seven minutes of it) established for Lister in the previous series' scripts, Burden's vision was a distinctive, individual ensemble based heavily around leather. The centrepiece, of course, was the brilliantly-designed leather jacket. Decked out with all manner of studs, patches and badges (including, in a nice link with earlier series, a sheriff's star similar to the one on the original bomber jacket), its crowning detail was an amazing painting on the back, of a woman (originally Wilma Flintstone, before concern over copyright led to the obscuring of her features) riding on a retro-futurist sci-fi rocket.
Click images to enlarge
Biker boots and black trousers rounded out Lister's new "tougher" look, while a variety of t-shirts - and a snazzy red and black waistcoat - rotated underneath. One other significant detail, and one destined to become almost as iconic to the character as the jacket, was a leather and fur cap. Sometimes described as a deerstalker, but also similar in style to a Russian ushanka (although this confusion wasn't helped by a number of slightly different hats being used, with a less furry design being carried over from the earlier series), its association with Lister would initially outlast the leathers, surviving as it did to Series VI. The bohemian look was topped off, meanwhile, with a red kerchief that he could alternately wear around his neck or arm.
Click image to enlarge
There seemed to be little need to change up any of the main cast's costumes after the success of Series III, and so only minor tweaks were required in the years that followed. One significant addition for Series IV, though, was a more unified look under the jacket. A new, clearly once smart but now somewhat distressed black shirt and waistcoat combination helped give Lister his "uniform" look even when not wearing the fabled jacket.
Click images to enlarge
By the time of Series VI, however, another change in the overall look of the show - following the move to Starbug - saw an opportunity to freshen up the crew's costumes. Out went Lister's "bohemian biker" chic, replaced with a set of brown overalls that reflected the nature of his original job - and, perhaps, a diminished supply of clothes onboard the transport ship. An element of leather was maintained, though, with a new waistcoat that also featured similar - although fewer - badges and patches for a recognisably "Listerish" look, and the wearing of studded, fingerless gloves that had also made an appearance in Series V.
Lister's overalls - not to mention his now-more-frequently-seen-than-ever scummy white long johns - continued to be his main outfit of choice throughout Series VII, although the classic jacket did make a welcome reappearance for flashback scenes in Blue. This series also saw a redesign of the ship's spacesuit, matching the design seen in the Remastered opening titles.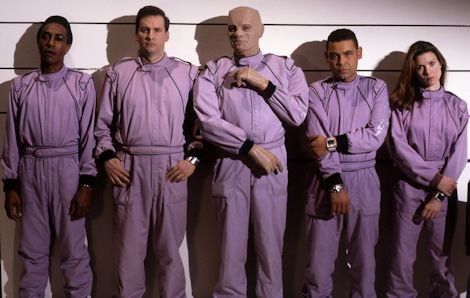 Click image to enlarge
Although Series VIII followed directly on from Series VII - and so the overalls were seen again in the scenes that bridged the final scenes in Starbug and the return to the reconstructed Red Dwarf - the non-sequential narrative of Back in the Red meant that the first outfit we saw Lister in was the one he and the rest of the crew would be stuck in for much of the series - a garish lilac prison uniform, apparently modelled on a racing driver's overalls and deliberately intended by Howard Burden to contrast with the menacing inmates of "The Tank".
Click images to enlarge
Fortunately, Lister wasn't forced to suffer the indignity of this deliberately unpleasant suit for the entire series. In addition to briefly turning up in a revamped version of the original Series I beige shirt and tie - which, again, we'll examine more closely when we get to Rimmer - the crew's tenure in the Canaries meant a whole new set of uniforms. The padding gave the outfits a more "armour"-like feel, although any toughness was again balanced out by the colour choice - this time, of course, a fetching and appropriate bright yellow.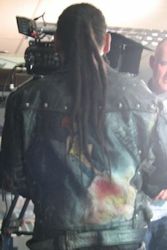 Click image to enlarge
With Back to Earth deliberately invoking a more "classic" Red Dwarf feel, it somehow seemed inevitable that Lister might go back to his traditional leather look - particularly with the continuity of Burden remaining on costume design - and so it proved. In fact, the very first teaser photo released from production was of a camera test, showing the Not-Wilma painting on the back of his jacket - the actual, original jacket.
Click images to enlarge
When the full costume was revealed, it was about as quintessentially Lister as any updating could be. The hat was gone, and so was one of the fingerless gloves - and underneath the (now somewhat battered and weathered) jacket and a plain black shirt was a new, somewhat heavy metal-inspired weathered t-shirt. And there was new detail, too - including a Console Officer insignia that he'd presumably kept from that old jacket of Kochanski's, and a new assortment of badges. But otherwise, here was a Lister that could have stepped right from the screens of Series III to the present day.
Is the same, however, true of his costume for Series X? Leathers? Long johns? Hat? Mugs Murphy? All will be revealed in Autumn 2012...
Related articles