Dimension Jump XVIII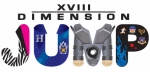 by Pete Dillon-Trenchard
Sunday
It's the morning after the night before, and as attendees try to work out who finished their jigsaw puzzle and where this traffic cone came from, the day's photoshoots get underway with Sunday guests Robert Llewellyn, Danny John-Jules and Gordon Kennedy.
From there, Robert and Danny head straight downstairs to host the second of the weekend's all-important charity auctions. Robert kicks things off by pointing out that he's due to turn 60 a mere four days after his final day in a rubber mask on Red Dwarf XII. "Where's the dignity in that?" he asks. The auction is a more relaxed affair than Saturday's, with Danny chipping in with some jokes that shouldn't be repeated here for legal reasons; but the audience's willingness to spend seems untempered by any hangovers: "The bidding is fast and furious - when we actually remember to concentrate on it!" quips Robert.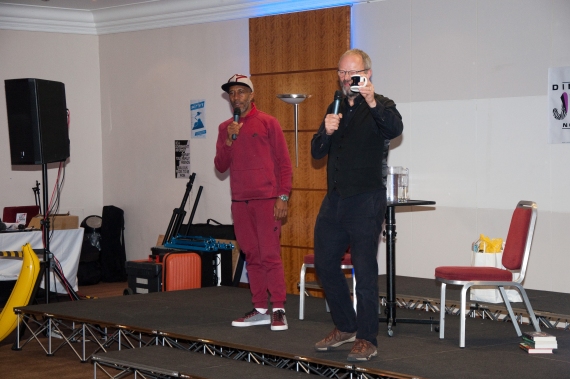 Once more there are some items from Doug's personal collection on offer, including a complete set of Smegazines (free gifts still attached!) which go for £220, and a signed copy of Better than Life. "He won't sign anything for us," complains Robert. Danny is quick to respond: "Especially a contract!" Elsewhere a Japanese Holly mug goes for £95, a piece of original Colin Howard artwork goes for £220, and even a set of Red Dwarf VHS tapes manages to raise £30! At one point, Dave Benson Phillips turns up on stage to pack up his disco equipment. "This man is why I couldn't get a gig on children's telly in 25 years!" jokes Danny.
Barely pausing to change gears, Robert and Danny wrap up the auction and launch straight into their Q&A session. The questions kick off with Danny being asked if he owns a cat in real life. "It'd be like looking in a mirror!" he replies. Robert then decides to stream some of the panel on Twitter app Periscope, prompting a classic "What is it?" moment from Danny. As the audience grows to include fans from Sheffield to Norway, the pair are asked what TV or film superheroes they'd like to play: "I would like to play Superman so I could put my underpants inside!" answers Danny. "Inside what, sir?" asks Robert in full Kryten mode, before admitting he'd like to play the villain in Die Hard 27.
The pair are asked who they'd want to exile to three million years in deep space with Rimmer and the gang. "I've got an idea," twinkles Robert, "What about Mr Farage?" The suggestion draws cheers from the audience. "Can you imagine him and Rimmer ganging up on Lister?" jokes Danny, mischievously. "I think we should try and get him on as a guest star!" suggests Robert. Not as many cheers for that one.
The next question involves dream Red Dwarf crossovers. "Definitely Kryten would love to meet some Daleks," replies Robert, "I'd like to buff them up. 'Mr Dalek, sir, you're looking a little bit scruffy; let me give you a buff.'" Danny, meanwhile, would like Cat to walk on stage during Nicole Scherzinger's rendition of Memory, prompting some frankly obscene miming. The next questioner is a young boy. "Holy crap, were you here when I just did that gag?" panics Danny, to huge laughter from the audience. They struggle to pin down their favourite Red Dwarf moments, but Danny opts for the Riviera Kid and Robert recalls driving a tank in Beyond a Joke. "These army lads said 'We'll give you a bit of semtex ribbon, help the explosion on a bit'" he remembers. "We didn't know what semtex ribbon was until it blew up, and then we did. And so did the surrounding county!"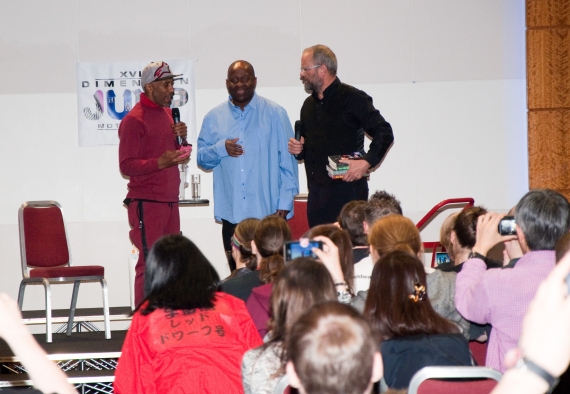 There's a farewell to the Periscope viewers, and the Top Gear question rears its head again. "I'd say very categorically no," answers Robert, "It's a poisoned chalice." "If I did it, they'd have to change the title to Bottom Gear," jokes Danny.
If they could key into Better than Life, where would they want to end up? "I'd be in Bobby's house, curled up by the log fire!" answers Danny. Robert's answer is a little more fantastical: "I'd like to travel to the 19th century to meet Nikolai Tesla and Thomas Edison. It's quite nerdy - there's probably not a lot of sexy half-clad warrior maidens running around! Or I'd like to go 200 years into the future and see what it's like - which strangely enough is what my books are about, and they're available after the talk..."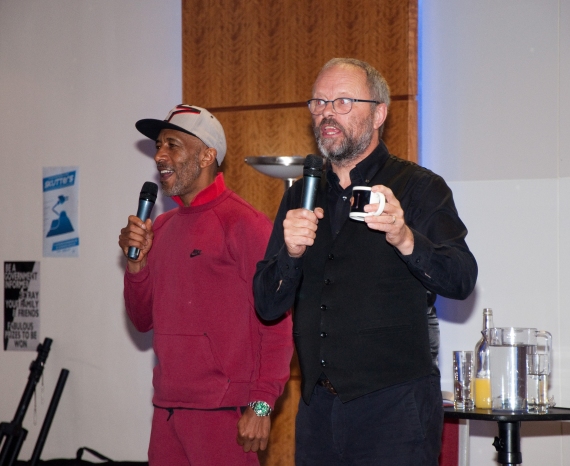 Robert is asked about the upcoming 'four Krytens' episode, and how much schadenfreude he'll feel on a scale from 1 to 10 at seeing the others having to endure the makeup process: "Sir, this knob goes up to 11." The pair recall the moment during production on Series X when Craig and Danny both donned spare Kryten masks, with Danny adopting the persona of 'an angry West Indian Kryten': "You mechanoids, coming over here, taking our women..!"
Next up, Robert refuses to be drawn on his favourite Carpool guest, but singles out Stephen Fry's episode as one of the more memorable journeys. In keeping with the theme of the weekend, he announces that there are going to be more Carpool episodes in the future, with three already in the can. "They're on the internet, where they should be!" he tells the crowd.
Robert reveals that one of Craig's favourite jokes is to burn Robert's scripts for fun, and that neither he nor Danny have managed to keep anything from the set. Danny, meanwhile, reveals that he'd quite like to bike his way through Japan. Finally there's a chance for Robert to wax lyrical about the Tesla Model S. "It's just as well Chris isn't here, because he'd be banging his head against a sharp object!"
It's then farewell to Danny and Robert and, after a quick toilet break, hello to Hattie and Gordon Kennedy. Gordon is thrilled by the first question, about his appearance on Have I Got News For You, in the infamous Paula Yates episode: "Well done for remembering, because the camera wasn't on me at all for the whole episode! It wasn't uncomfortable, but it was memorable - very memorable."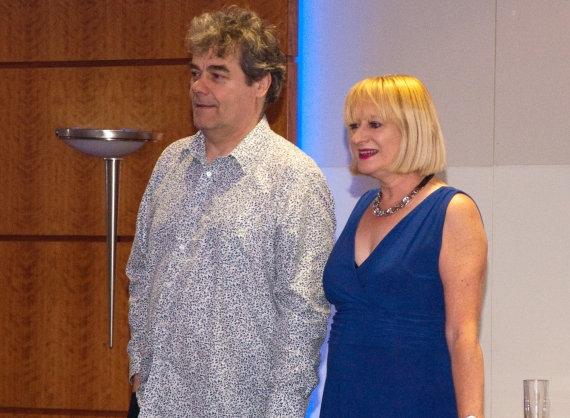 Gordon is asked about sketch show Absolutely, and he reveals that the team are reuniting for four more shows this year on Radio 4. Hattie, meanwhile, recalls her time on Kevin Eldon's recent sketch show: "It was glorious, because I broke my ankle within half an hour of being on set!" The injury theme continues, with Gordon discussing tearing his hamstring while filming Robin Hood in Budapest and winding up in a Hungarian hospital. "See, it's a dangerous business, innit?" chirps Hattie.
A question about fan experiences prompts a tale of Gordon being recognised on a Portugese beach for a cough drop commercial and setting a £20 bet, while Hattie's story takes on a decidedly royal flavour as she recalls sharing a lift with Princess Diana's former butler Paul Burrell, who told her "The boys were very great fans, you know."
Next, Hattie recalls the nine hours she spent unsuccessfully performing a banana trick during a guest appearance on Jonathan Creek: "Under hot light, bananas just keep wilting. So every time I had to peel a banana and it had to stand upright, it kept wilting... Make your own jokes up!" Gordon has a magical history of his own, revealing that one of his first jobs was performing a stunt trick for Paul Daniels - and Paul deeming him to be too short! "Bizarrely, when I did the episode of Red Dwarf, I'm pretty sure it's the same pair of platform boots they used from the costume store!"
Hattie has an altogether more bizarre memory of Daniels: "Paul Daniels always used to be in the BBC canteen when we were recording Red Dwarf. I remember he came to our table and was talking to Chris about cars or something. He put his hand over my wrist and I thought 'God, what are you trying to do? Are you trying to stop my circulation?' My hand was going white and numb! He wandered off, and then he came back holding my watch and went 'You didn't even notice, did you?' No, because my hand had gone completely numb!"
Hattie is asked about her favourite episode, and Gordon steps in pre-emptively: "Bear in mind we have someone on the stage who was only in one episode!" Hattie dutifully opts for The Last Day, but also Dimension Jump - despite the smell of kippers 'stinking out the whole studio'. "I did like them all, in a way. Series V probably slightly less, as I think there was less for Holly to do."
Gordon Kennedy gives the audience a burst of the Hudzen voice, and Hattie is asked the question on everyone's lips: Has she spoken to Doug over the weekend about series XI and XII? "I deliberately didn't, no." Gordon Kennedy chips in: "You bet your arse I did! And I have the advantage of being considerably bigger than him, so I think there may be a bit more brick-breaking in the future..."
The pair are then asked about their dream TV series. "I'd take over in Breaking Bad," replies Gordon, "Mainly because you tend to end the episode in your pants in the middle of a car park. There should be a golden rule; dramas all should end with the hero in their pants in a car park, generally shouting at somebody. That's my dream series. So any writers out there - if you get them in their pants, I'm up for it!" Hattie opts for the comparative calm of a travel programme. And then, as quickly as it had begun, the Q&A session is over.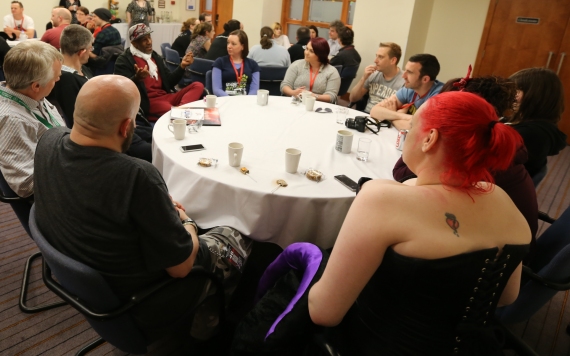 With the final panel of the weekend out of the way, there's just time for a quick lunch break before the afternoon's coffee lounge session. Robert, Danny and Gordon take one table apiece and get chatting to the small groups of fans. This is the place to be if you want to hear Robert Llewellyn discussing his Unbound projects, Gordon Kennedy chatting about playing Gordon Brown in the West End, or a very tired Danny John Jules explaining that he stayed up late to watch the boxing, before waxing lyrical about being one of Maid Marian's Merry Men.
In scenes eerily reminiscent of Saturday, the guests are whisked away to face the might of the autograph hunters. Down in the main hall, there's just time for a dose of Back to Reality before the much-anticipated final event of the weekend: Goitless. Following a triumphant debut performance in 2013, presenter Ian Symes and his pointless friend Danny from the fan club team are back to put a Red Dwarf slant on everyone's BBC One daytime quiz.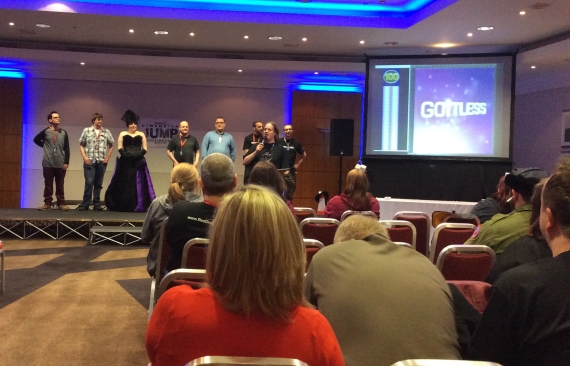 Though Goitless requires eight people to play, there are only seven on stage - enter Hattie Hayridge to complete the final team. What follows is an extremely hard-fought contest, with subjects ranging from 'Bread products mentioned in White Hole' to 'Famous people named John, Howard or Frank'. Hattie's knowledge of Robert Llewellyn sees herself and teammate Stephen Fletcher through to the final following a tense head-to-head round, and they're left looking for obscure Blackadder guest stars. Their first two guesses of Brian Blessed and Chris Barrie score 45 and 29 points respectively; will Lee Cornes be an obscure enough answer to win them the prizes..?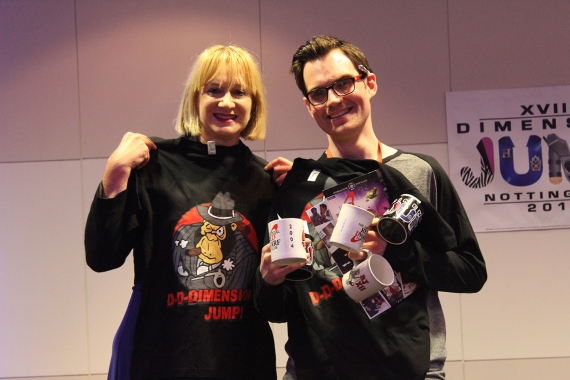 No; he scores 10, and Hattie and Stephen go away empty-handed, having had a lovely day... Or at least, that's what would've happened on Pointless. Red Dwarf fans are an altogether more forgiving bunch, and after an audience vote Stephen walks away with a host of Dimension Jump goodies and a coveted Goitless poster. Dennis Lill, Howard Lew Lewis and Roger Blake are among the actors who would've taken them to victory, in case you were wondering.
And that, as they say, is that. A short closing video teases 'Dimension Jump XIX: Secret of the Booze', and several hundred Dwarfers are sent blinking back out into the world. More than a few are heard to declare that Dimension Jump XVIII has been their favourite one yet. And with top guests, a packed schedule of entertainment, super-dedicated organisers and the small matter of two new series on their way, it's not hard to see why.