Dimension Jump XVIII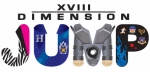 by Pete Dillon-Trenchard
Saturday Night
Preparations made, it's time for ebullient guest host Dave Benson Phillips to take up the microphone for the highlight of any cosplayer's calendar, the Dimension Jump costume competition. It's a celebration of the weird and the wonderful, and a chance for fans to put their creativity on display.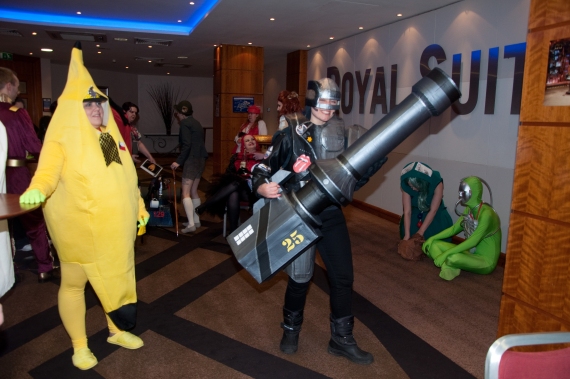 The next half hour sees everything from a human tension sheet to a small off-duty Czechoslovakian traffic warden parade in front of a judging panel including writer Ruth Wheeler and fan club chairman James. The standard is incredibly high across the board, and some tough decisions need to be made, with Emma Cleere's 'Rimmer and Bob holidaying on the diesel decks' coming in third, and Aimi Brear's 'Robocop Lister' placing second. There can be no disputing the winner, though: first prize, which includes a genuine Red Dwarf uniform as seen on screen in Series VIII, has to go to six-year-old Joy Squid Juliette Peel, not least for the collective 'Aww!' she elicits from a room of hardened Dwarfers when she arrives on stage.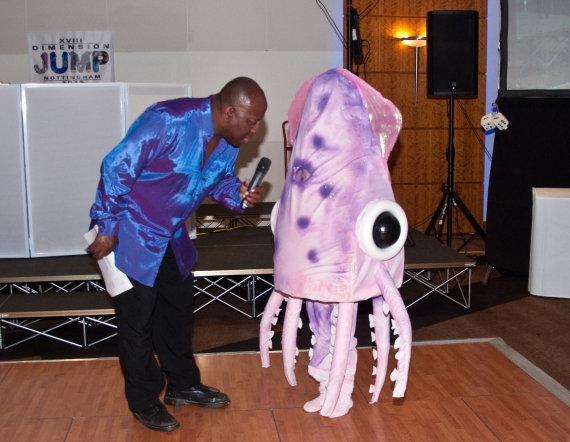 With the winner crowned, costumes give way to cold, hard cash as Hattie, Chris and The Shend return to the stage for the first auction of the weekend, with all proceeds going to Hattie's chosen charity The Carers Trust. The action begins with the sale of a Dimension Jump XVI T-shirt for £30, and from there the amounts keep going up, up, up the ziggurat, lickety split as Chris Barrie displays a missed calling as an auctioneer: a camera script for Psirens ("From Series VI... Whatever that was" remarks Hattie, drily) goes for £185, and in a staggering turn of events a Corgi Red Dwarf model from Doug Naylor's personal collection goes for a whopping £200. Also provoking a fierce bidding war is a Japanese Kryten tissue dispenser, with the eventual winner paying £180 for the privilege of pulling Kleenex from a mechanoid's nostrils.
There's a long-standing tradition in these writeups that the Saturday night disco is forgotten in a haze of 'nicely drunk'. But that would be doing a tremendous disservice to the legendary Dave Benson Phillips, who could be found spinning discs and keeping the crowd entertained long into the night, ensuring his place near the top of everyone's wishlists for the next Dimension Jump.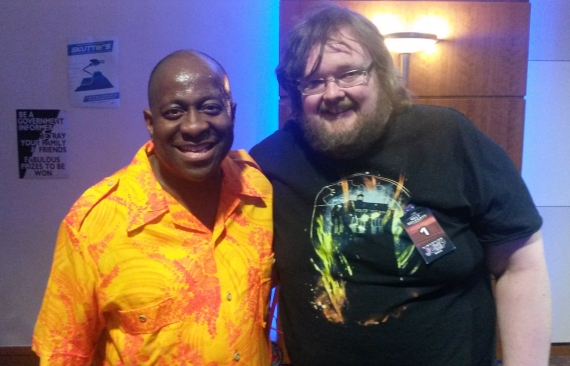 Alas, the rest of the evening is a Rimmer-shaped blur - perhaps literally, if the reports of Chris Barrie leading singalongs and dancing along to Uptown Funk are to be believed. However, since these will likely remain forever uncorroborated, it may be wisest to pass straight to Sunday.