Dimension Jump XVIII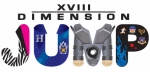 by Pete Dillon-Trenchard
Saturday
With Chris Barrie stuck in traffic, morning entertainment is to be found in the main hall, with screenings of episodes including Queeg and Marooned providing more than a few chuckles and reminding everyone why they're here. There's a convivial atmosphere despite the photoshoot delay, due at least in part to some heavy hinting on Twitter that Doug Naylor is due to turn up and announce something later in the day. Of course, it may also be due to the brave individuals who have already resumed drinking...
Once the traffic clears, photoshoots get underway with Chris, Mac, Hattie Hayridge and The Shend, and the first floor of the hotel is beginning to teem with weird and wonderful Dwarf-y costumes. Meanwhile in the main hall, anticipation is already nearing breaking point as each new tweet from the Nottingham-bound Naylor car sends ripples around the room. News of Series XI has been expected ever since Doug almost announced it in 2013, but it's still exciting to see the day seemingly arrive. However, as someone in the know hints on Twitter, "they don't know the half of it..."
Before long, photoshoots are out of the way and it's time for the first Q&A session of the weekend, this one with Mac and The Shend. They're on jovial form from the start, with a question about career highlights and lowlights causing Mac to quip "Career? What's that?" before The Shend launches into the story of a bizarre deodorant advert which bought half of his house. "Sometimes you think it's a really bad job and it turns into a really good one!" he concludes, gleefully.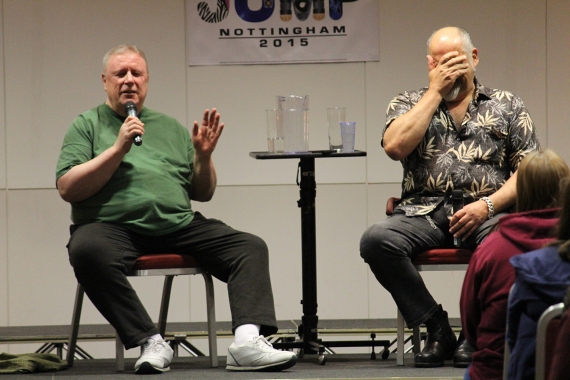 Mac reveals that his role in 1989's Batman was a career highlight, having been a fan since he was eight years old. He has less complimentary things to say about his time spent in a full turkey prosthetic for a credit card advert: "It was the worst. It was like dating myself."
The pair are then asked about their worst audition stories, with The Shend recalling his battle with an imaginary biscuit in order to promote a Dutch kitchen cabinet company. The next question comes from a fan in an Inquisitor costume; upon seeing her, Mac quips "Oh no! He follows me everywhere, this guy! He was in my kitchen cabinet yesterday..." "It wasn't made by a Dutch company, was it?" replies The Shend, to roars of laughter.
The Inquisitor's question is a surprising one for all concerned: "Do you like cupcakes?" "I like blueberry muffins!" replies Mac, eliciting a round of applause. "If you have some, I'll eat one," he tells the cosplayer, before advising the audience "Never refuse food; you can always throw it up later." "That lowered the tone somewhat!" adds an appalled Shend. "Sometimes I even surprise myself..." quips Mac.
The Shend reveals fond, if stressed, memories of working with Hale and Pace, and Aliens star Mac is asked who he thinks is the most attractive - Ellen Ripley, or Kristine Kochanski? "Clare... beautiful Clare. I mean, both Kochanskis are really beautiful women, but Clare... Oh man. I had a dream one night..." The audience ruptures with laughter, prompting Mac to clarify: "I'm kidding! I had a dream ten nights..."
The next questioner wants to know what their dream roles would be. "For me it would be the arch-villain of the universe in a big-budget Marvel Comics film," answers The Shend, "Eight billion quid's worth of pyrotechnics going off in the background, and I get a poster on the Underground. Lots of money in the bank. Sod Shakespeare!" Inspired by The Shend's answer, Mac chips in: "Mine would be... THE INCREDIBLE HULK!" before raising his shirt over his head and posing angrily on the stage.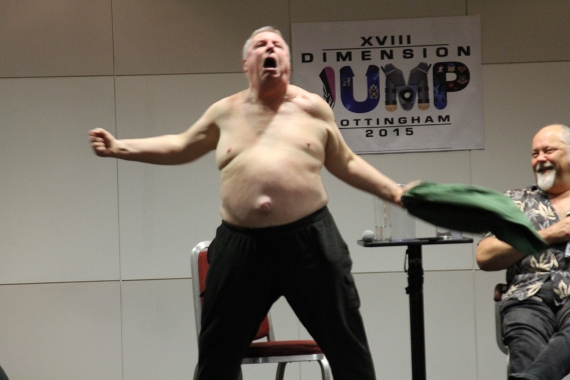 Finally, the pair are asked about their favourite episodes of Series VIII. The Shend, naturally, opts for Cassandra: "I didn't watch any of the others!" he jokes. Mac, meanwhile, cites his time on the massage table in Pete Part Two as a particular highlight. There's time for a quick rendition of Peggy Sue from Mac, harkening back to his early act as a jukebox, and then it's time for them to leave the stage in order to make way for a special guest...
...Except it isn't. Not quite yet, anyway. For press embargo reasons he can't appear on stage until midday, so it's left to Alex from the fan club to lead the audience in a hearty Tongue Tied singalong to fill the time. The gambit pays off, and though it takes some of Alex's dignity with it it sets the stage for the special (and by this point, not terribly secret) guest: Doug Naylor.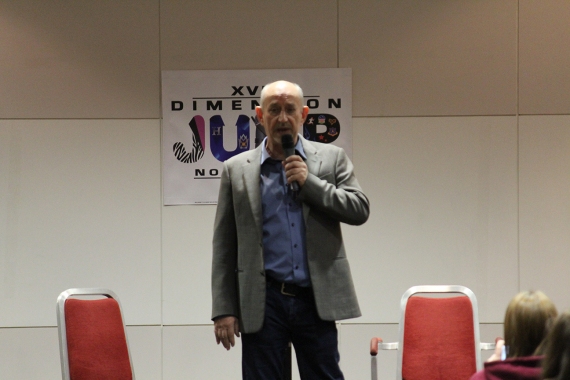 If you're reading this, you almost certainly know what comes next already; you've probably even watched the video. But Doug toys masterfully with the mood in the room: "I know some of you think that the announcement is going to be a new series of Red Dwarf, and that's not going to be the case..." It's a brief pause, but there's a palpable deflation. "...because today's announcement is about TWO new series of Red Dwarf."
The resulting cheering and applause can be heard from Ganymede to Titan; more than one grown man will later admit to shedding a few tears of joy. "We're filming Red Dwarf XI this year; we're shooting November-December. Then Red Dwarf XII, we're having a nice break of I think three weeks, and then we go straight into Red Dwarf XII at the beginning of 2016." More applause. "...Any questions?"
Several hundred hands shoot up, and Doug brings Chris Barrie on stage. "Are you all happy to hear the news?" The crowd responds in the affirmative. "Eeeeexcellent." says Chris, putting on his best Gordon Brittas. From there, the news starts coming thick and fast. Doug will be writing and directing both series, and has already written nine of the twelve scripts. It'll be filmed in front of an audience, at Pinewood. Series XI is set to be transmitted in 2016, with 12 following in 2017.
Will Rimmer be a changed man following the end of Series X? "I don't think we should answer that at this point. Obviously it would make no sense to have a completely different character for him." Is Doug planning these two series to wrap up the story? "No." More rapturous applause. Chris takes a moment to admire some of the outfits on display, singling out a Rimmer near the front. "What're you doing in November?" he jokes.
The second most surprising news of the weekend is that Craig Charles has left Coronation Street, prompting a mass intake of breath. "It wasn't possible [to do both], so he had to choose - and he chose us." This gets another massive round of applause. "Not many good gags in Corrie, let's face it!" remarks Chris.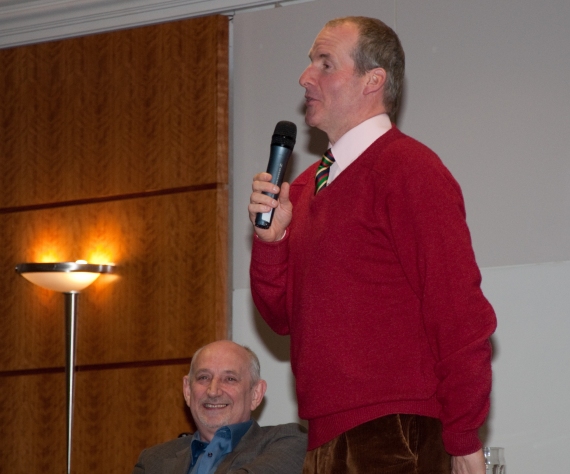 From here, things become a little more relaxed. Chris is asked to do his Kenneth Williams impression, and happily obliges. Would he like to reprise his role as Ace Rimmer? He refers the question to Doug, who points out the potential problem of being accused of running out of ideas but doesn't rule anything out. Will Danny get a Cat episode in the new series? "Yes," replies Doug matter-of-factly, "It's written, and we address the issue of his virginity."
When asked about Hattie returning as Holly, Doug simply says that no decisions have been made at the moment. Chris is asked about his favourite series, but finds it impossible to choose, pointing out that he feels they did some of their best work in Series X. Off the back of a question about recording Tongue Tied, Doug is asked about the possibility of song-and-dance numbers in the new series - he reveals that Danny has a desire to perform a thrash metal version of I Want to Eat You, Little Fishy...
Doug once again toys with our emotions by suggesting that the Series VIII cliffhanger will be resolved in the new run - something he later retracts during the coffee afternoon event, ensuring that the only way to find out is to watch the episodes come 2016...
Not content with two new series of Red Dwarf, Chris Barrie has some news for fans of The Brittas Empire: "One of the original writers has been working on a treatment which I've seen, which is excellent, and there's actually a script being worked on, which I think is due to be finished by May 5th. That's with the BBC, so we'll see what happens to that. From the treatment, it's Brittas put into a 21st-century setting. It was a great, fun show to do, so hopefully - fingers crossed!"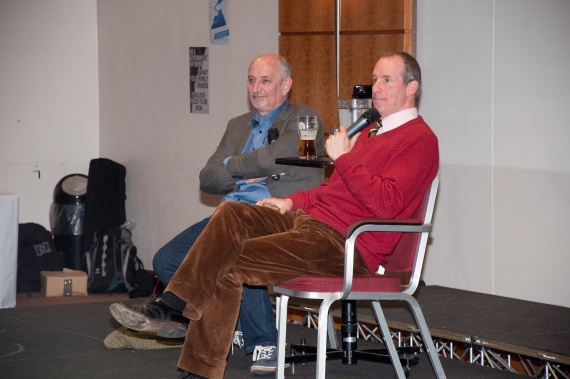 Not one to be upstaged, Doug continues dropping in juicy morsels, casually bringing up the possibility of a tour before revealing that there have been some conversations about doing a Kochanski episode in the new run. He also reveals that "there's a show the cast have always wanted to do where, for some reason, they all get to be Kryten... And we are doing that show."
With all these ideas floating around, it's natural that talk turns to budget. "We have a budget which I think means we can tell the stories we want to tell," explains Doug, "It's not going to be Star Wars!" He goes on to reveal that there will be "a little bit of OB [outside broadcast]" and that Starbug will be returning. And will there ever be a movie? "Well, you never know, do you? I think certainly the guys believe we shouldn't stray down that path, because we wasted ten years where we could've been making TV series. I think they don't mind making movies so long as we continue to make the TV series simultaneously. But we haven't really spoken about it at length."
Finally, Chris is asked whether he'd want to co-host Top Gear ("No-one can replace Jeremy Clarkson in that show"), and he and Doug leave the stage to a well-deserved standing ovation, the crowd still absolutely buzzing with excitement.
The atmosphere remains electric well into the afternoon, as thirty or so fans gather to take part in the coffee lounge sessions, which allow them to have a more intimate experience with the day's guests. This is where fans can find out the real gossip from behind the scenes, such as whether the catering improved on Red Dwarf as the years went on, and how Chris Barrie found acting alongside Angelina Jolie in the Tomb Raider films. Speaking to one group of fans, Doug stresses his preference for practical model shots over CGI wherever possible, while Chris makes the day of one young fan who can't make the convention by speaking to her over the phone.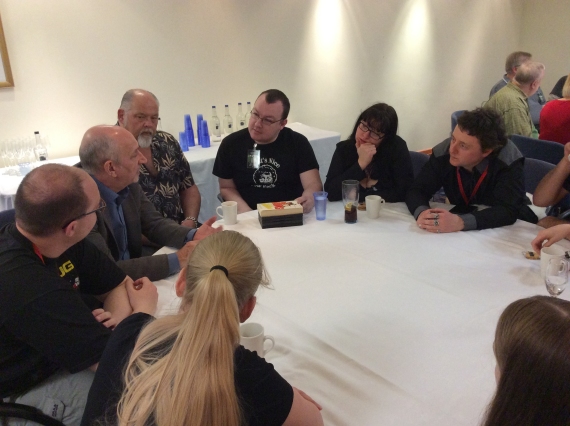 The guests are escorted from the coffee lounge to the autograph room to begin the lengthy task of writing their names over images of their faces several hundred times over, and even Doug stays behind for an impromptu signing session of his own. It's a process that takes several hours, but organisers and guests alike put their all into making sure everyone goes away happy.
Meanwhile, in the main hall, it's time for a long-standing tradition: the Dimension Jump Olympics! Once again, there are pre-recorded Holly announcements keeping things running smoothly, as well as announcing numbers for the autograph queues. There seems to be a real buzz around the games, and everywhere you look fans are throwing themselves into games like backwards darts, the Leopard Lager shy and that perennial favourite, pin the pointy stick on the weather girl.
As the games begin to wind down and the last few signatures are scribbled, Dave Benson Phillips starts setting up his disco equipment in the main hall. Saturday night must be upon us...