Dimension Jump XVIII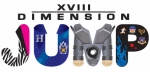 by Pete Dillon-Trenchard
Friday Night
In 2013 the fan club team transformed a Birmingham hotel with Dwarf-themed poster adverts, 'Hilly' and 'Holly' signs on the toilet doors and enough Esperanto signage to ensure basic fluency by Sunday afternoon. With the move to Nottingham's luxurious Crowne Plaza Hotel the immersive experience has upgraded to Version 2.0, with the hotel's plasma screens turned over to the JMC for the weekend to show a mix of classic 23rd-century programming and specially designed graphics packed with enough gags to keep even the most hardened fans entertained between events.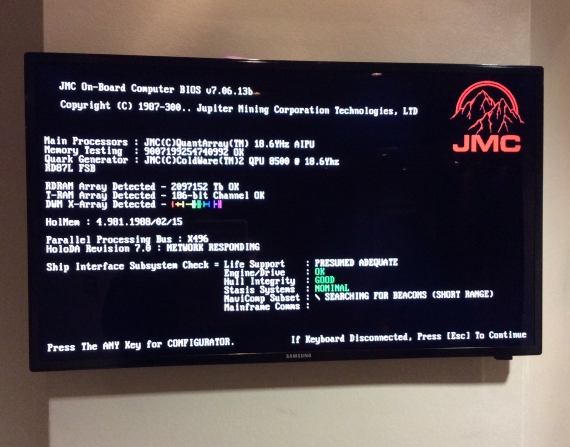 While the organisers make final preparations in the main hall, the merchandise room is already open and thriving, selling everything from old calendars to custom Lego minifigs of the crew - plus, of course, a snazzy range of Dimension Jump goodies. As fans arrive from all over, some already in costume, they find themselves allocated new careers: engineers, science officers, technicians... and even a GELF delegate or two. "Can I scan your pass?" quickly becomes one of the weekend's catchphrases, as random strangers are brought together in the common cause of solving a tricky QR code conundrum set by the fan club.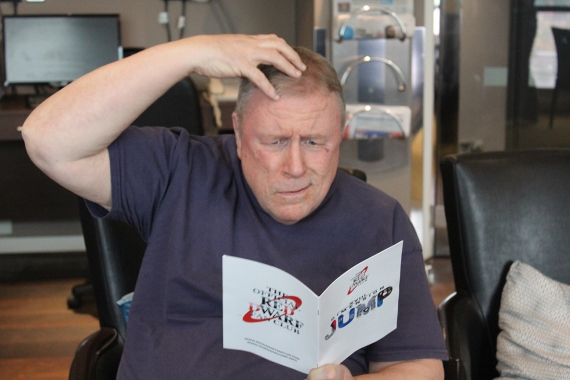 Eventually 6pm rolls around, bringing with it the opening ceremony. This year's is preceded by a short instructional video with a few convention Dos and Don'ts, narrated by Rebecca Blackstone in character as Pree and featuring some amusing posed photos of the weekend's first guest, Mac McDonald. In the opening crawl that follows (a parody of the opening crawl from Backwards, which was itself a parody of the opening crawl from Star Wars - you don't have to be an expert in recursion to appreciate this write-up, but it helps) the audience is welcomed to 'DIMENSION JUMP XVIII: THE SAME UNDERWEAR FOR THREE DAYS - NEARLY'.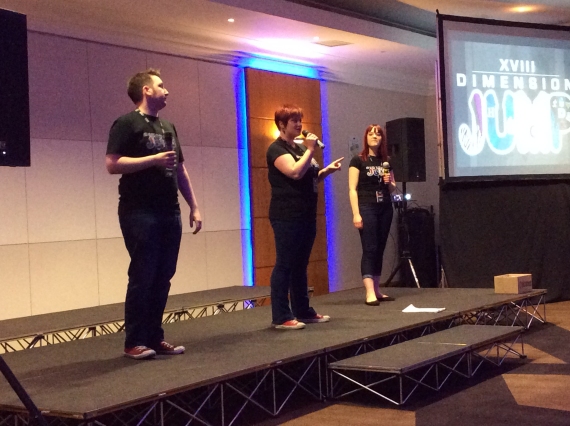 Alex and Carrie, who hosted the 2013 opening ceremony, are joined by new team member Joey for an amusing skit explaining that the hotel is under the control of the JMC mainframe for the weekend, in the form of a voiceover from Holly - hey, who says you need to wait until 2016 for new Red Dwarf material..?
Things soon go wrong and Holly becomes a lot more insulting than usual, so it's time to wrap up the ceremony and crack on with the quiz, this year hosted by Mac McDonald. Mac promises strict penalties for anyone caught cheating, ranging from being tasered to being farted on. Mac has already sat on an audience member's lap by this point, so everyone decides to play fairly rather than call his bluff.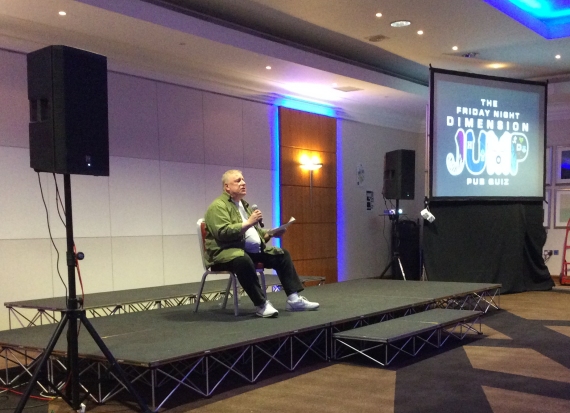 Mac is on fine form throughout the quiz, chipping in comments and dancing his way through the music round. The questions are designed to tax even the most hardcore smeghead, however, and when Mac asks if anyone's scored 55 out of 55 he's met with chuckles rather than cheers. "Much lower!" shouts one audience member. In the end victory goes to Team Tension, with a respectable 39 points.
With the intellectually taxing portion of the weekend out of the way, the dual Friday night events of karaoke and drinking can get underway. At previous conventions the karaoke has been a little slow to get going, but this year the fan club team have played an ace by bringing in former CBBC presenter and inimitable force of nature Dave Benson Phillips to oversee the weekend's festivities.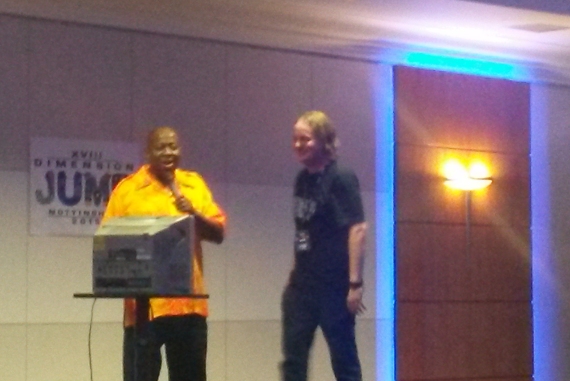 DBP, as he shall come to be known, gets the crowd singing from the off, performing a rousing rendition of Always Look On the Bright Side of Life by way of a sound check. As DBP changes into a yellow shirt which is brighter than the sun, the floodgates are opened for a whole variety of unique reinterpretations, from a floor-filling Timewarp to a fully choreographed, four-person rendition of Frozen hit Love is an Open Door.
The singing continues well into the night, and in time-honoured fashion Friday eventually gives way to Saturday...